A couple of weeks ago I decided to do a Big Day limited to the borough of Queens and traveling only on foot and by mass transit. Yesterday, Saturday the tenth of May, was the day that I chose to do it, in the hopes that migration would be in full swing without the earlier migrants having completely cleared out. Big Days are birding on insanity pills, a madcap 24-hour sprint to see as many species of birds as possible. I'm not sure why I keep doing them other than they are more addictive than any drug known to humanity (bet you can't do just one).
Anyway, these were the thoughts going through my head as I walked out the front door of my apartment building at 4:30 AM and started my walk to Forest Park. The night was cool and there was residual moisture in the air from Friday's rains. Within a minute I had the first bird of the Big Day, an American Robin singing to the false dawn of the streetlights while a late night reveler who had over imbibed puked his guts out between parked cars. Aah, the sights one sees while birding!
Walking through Forest Park pre-dawn I was serenaded by many more robins along the entire length of Forest Park Drive. The background hum of traffic was lighter than usual, as it was still early after all, and the robin-song was a splendid way to start the day. About halfway through the park streetlights line Forest Park Drive and I carefully watched each one as I approached, hoping to find a nightjar like a Whip-poor-will catching bugs. At one point I thought I had one but quickly realized it was a bat, which, while possessing wings, still falls a few feathers short of bird-hood.
My original plan had been to catch the Q53 bus to Jamaica Bay and experience dawn there but the Q53 doesn't start running until 6 AM so I had altered my route to start the day at the reclamation pond on the other side of Woodhaven Boulevard. As I crossed the street (against the light, we Big Day-ers have no time to waste standing on the curb) a European Starling landed in the road briefly, bird number two on what I was hoping would be a list of over one hundred species. Once I was across the street I started to hear the ethereal song of the Wood Thrush and once I got to the pond I heard the distinctly not-ethereal squawks of two angry Black-crowned Night-Herons taking flight. I managed to spot them both against the ambient glow of the city as they ascended over tree-top level and headed south.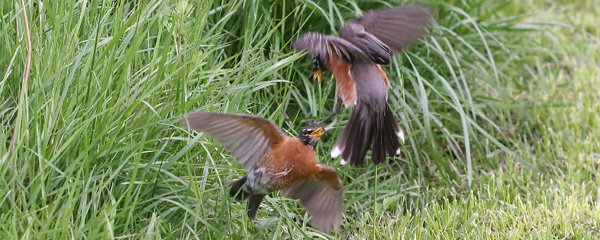 I sat myself down at the south end of the pond and listened to the chorus. It was mostly American Robins but frogs were calling as well: Northern Spring Peepers with their shrill peeps and a single American Bullfrog calling for jugs of rum. Gray Catbirds started to add their mewing calls and complicated songs and a couple Northern Cardinals advised "cheer cheer cheer." After a couple more minutes the birds really started to pick up, with Red-winged Blackbirds honk-a-ree-ing and Carolina Wrens teakettle-teakettle-teakettle-ing, and a Common Yellowthroat witchity-witchity-witchity-ing. The sky started to get a bit of natural light and the bird song continued to build as the frogs stopped calling. I quickly added birds like Brown-headed Cowbird, Baltimore Oriole, Rose-breasted Grosbeak, Ruby-crowned Kinglet, Northern Waterthrush, and Mourning Dove.
When there was light enough to see I spotted what in silhouette looked like a Black-crowned Night-Heron that had stayed behind but when I put the bins on it it transformed into a Green Heron, a very good omen for me as it was the first time this year I had seen my trigger bird in the city. As the clock edged closer to six I started walking towards the bus stop, my progress being interrupted by a mini-wave of warblers from which I picked out my first Magnolia Warbler of the year among others. I was also pleased to spot a Veery and a Hermit Thrush as I continued on my way and then, not ten meters from the bus stop, my first House Finch of the day feeding on the ground with a bunch of House Sparrows.
On the bus at five after six I tallied up the day's birds and realized that my first hour-and-a-half had netted me 37 species, a pretty good haul considering the first hour was of the day was in darkness! On the bus ride as we went over the bridge before Jamaica Bay I added several more species for the day: Brant, Double-crested Cormorant, Ring-billed, Great Black-backed, and Herring Gulls.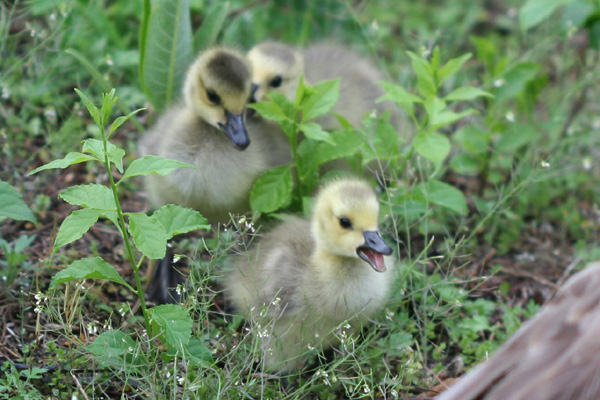 Rather than continue to bore you with more lists of birds I'll just give you a couple of the highlights of my birding until Mike and Carrie met me at eight. I watched a Ruby-throated Hummingbird chase a Gray Catbird from a bush (the only hummingbird of the day, by the way). I was scared away from goslings by some very angry Canada Goose parents. Bank, Barn, and Tree Swallows swooped around me on the West Pond and Northern Rough-winged Swallows swooped over the East Pond. My second Magnolia Warbler of the year chased a Northern Parula through the treetops. And a lowlight: as I walked the path on the south side of the West Pond I heard an odd sound coming from the marsh, almost like a short version of a birder spishing . No bird showed itself, even when I spished back. I gave it a couple of minutes and gave up, figuring it was some kind of marsh creature that I had never heard before. Was I ever upset later in the day when a Nelson's Sharp-tailed Sparrow was reported from the exact spot and I found out that the sound I heard is produced by them! My only excuse is, well, I have no excuse.
Despite my occasional incompetence, by the time Mike and Carrie arrived at just after eight I was up over eighty birds and looking forward to a new goal of getting to 120 species by the end of the day! Would I make it? Would I drop out from exhaustion? Come back to find out!