Spring migration has engulfed New York once again, which heralds, among other things, my annual pilgrimage to Sterling Forest State Park. I've been making this run for years with good reason… the birding is sick. I know of no place else on the planet that offers both Golden-winged and Blue-winged Warblers with such assurance and abundance. Throw in a ton more migrants along with the tantalizing possibility of Cerulean Warblers and this splendid slice of woodland becomes compulsory come May.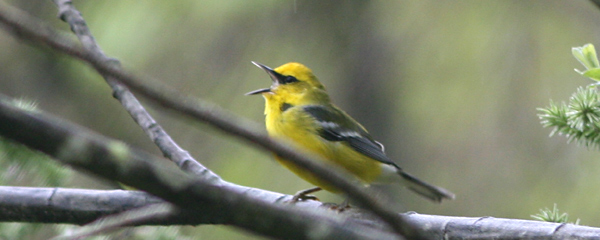 Further motivating this mission was Charlie's arrival in New York. Fresh off some major migration madness at Chicago's Magic Hedge, Charlie was looking to fatten up his already mind-boggling Big Year List. He may have spotted his life Cerulean just a few days ago but our friend is clearly not above spotting some ceruleans in full breeding plumage. Corey, as we well know, isn't either but he had commitments he couldn't break, even for birding. So just the two of us besieged Sterling Forest.
You've heard it here first: Sterling Forest is ridiculous. We started at my standard hotspot off Old Forge Road, only to encounter some of our targets mere yards from the car. Golden-wings and blue-wings were, without exaggeration, everywhere. And I should add that these are all purebred birds; none of that hybrid, backcross nonsense flies in this part of New York! But Sterling Forest is also ridiculous when it comes to mosquitoes and ticks. It's almost amusing how much we idealize spring during the deep of winter, conveniently forgetting how annoying, painful, and downright pestiferous it really is. Charlie and I were finding deer ticks, dog ticks, and some orange-bodied critter I'd never even heard of before embedded in our respective epidermises hours after we'd left. Yet amazingly enough, we failed to take a single picture to post about, a faux pas which may well get us drummed out of the Immortal Legion of Nature Bloggers!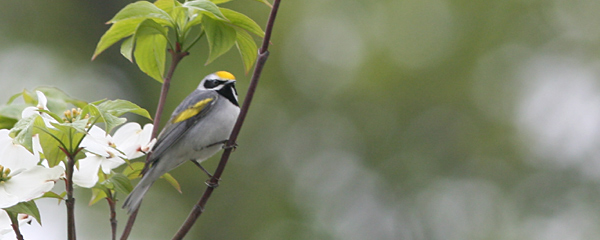 Voracious insect attacks weren't all we had to contend with. Just as I traditionally visit Sterling Forest every spring, Charlie traditionally brings wretched weather in his wake as long as we plan to go birding together. This day was no different, although I will admit that it wasn't as bad as the deluge that diminished our 2006 Sterling Forest excursion. Heavy cloud cover and periodic rain might have put a damper in the level of avian activity, but it couldn't dampen our spirits. After combing the canopy and underbrush along the defunct rail trail on Old Forge, we headed to the power line cut off Ironwood Drive. This spot, marked by rolling hills thick with flowering dogwood and flanked by the kind of second-growth forest that so many songbirds love, never fails to impress. Some of the side trails through low wetlands, on the other hand, didn't deliver to the extent we would have liked.
So, you may be asking, how was the birding? Along with the Golden-winged and Blue-winged Warblers, we observed Yellow, Black-throated Blue, Chestnut-sided, Yellow-rumped, Prairie, Black-throated Green, Black-and-white, and Hooded Warblers with American Redstart, Northern Parula, and Common Yellowthroat also in the mix. Other highlights included three species of vireo (Yellow-throated, Warbling, and Red-eyed) plus two sparrows (Chipping and Field) plus beauties like Scarlet Tanager, Baltimore Oriole, Blue-gray Gnatcatcher, Wood Thrush, Brown Thrasher, a Wood Duck drake perched in a tree, and a Broad-winged Hawk flying solo. One thrilling surprise was the sound of a Barred Owl hooting deep in the woods but regrettably we couldn't track the owl down.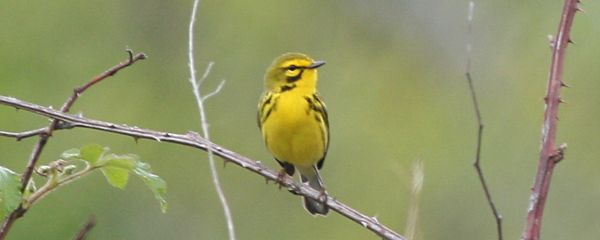 While the morning's birding clearly had its high points, there were some troubling gaps in our observations. Where were the flycatchers? Where were the thrushes? Where on Earth were the Indigo Buntings, a species as synonymous with Sterling Forest as the aforementioned Vermivora warblers? Since they weren't nearby, we decided to move the party down to Rifle Camp Park in New Jersey, just as we did two years ago. I don't know why neighboring Garrett Mountain Reservation gets all the great birding press when Rifle Camp Park is so easy to absorb. Last spring, about 30 minutes in this park served up, among other things, Bay-breasted Warbler and scores of Swainson's Thrush. I'm sorry to say we encountered neither of these birds but we did add Ovenbird, Magnolia, and Nashville to our day's warbler list and Veery as only our second non-Robin thrush. Flycatchers didn't exactly come up big but we did locate Great Crested along with Eastern Phoebe. We also encountered a cacophony of yellow-rumps, black-and-whites, and parulas. Oh, and finally an Indigo Bunting for the day!
As inexplicable as some of our misses were, certain sightings, such as Wild Turkey and Pine Siskin at Rifle Camp, also seemed strange. The oddest observation of all, however, had to be while Charlie and I were parting ways at the Spuyten Duyvil train station down where Manhattan and the Bronx face off across an inlet of the Hudson River. A white seabird more elegant than a gull glided past and though we didn't notice it until it was soaring away, Charlie was able to track it long enough to identify an entirely unexpected Gull-billed Tern, a fine bird to end a fine day in the field!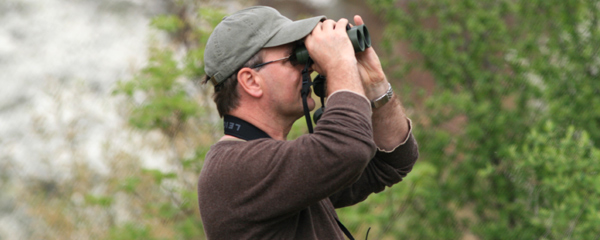 It looks like the ticks are massing for another attack…