How are the holidays treating you? One hopes that the wheel of karma turns in your favor during this time of festivity and giving. One also hopes you're seeing excellent birds!
Everyone who lives in Rochester, NY knows about the million crows roosting within the city limits. The skies over every neighborhood stream with murder after murder as the sun sets each evening. This weekend, however, I found myself closer to the crows' critical mass while they were establishing their nightly roost. The unexpected but entirely unholy cacophony produced by one million cawing, croaking crows meant that American Crow was my most memorable, if not best bird of the weekend. Corey wished that his BBOTW would be a Gray-crowned Rosy-Finch. Though it could have been either the Barred Owl or Eastern Screech Owl he saw on Saturday morning, it ended up being either of the two adult Bald Eagles on the Hudson River in his hometown of Saugerties, NY on Christmas.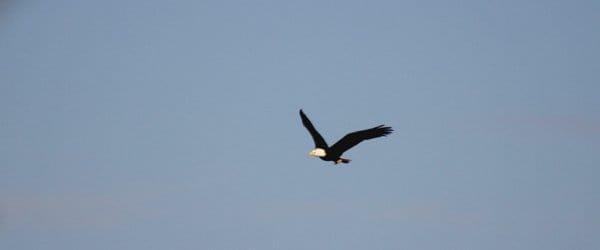 Bald Eagle over the Hudson River
What was your best bird of the weekend? Tell us in the comments section about the rarest, loveliest, or most fascinating bird you observed. If you've blogged about your weekend experience, you should include a link in your comment.