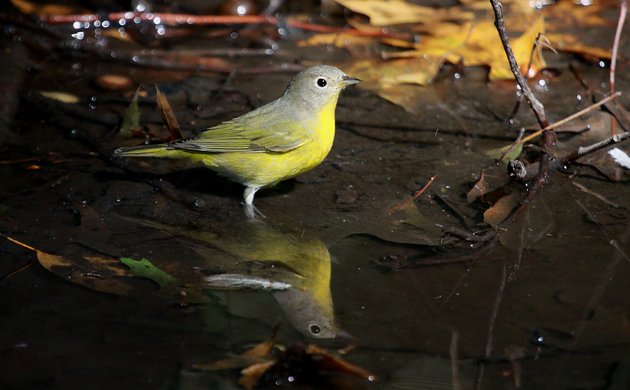 Even the solo birders out there have to appreciate that birding together is often better than birding alone. Corey and I don't get out in the field together much, since we've determined that the ongoing security of 10,000 Birds requires the two of us to live in separate cities. Blog security is serious business! But when I do get to  go birding with him or any of my other friends and colleagues in the natural history space, I remember what about this hobby I enjoy so much. Do you prefer birding together or alone?
The best bird of my weekend was a perky Magnolia Warbler Corey and I scanned catching flies — the real kind — at a baseball field at Kissena Park. Corey did me one better with the narcissistic Nashville Warbler pictured above admiring itself at Tanner's Spring in Central Park – but then he one-upped himself when on a whale-watching trip with his family off the coast he spotted a Cory's Shearwater feeding just west of Rockaway Inlet which put it just inside the Queens-Nassau County border. (Another new Queens bird for Corey!) Isaac Grant, who is doing a New York City big year and was on the boat as well, was just as relieved to get the bird within New York City's boundaries. Both of them were glad to not have to pretend that the two Cory's Shearwaters that they spotted just east of the inlet were in Queens!
How about you? What was your best bird of the weekend? Tell us in the comments section about the rarest, loveliest, or most fascinating bird you observed. If you've blogged about your weekend experience, you should include a link in your comment.