My parents made the drive down to New York City to visit Daisy, Desi, and me in Queens on Sunday and I had a great plan for the day. Whale-watching! This may come as somewhat of a surprise to those who don't know about it but the waters just off of Queens can apparently be pretty good for whales at the right time of year. Recent trips had scored several Humpback Whales so it was with high hopes and strong stomachs that we boarded the American Princess in Sheepshead Bay in Brooklyn* and made our way out on to the water.
In addition to my family I was also joined on the boat by Isaac Grant, who regular readers of this blog will recall as the birder doing a New York City big year. Though he, like me, certainly did not mind spotting a whale or two his main goal in being on the boat was to see seabirds, which have been scarce in New York City waters this year. But not only was this trip timed perfectly because it occurred while my folks were visiting but it was also ideal in that the winds had been out of the southeast for over twenty-four hours, the perfect winds to bring ocean-going birds near shore.
We steamed out of Brooklyn into Queens and rounded Breezy Point in a light drizzlymist that kept our optics wet and visibility rather low. As we headed east we stayed within several hundred yards of shore which seemed odd for a boat looking for whales. But the folks on the American Princess knew what they were about because shortly before reaching Nassau County waters we had our first couple of Humpback Whales feeding well within sight of land.
Sadly, the seabirds were much less evident, with a single Northern Gannet the only true seabird spotted while we in Queens waters though a nice adult White-crowned Sparrow that landed on the boat briefly was doing its best to be a storm-petrel.
Past Rockaway Inlet we motored, out of New York City waters and into those of Nassau County. More whales! Several humpbacks and one was lunge-feeding!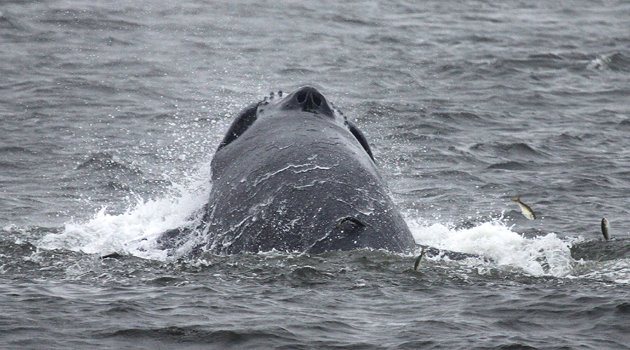 Lunge-feeding is when the whale moves forward rapidly and overtakes its prey. It is at its most spectacular when the whale is moving upwards in the water as this happens and breaks the surface, as the pictures above show. Do you think the fish that got away were aware enough to realize how close a call they had?
The whales put on an awesome show for us and everyone had the opportunity for good looks and photographs. The boat's captain did a good job of staying close to where the whales were without putting the whales in any danger and the spotters on board quickly made sure that when a whale came up that the paying customers knew where to look.
The only frustrating thing about the whales is that for some reason no seabirds were attending them. This probably only bothered Isaac and me. In fact, I am sure, judging by the open mouths and "Oooohs and Aaaaahs!" of our fellow passengers that it only bothered Isaac and me.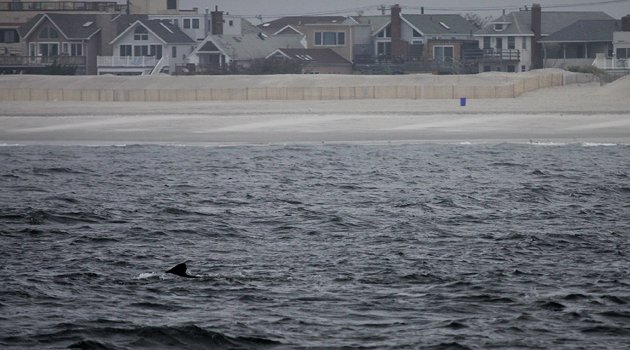 How close to shore were the whales? Well, that is Long Beach in the background and that is a whale in the foreground.
Anyway, we stayed with the whales for quite some time, enjoying the show, before we had to head back to New York. Heading west, the wind was behind us and the ride was smoother, which allowed Isaac and I to more easily focus on seabirds with our binoculars. This paid off shortly before Rockaway Inlet when we spotted first one and then two Cory's Shearwaters. Year bird! But in Nassau County, which would not help Isaac's New York City big year nor my ever-burgeoning Queens list. We tried to stay on the birds as we crossed the inlet into Queens but even if we had succeeded it wouldn't have mattered as the birds were still in Nassau County even if we were watching them from Queens. No worries though! A third Cory's Shearwater showed itself just after we crossed the inlet! Now that was a nice way to top off an excellent afternoon on the water!
All told, we spotted seven Humpback Whales and had a whale of a time on the water. I highly recommend getting out on the water with the American Princess crew. For only $45 to get out on the water it is a good deal and a fun time.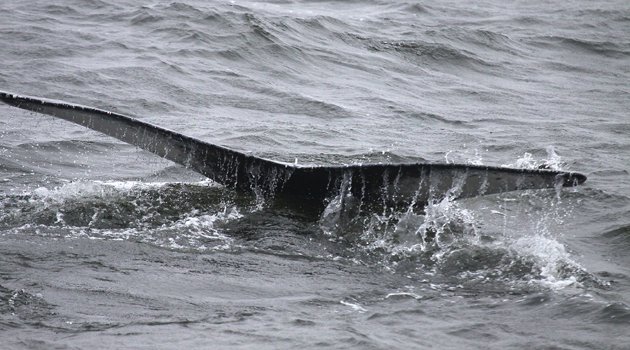 My mom wrote the day up as well. Check out her post at Finger on the Shutter.
…
*Rather than the usual embarkation point of Riis Landing which, because it is federal, is not available due to the government shutdown.
………