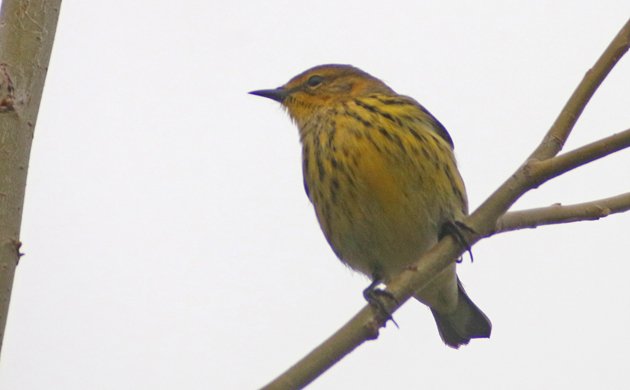 Can anyone deny that a perfect autumn weekend ranks as high as any span of days any other time of year? When summer's rampant growth tips over into gaudy rot and all your old avian friends pass through on the way to points south, when nothing tastes better than a ripe apples after a fall hike, those are fine days. Anyone who didn't spend this past weekend somewhere in the temperate zones of the Northern Hemisphere missed out!
I enjoyed a very birdy weekend with all sorts of expected New York and Pennsylvania fall faves and one rare Wilson's Phalarope to pad my year list. Corey saw quite a few birds this weekend including his first Clay-colored Sparrow of the year at Kissena Park and a surprise Blue Grosbeak while leading a walk for New York City Audubon. But his Best Bird of the Weekend was the brightest male Cape May Warbler he had ever seen in fall, one that was not at all a "confusing fall warbler."
How about you? What was your best bird of the weekend? Tell us in the comments section about the rarest, loveliest, or most fascinating bird you observed. If you've blogged about your weekend experience, you should include a link in your comment.