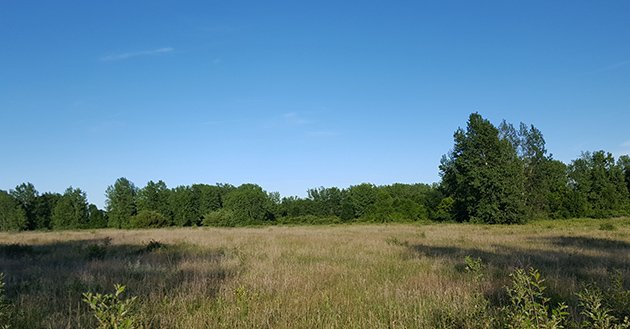 Ready for some contrarian birding commentary? The end of June may be superior in many ways to other times of year, or at least that's what millions of schoolkids are thinking right about now. But no week is so good that we at 10,000 Birds can't improve it. Consider the festivities of the next seven or so days our gift to you. Enjoy Come@Me Week!
Speaking of gifts, I finally tracked down that Henslow's Sparrow that's been singing its heart out dawn and dusk in a highly inconvenient field. The photo above portrays the field at Beatty Point, but you probably can't see the sparrow, which made me wait far too long before popping out from cover. Corey tried to find good terns out at Breezy Point in Queens on Sunday morning but failed to find anything of note so his Best Bird of the Weekend is either of the two Cliff Swallows he saw at Alley Pond Environmental Center on Saturday. Cliff Swallows breeding in Queens are still new enough to be novel and that is more than enough to be Corey's Best Bird of the Weekend.
How about you? What was your best bird of the weekend? Tell us in the comments section about the rarest, loveliest, or most fascinating bird you observed. If you've blogged about your weekend experience, you should include a link in your comment.