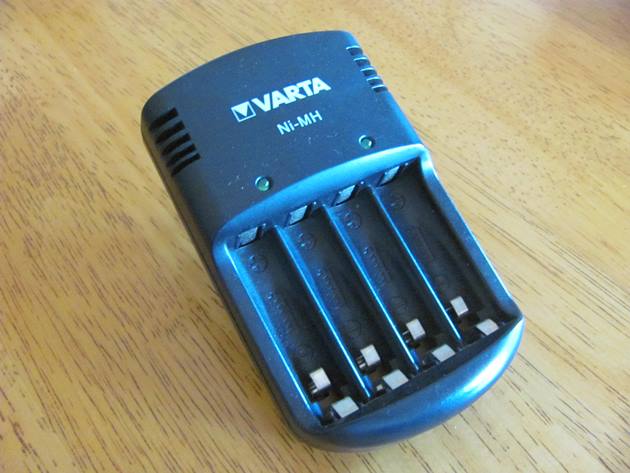 A long time ago, before many of you may have been birding, I got my very first camera. I had been thrilled to be allowed to take a photo for the very first time with my parents' camera a few years earlier and now I had my very own camera. I received this camera as a birthday gift from my parents in May 1981 when we lived in Kuwait and it was incredibly clever, because it enabled me to take two types of photos. The Kodak Tele-ektralite 20 was made in Canada and had two lenses and they were 22mm and 44mm. It took 110 film rather than the more traditional 35mm film and this camera served me very well and it is still in my possession. It was a different time and we all had to consider how many photos we would take due to the fact that films only allowed 24 or 36 photographs at a time and then you had to wait for the photos to be developed. You would often wait a week or more to see your photographs and you would take notes, so that you remembered where you took them! Despite the disadvantage of not being able to take many photos or having to wait for the photos to be developed you did not need to worry about batteries, because they were all manually operated.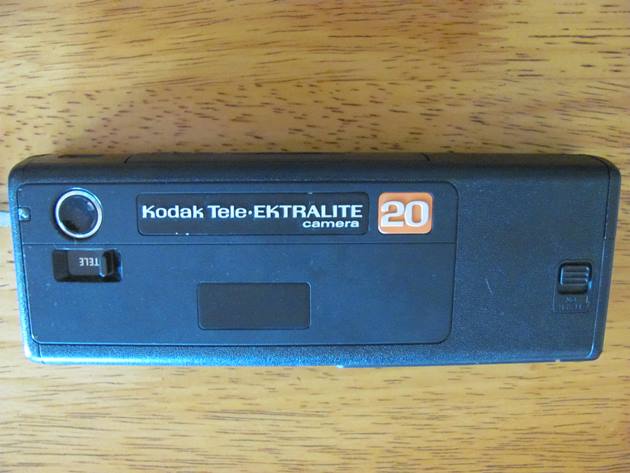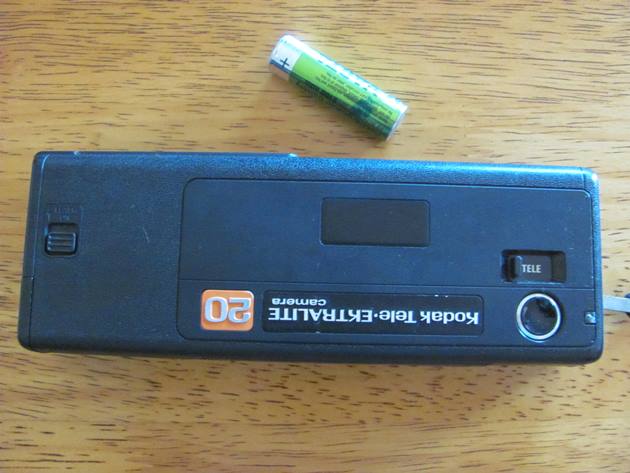 The Kodal Tele-ektralite 20 was a compact battery free camera and at the time it did not seem too big to carry around.
Despite having to wait for photographs to be developed in the past they are still of good quality. My writing on the back of the photo clearly says "in the spring of 1981-first day of the Grey Heron being in the garden". This was taken in Kuwait and the Grey Heron remained in the walled garden of our villa for two days.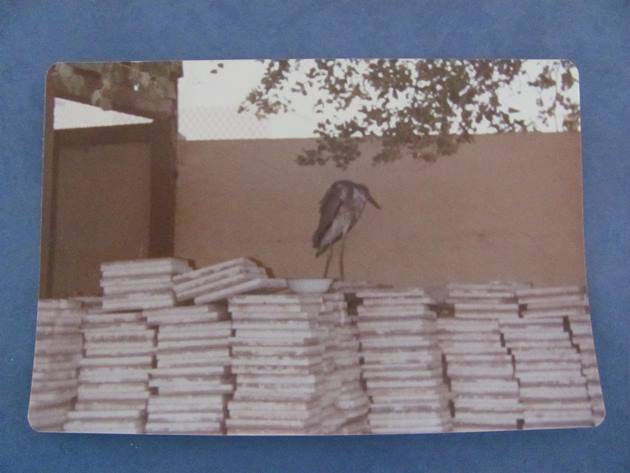 Photo of an original photo taken in 1981
The 110 film became harder to get and due to the fact that Grant had a 35mm camera that could take 36 photos at a time he became the photographer. When we were travelling he would write notes for each photo he took so that we would know the location and when we returned to Australia from travelling across the USA in early 1990 we had over 30 rolls of film to develop. We had chosen to wait until we returned to Australia to develop the photos due to the extra weight involved in carrying all of the photos. This all must seem rather bizarre to some of you!
With the development of digital cameras we delayed purchasing one for quite some years, but finally we investigated our options. The one feature that concerned us from the very beginning was the battery or batteries that ran the camera. We are not always near electricity and would not want to be unable to take photos due to the camera battery going flat and no means to charge it up again. In 2006 we chose a Nikon Coolpix S4, which ran on 2 AA batteries and I became the photographer once again. One of the main reasons for becoming the photographer was that Grant was writing the bird lists in the notebook when we were birding, so I took care of the photographs. Sadly this Nikon camera ceased to work at the end of November 2010 and I was already writing for this website and I couldn't delay getting another camera that took AA batteries. I would not consider a camera that had any other type of battery, because I wanted the freedom to be away from electricity and still be able to take as many photos as I wanted. This time I purchased a Canon Powershot SX120IS, which I am still using to this day.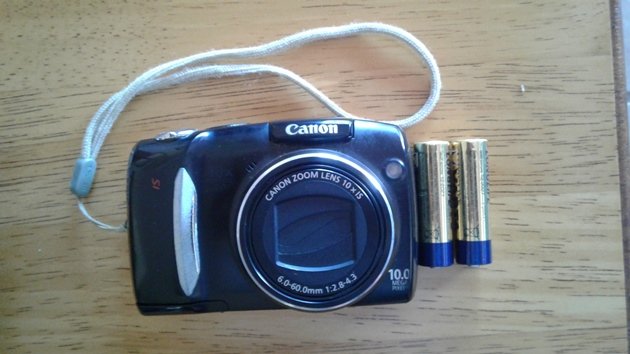 My current AA battery camera
I don't doubt I am possibly using the smallest camera of all the beat writers, but that does not worry me. The convenience of having a AA/AAA battery charger when you are at home and spare batteries in the bottom of your small camera bag that hangs around your waist just can't be beaten. After all, I am birding first and photographing second. The pressure to choose between observing and photographing can be overwhelming sometimes as was the case with the Temminck's Stint! This camera may be small, but it has provided the evidence of rare birds in the past and will hopefully do so well into the future. It did struggle with the distance of the Grey-headed Lapwing last year, but was conveniently small when it was raining and I wanted to photograph the Long-billed Dowitcher.
One huge advantage of AA batteries is that when conditions are colder than you would like you can put them in your pockets and warm them up and squeeze a few more photos out of them. When you are away from electricity for an extended period you can buy disposable batteries to tide you over until you can recharge once again. In January this year I did discover an issue with the camera where it did not hold the date and so I ignored it for several weeks while we were travelling until I could investigate online what the issue was. Of course the manuals nowadays are online and I had not remembered that page 124 tells you that after about 7 years you will need to replace the backup battery for date and time! So, all of my photos for the trip this year are dated January 1st 1980! This is before digital cameras were even around and before I got my first camera! I am currently taking photos in the correct century according to the "properties" of my photos once again after replacing the battery!
It would take a lot to convince me that a camera that does not have AA batteries is the way to go. There's no denying it that cameras with AA batteries are the best and a big step forward from the 1980's! Good luck at convincing me that AA batteries are not the best!!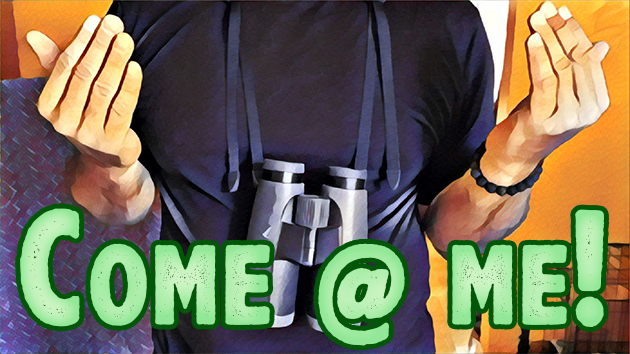 Come@Me Week is a cheap ploy ginned up by some high priced consultants we at 10,000 Birds hired and then stiffed on the bill. We're desperately trying to stay relevant in a bird blogosphere being decimated by Facebook, Twitter, Instagram, and memes. We here at 10,000 Birds have no shame and it was either this or lots of posts about woodcocks, boobies, and woodpeckers. All the posts in Come@Me Week are probably the opinions of the authors of said posts and no one else. Well, except maybe you. Weirdo. Agree? Disagree? We'll see you in the comments. Or, more likely, on Facebook. Sigh…