Fall has officially fallen around here, yet somehow we've gotten off to an uplifting start. Finally getting out to look at some birds at the start of the season may just herald an auspicious autumn!
I got out to the Braddock Bay Bird Observatory banding station to observe some masters at work. The catch of the day included a lovely variety of warblers, thrushes, and other migratory songbirds, the best of which was a buck Black-throated Blue Warbler. That terrific azure, ebon, and ivory plumage makes even more of an impact against the undifferentiated yellows, greens, and browns most fall warblers flaunt. Corey, on the other hand, enjoyed a moveable feast at Kissena Corridor Park. He can't decide between Connecticut Warbler and Clay-colored Sparrow for best bird for the weekend, since both are new Queens birds for him.  They beat out Yellow-billed Cuckoo, Blue Grosbeak, Ring-necked Pheasant, Lark Sparrow, and Yellow-bellied Sapsucker.  That makes for 283 on ye olde Queens life list.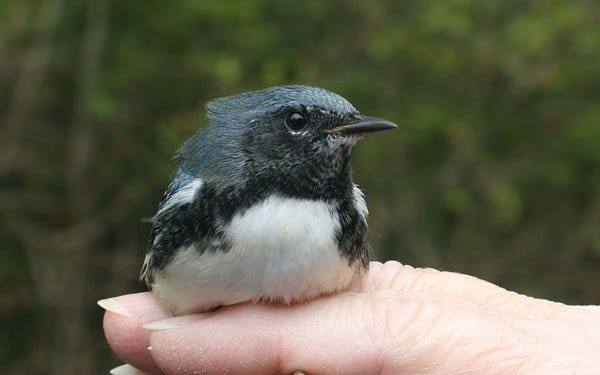 A BTBW in the hand is worth two in the bush…
What was your best bird of the weekend? Tell us in the comments section about the rarest, loveliest, or most fascinating bird you observed. If you've blogged about your weekend experience, you should include a link in your comment.