Another weekend gone, another week ahead; are you satisfied with how you spent the last few days?
Blue Jays in my area vied for attention more obnoxiously than usual, but my best birds of the weekend were a trio of Common Mergansers winging it over ice-covered Irondequoit Bay. Corey's best bird of the weekend was a Green-winged Teal.  At least, it is a Green-winged Teal according to the American Birding Association.  If you ask the International Ornithologists' Union, the bird Corey considered his best bird of the weekend is a Common Teal. Confused yet?  The duck, which we are sure you can find in the image, didn't seem at all confused about its identity. Corey, however, is confused about whether or not he should count the Eurasian Green-winged (Common) Teal on his year list or not…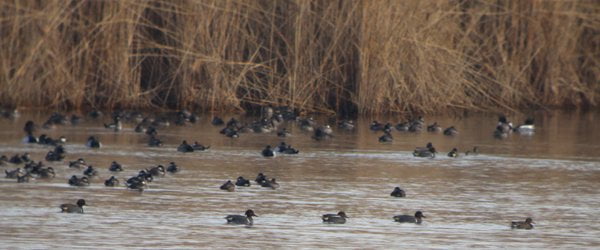 What was your best bird of the weekend? Tell us in the comments section about the rarest, loveliest, or most fascinating bird you observed. If you've blogged about your weekend experience, you should include a link in your comment.