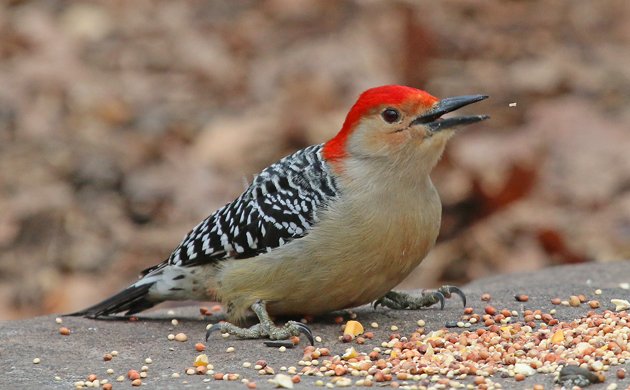 Nearly everywhere in the world, birds are on the wing, not just traveling to and from their daily haunts but returning to their ancestral circuit. Based on the the time of year, many people I know are also on the wing. So best of luck to any and all creatures striving towards a distant horizon right now.
Old Man Winter still has my part of the world firmly under his hoary thumb. Instead of enjoying early migrants, I can appreciate the spring songs of my local winter birds. Every year, I'm puzzled by the song of the Dark-eyed Junco, but thrilled when I identify the artist. Normally Corey's Best Bird of the Weekend would have been a no-brainer: his first migrant Eastern Phoebe of the year! But Corey also hit up the Forest Park bird feeders with his family Saturday afternoon and Desi, his five-year-old, was so taken with a Red-bellied Woodpecker (the one above) that Corey had to choose it as his favorite bird of the weekend too.
How about you? What was your best bird of the weekend? Tell us in the comments section about the rarest, loveliest, or most fascinating bird you observed. If you've blogged about your weekend experience, you should include a link in your comment.