As spring migration heats up across the northern hemisphere every weekend is bringing more first-of-season birds through parks and backyards.  Of course, these sightings will only matter to you unless you decide to share your best bird of the weekend.
Though Mike and I birded together for over half of the day on Sunday we came up with different best birds.  Mike is convinced that he finally spotted his life Barred Owl with the aid of Laura Kammermeier, a sighting, which, if true, would put him ahead of me by one in the ABA.  Fortunately for me, however, Mike's sighting was of a stuffed animal that some cruel prankster put up in a tree, as you can see from the picture below.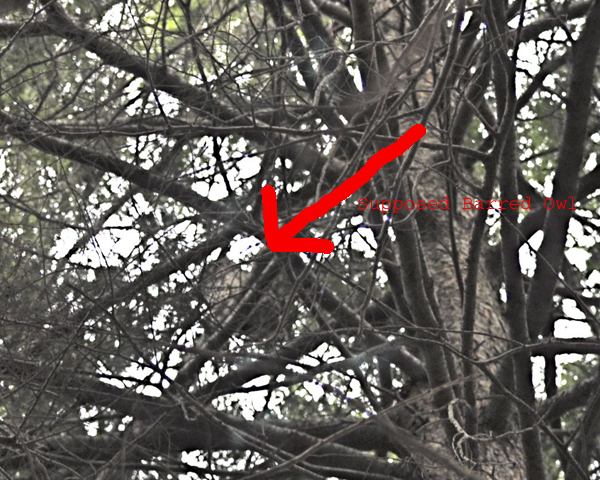 "Barred Owl" by Laura Kammermeier
My best bird of the weekend was also an owl, a Great Horned Owl at Jamaica Bay for which a kind birder had told Mike and me to keep an eye out.  Really, it was ears we needed, as we simply followed a raucous murder of crows to the beleaguered owl, my first Great Horned Owl of the year, and first ever at Jamaica Bay.
Charlie's best bird was…actually Charlie's been too busy looking at bees and butterflies lately to do much birding, but he promises he'll try harder for next week.
What was your best bird of the weekend? Tell us in the comments section about the rarest, loveliest, or most fascinating bird you observed.  If you've blogged about your weekend experience, you should include a link in your comment.