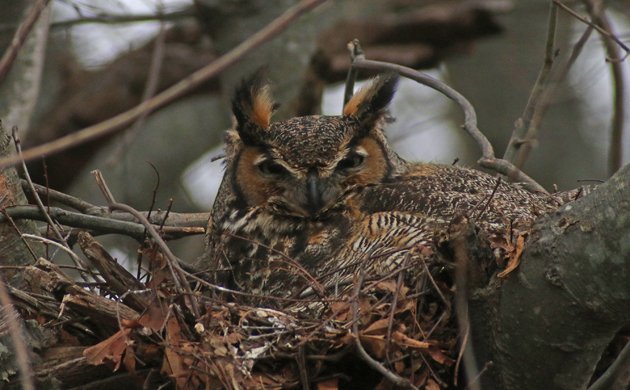 St. Patrick's Day weekend teaches us many lessons, more than a few of which concern parades, alcohol, and nationalism as fashion. But this time of year also reminds us that as you stand gazing hopefully at the season ahead, you are still mired in the one that is ending. Transitions, like Irish whisky, can make us moody.
My mood kept me from enjoying the outdoors this weekend, since I can't stand looking at the snow anymore. At least I could see American Robins. Corey overcame such weakness: his Best Bird of the Weekend was a Great Horned Owl on a nest at a location in Queens he wishes not to disclose. Though seeing an owl on a nest is an awesome experience there can be too much of a good thing for a sought-after species in a vulnerable situation.
How about you? What was your best bird of the weekend? Tell us in the comments section about the rarest, loveliest, or most fascinating bird you observed. If you've blogged about your weekend experience, you should include a link in your comment.