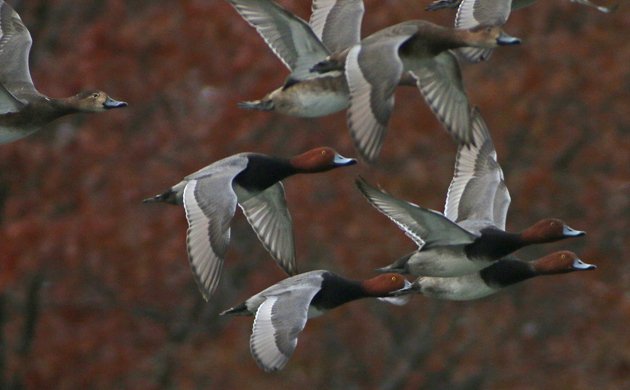 While I rarely lie to our readers, this moment calls for complete candor: I cannot stand the arrival of winter. Rochester is already cold and snowy, chronic conditions which will last for another six months or so. I will, of course, get over my weather woes and find a way to enjoy the unappreciated pleasures of winter birding. For now, though, I'm still resisting!
Because I hid out from the cold this weekend as much as possible, my birding was mainly done from my window. Since a massive flock of House Sparrows obscured any other birds that might have pecked their way to my feeder, the Black-throated Brown will have to do. Corey had a whole bunch of birds once again to choose from this weekend but he really enjoyed watching the ducks at Baisley Pond Park. The dabblers and divers that winter there are mostly back already and Corey really liked that the Redhead took to their wings and allowed for some flight shots. There are lots of nice ducks but none are as sexy as Redheads, Corey's Best Bird of the Weekend.
How about you? What was your best bird of the weekend? Tell us in the comments section about the rarest, loveliest, or most fascinating bird you observed. If you've blogged about your weekend experience, you should include a link in your comment.