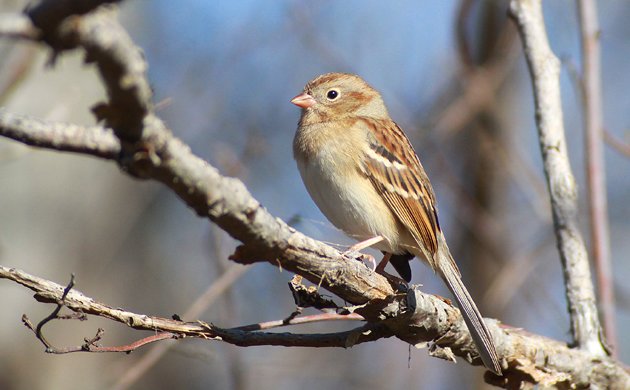 When citizens of the United States tout the superiority of our country, we tend to focus on debatable issues of culture, economy, and government. However, if we're being fair, one of the irrefutable elements that makes America great is our proliferation of Northern Cardinals.  In fact, we lead the world in these ubiquitous red birds, a fact that undoubtedly chafes terrorists and freedom haters everywhere. This is a very good time to be a cardinal fan, and not just because that crimson plumage comes into its own once all the leaves have fallen.  The Arizona Cardinals may not be covering the team totem in glory, but the St. Louis Cardinals just locked in another trip to the World Series. Go Cardinals!
My best bird this weekend was hardly rare, but spotting a Great Blue Heron in a suburban yard far from water definitely caught my attention.  Though Corey originally picked a Field Sparrow at Edgemere Preserve (like the one pictured above) as his Best Bird of the Weekend, an afternoon outing with his family back to Edgemere Preserve so Desi could chase after crickets and grasshoppers led to his revised Best Bird of the Weekend, a fortuitous find. He was very pleased to see his first ever Rough-legged Hawk in Queens, a dark-morph bird hunting over the old landfill. That's his third new bird in Queens in less than a month! The picture (which is not as nice as the Field Sparrow shot) is below.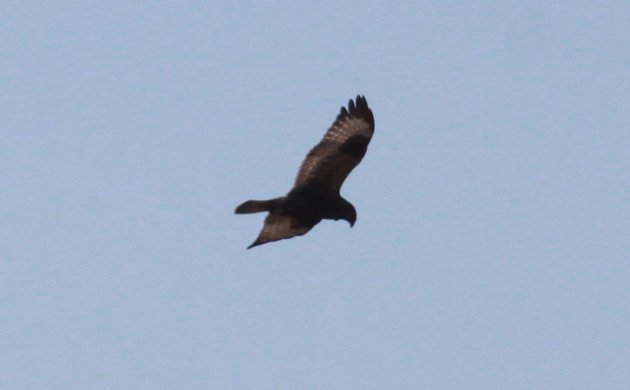 How about you? What was your best bird of the weekend? Tell us in the comments section about the rarest, loveliest, or most fascinating bird you observed. If you've blogged about your weekend experience, you should include a link in your comment.