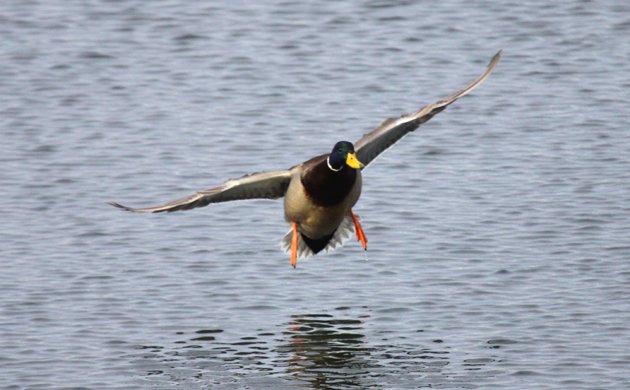 On a Big Year, every species counts equally, even the lowly Mallard
Last year saw quite a few big year records fall to dedicated birders. There are, of course, more big years happening this year. What records will fall in 2013?
The following is not an exhaustive list, of course, but hopefully we will learn of more big years in the comments. Periodically throughout 2013 we will check in with the folks we find doing big years to see how they are doing. Priority in all of these blog posts will go to those keeping a blog about their big year, simply because it is easier to track what they are doing. Also, big year blogs are one of my favorite types of blog to read.
Anyway, without further ado, here are the 2013 Big Year birders!
Ali Iyoob is looking to break the North Carolina Big Year record of 351 this year. As of my writing this he is off to a roaring start with 169 species recorded already. Follow along at NC Big Year '13.
Rangel Diaz is doing a big year in Miami-Dade County, Florida, hoping to reach 300 species, and keeping a blog about it. Check out EPIC Big Year 2013.
Greg Majewski is a relatively new birder but he is not letting that stop him from trying to reach 250 species in Indiana this year. That would be more species than are on his life list! Follow his adventures at Greg and Birds.
Matt Timpf is doing a Canada Big Year. I'm not at all sure what his goal is other than seeing lots of birds but Canada is a big country so I bet he succeeds! You can keep up with Matt at Canada Big Year 2013.
Laura Erickson is doing a "Conservation Big Year" seeking to see, photograph, and highlight conservation stories around the United States in 2013. It's a pretty darn cool idea. You can see what she is up to at Laura's Conservation Big Year 2013.
Will Raup is doing an Albany-Area Big Year in eastern New York State. His goal is 200 species and you can follow along at The Nightjar.
Greg Cantrell is doing a New Jersey Big Year, hoping for 300 species, and raising funds for the New Jersey Audubon Citizen Science program. No blog, but you can check out this post on the New Jersey eBird portal.
Sherrie Duris is not satisfied sitting on her laurels, having broken the Lucas County, Ohio, Big Year record last year with an amazing 263 species. She is doing it all over again in order to break her own record!
David Bell is doing a Los Angeles County, California, Big Year this year and, according to eBird, had already hit 156 species as of 8 January.
Andy Wraithmell is doing a Florida Big Year in 2013 and, again according to eBird, had reached 112 species as of 8 January.
And that's all that I have found so far. Who else out there is doing a 2013 Big Year? And who's planning one for 2014?