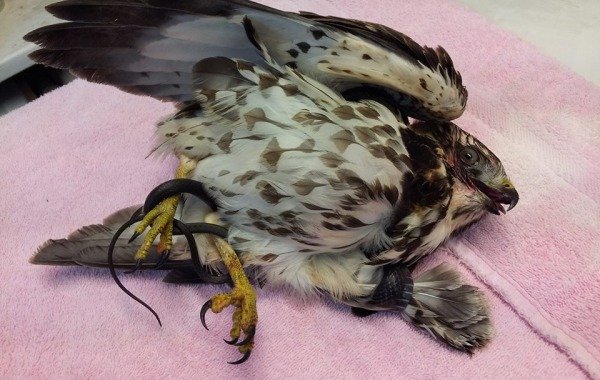 Here's something you don't see all the time.
"We had a call one morning about a snake and a hawk," says Tom Sweets, the executive director and chief rescuer of the Key West Wildlife Center, located at the very tip of Florida. Along with animal care director Peggy Coontz, Tom and a number of volunteers rescue and care for injured and orphaned wildlife within 15 miles of the Center, as well as those spotted on small islands around Key West.
The duo locked in battle turned out to be a juvenile Broad-winged Hawk and a Black Snake. The snake was wrapped firmly around the hawk's tail, neck, and wings, and had enough strength to immobilize the bird but not to kill him. Evidently the snake knew what would happen to him if he tried to let go of the hawk, so the two of them just lay there, neither able to go anywhere.
"It was an immature broad-wing on his first migration," says Tom. "He probably decided to make a meal out of the snake, but the snake had other ideas."
Tom picked them both up, put them in a carrier, and took them back to the clinic, where he and Peggy managed to pry them apart. The snake had no puncture wounds, and was released 24 hours later. They kept the hawk for a few days, as he was weak and dehydrated from migration, then released him as well.
Key West Wildlife Center takes mostly birds, but will rescue mammals, marine mammals, and both land and sea turtles as well. They see a lot of young Brown Pelicans; they see a lot of juvenile birds in general, all of whom tend to hug the coast on their first migration. Last year, 4,000 young Peregrine Falcons swept through the Keys on their way north.
KWWC also has a thriving feral chicken sideline.
Who knew? It turns out that back when cigar manufacturing was big in the Keys, Cuban laborers arrived with their chickens. Eventually the business and the workers moved to Tampa, leaving a sizable chicken population behind. KWWC captures injured, sick or orphaned wild chickens, then adopts them out to homes on the mainland.
KWWC is located within the eight-acre Sonny McCoy Indigenous Park in Key West. There is a paved trail through the park that winds past a freshwater pond and two aviaries, and the birding is fantastic. They receive some funding for their "chicken services" from the City of Key West, but their wildlife rehabilitation center runs completely on donations … which are tax-deductible. Want to help this great place? Donations may be sent through PayPal or to Key West Wildlife Center, PO Box 2297, Key West, Florida 33045.