The birding world has celebrities, celebrities that we at 10,000 Birds like to call birderati, and sometimes one is lucky enough to meet them.  On Monday morning I received an email letting me know that one such member of the birderati, Tim Appleton, co-founder of the British Birdwatching Fair and manager of Rutland Water Nature Reserve, would be coming through New York City on his way back from a familiarity trip to Guyana, with a rather long layover at JFK, and could I suggest a nearby location for him to go birding?  Well, considering that I met Tim on the marvelous Swarovski trip to Kazakhstan last year, and also considering that it was mid-March and I had not yet used a vacation day for the year, and, finally, considering that the best birding spot to go to during a JFK layover would be Jamaica Bay, well, how could I not only suggest Jamaica Bay but also take a half-day to show Tim around the place?
After quickly finding a way to get a car in my possession for the day (thanks Jean, may you see 100 lifers this year!), making sure my coworkers weren't going to kill me for taking half a day, and making sure Daisy wasn't going to kill me for using said half a day for birding purposes rather than changing diapers, things were all set.  Oh, and did I mention that a couple more of the birderati would also be joining us?  The irrepressible Bill Thompson III, you know, of Bird Watcher's Digest fame, and Steve Banner, of Wildlife & Wilderness, a wildlife tour company based in Britain, also had long layovers at JFK and would be coming along for some birding.  Beats the heck out of a full day at work!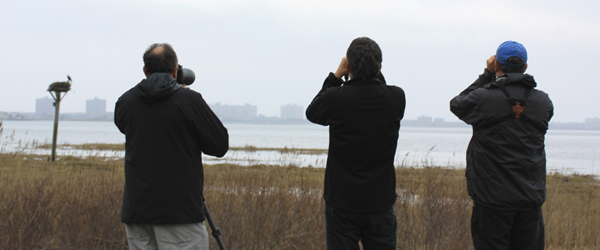 I actually arrived at Jamaica Bay a bit early, you know, to scout things out and make sure that there were birds around to see in the gray and drizzly weather.  Several small flocks of Snow Geese flew over, Horned Grebes and Bufflehead galore were in the bay, a ton of Greater Scaup were on the West Pond, some White-throated Sparrows and Myrtle Warblers were feeding beneath and in bushes, and, hey, my phone was ringing!  On the other end was Bill Thompson, his voice instantly recognizable from his podcasts, and he told me that they were at the reserve and ready to bird.
Rather than go into great detail about what we did and didn't see I'll cut to the chase and say we had a grand ol' time.  Steve was racking up the lifers, having never before been in North America as a birder, and we were all pleased to watch a pair of Wood Ducks swim across Big John's Pond to cap our afternoon's birding.
An even better way to cap the afternoon was pizza followed by a pint, which I think we all really enjoyed, before bringing the three weary travelers back to JFK for their long flights home.  The next day I received an email from Tim letting me know that he had spotted an Osprey upon his return to England, meaning he saw Ospreys on three continents in thirty-six hours, which must be an all-time record.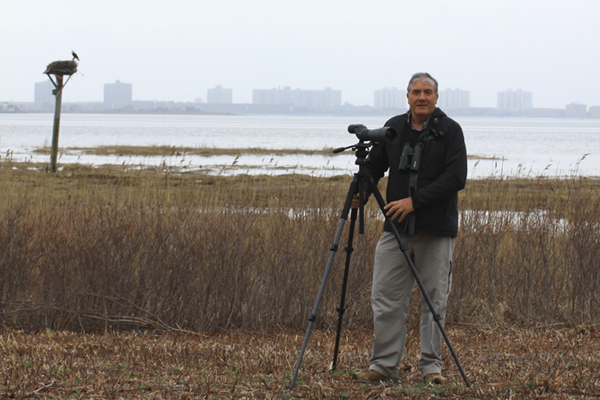 So, wandering birders, if your travels should take you to my fine borough of Queens, NY, and you find yourself cooling your heels in an airport terminal, why not get out to Jamaica Bay and see some birds?