For the third day of the First Annual Mesoamerican Birding Festival I signed up for the Finca El Paraiso field trip, mostly because I was slow getting to the sign up table and was too late for the Santa Barbara National Park field trip, so my journey to a cloud forest was delayed yet again.  But Finca El Paraiso promised to be interesting, as it is a shade-grown coffee plantation, which are reputed to be very birdy, and I like both birds and coffee so it seemed like a good combination to me.  That and the fact that the leader of the trip was Robert Ridgely, you know, the guy who has written (with others) The Birds of Panama, The Birds of Ecuador and is now two volumes into the four-volume The Birds of South America (he also works for the World Land Trust).  He is one of the most accomplished neotropical birders alive today so I had an extra goal in addition to seeing great birds and learning about shade-grown coffee; not making a fool of myself in front of Robert Ridgely!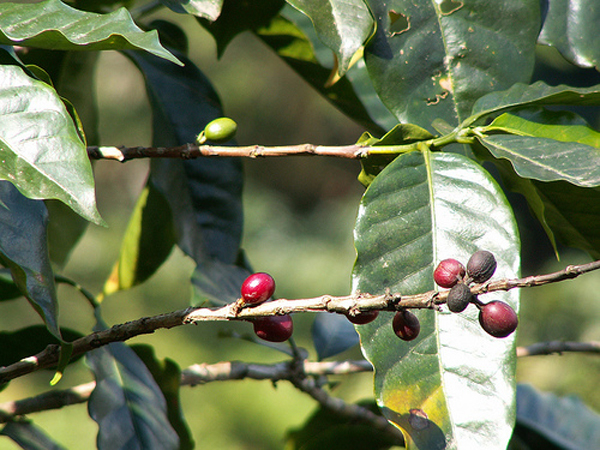 the coffee plant above is by Colene McKee (more of her photos from Honduras are on her flickr page)
It was not the best of days weather-wise, with a heavy overcast and an occasional drizzle making the light lousy for photography and putting a bit of a damper on our enthusiasm.  But when a Bat Falcon was spotted perched up high on a snag ripping apart and swallowing a meal shortly after we unloaded from the coaster we were pretty pleased.  A short while later we stopped to watch a Northern Barred Woodcreeper foraging on tree trunks and, while we were admiring the woodcreeper a Stripe-throated Hermit flew in and gave brief looks and, well, things were looking better.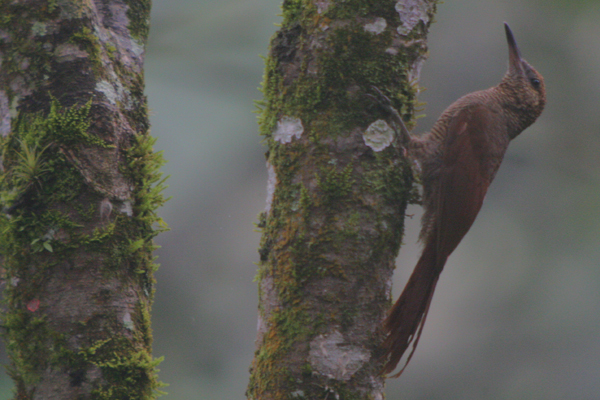 Looking a little better, that is, until Alfonso, an affable birder who was one of the nicest people on the trip, started doing an odd dance while swiping at his ankles.  Seeing as I was standing right next to him I was at first amused, and then concerned when the cause of his odd behavior was revealed: ants!  Fortunately, I was not in the path of the ants and Alfonso actually managed to not be bitten because he noticed them on his pants before he actually suffered from ants in his pants.
Crisis averted, we moved on, seeing common birds for the area like Blue-crowned Motmot and Brown Jay but nothing really spectacular.  In fact, the birding was downright slow for about twenty minutes until we someone spotted some White-fronted Parrots followed quickly by a Masked Tityra.  Then Ridgely managed to see a nearly completely obscured Ferruginous Pygmy-Owl that we tried to rouse with an imitation but managed instead to bring in what we presumed to be its mate, which proceeded to toot back at us ad infinitum.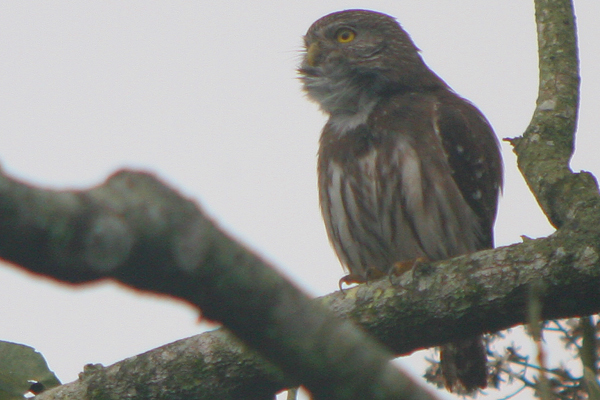 While the owl was great fun to watch and digiscope I was still puzzling out how Ridgely managed to spot the first owl to begin with and then he identified a Philadelphia Vireo at relatively long range, without using his binoculars.  Now I know that there are better birders than I am, and I know that there are people with better eyes than I have, but to see both combined in such a way that a man can identify an obscure little vireo at about thirty yards with his bare eyes is kind of absurd (and I didn't hear it make a sound so he wasn't identifying by ear).  I briefly considered bowing down on my knees and saying "I'm not worthy, I'm not worthy" like Wayne and Garth from Wayne's World but after considering Alfonso's earlier ant issue I decided against it.
Which was fortunate because I might have hurt myself getting up from the ground too quickly when the cry of Emerald Toucanet echoed through the coffee plantation!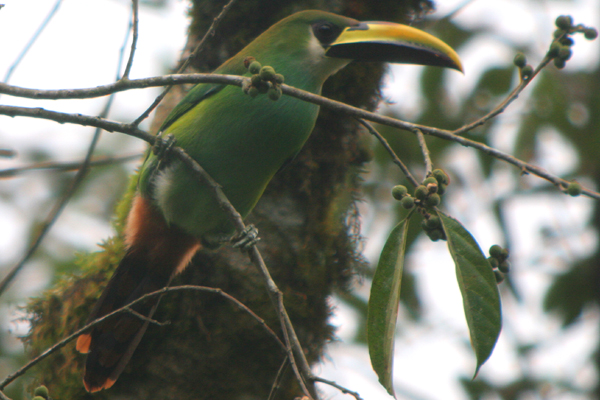 The toucanet was momentarily forgotten though, when an Elegant (or Blue-hooded) Euphonia was spotted amid the more common Yellow-throated Euphonias (there was also a Scrub Euphonia feeding in the same area).  I was dismayed to not see the Elegant Euphonia at first but the toucanet made things alright by flying over and posing behind the euphonia's location and allowing me to get the shot above (to say nothing of a whole bunch more, look for a gallery soon).  Eventually, I managed to get brief looks at the Elegant Euphonia (better looks would come later in the Honduras trip).  Also feeding on the mistletoe berries were a couple of Yellow-winged Tanagers, and I finally took a tanager picture worth sharing.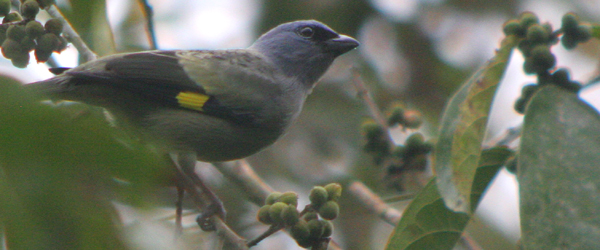 That was pretty much it for our bird sightings (though there were, of course, many that I did not mention) but when we returned to where the coaster was waiting Alfonso talked to some of the folks who work the coffee plantation and they agreed to show us what they were up to, which was planting coffee beans in sand so they would germinate.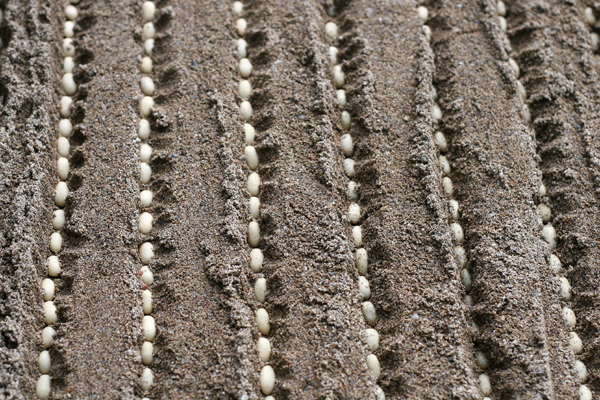 coffee beans waiting to germinate
planting coffee beans
While we watched we learned why so many of the coffee plants we had seen while birding seemed so small.  About twenty years after being planted the coffee stops being so productive so the plants have to be torn up and replaced.  A large chunk of the plantation had recently been replanted and once the beans we saw being planted germinated and grew a couple of inches more of the plantation would get new plants.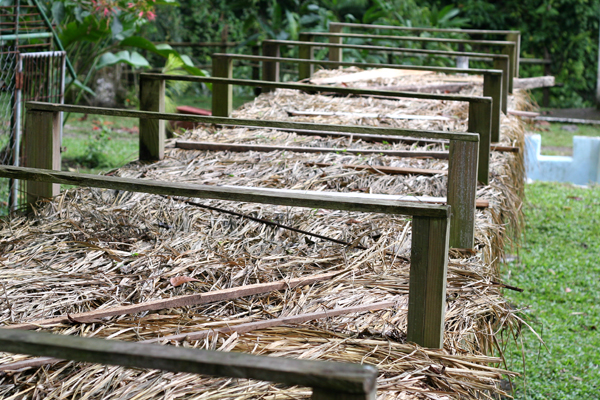 coffee beans germinate under straw, or, in a pinch, palm leaves

Once the plants have germinated, been planted, grown some beans, and the beans have been harvested, the beans have to be dried.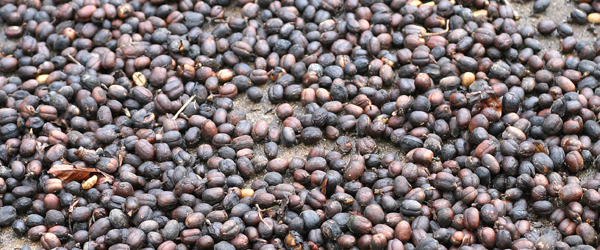 I wanted to grab some beans and chew on them but cooler heads prevailed.  I must say that visiting a shade-grown coffee plantation was an eye-opening experience.  I saw some life birds like the toucanet and the euphonias there that I would not have seen if the coffee was being grown in direct sunlight without trees to provide food and shelter for the birds.  The people who worked the farm seemed pretty happy to be working in the shade instead of under the hot sun all day.  So I would highly recommend buying shade-grown coffee for all your caffeine needs.  Of course, who certifies the coffee as shade-grown matters a great deal but rather than go into detail I will just provide some links so you can learn for yourself.
Northwest Shade Coffee Campaign
Birding with Kenn and Kim: Brew the Right Thing