After successfully stalking the Pink-headed Warbler, our glorious assault on Guatemala's Pacific Slope began in earnest. The first stop on our ambitious circuit was the Los Andes Private Nature Reserve, an absolutely heavenly plantation of sustainable coffee and organic tea mixed with pristine cloud forest. Yet the action started as soon as we hit the highway. After all, its not every day you ride in the shadow of active volcanoes; Acatenango may slumber but its twin, De Fuego has been bubbling and coughing ceaselessly for centuries.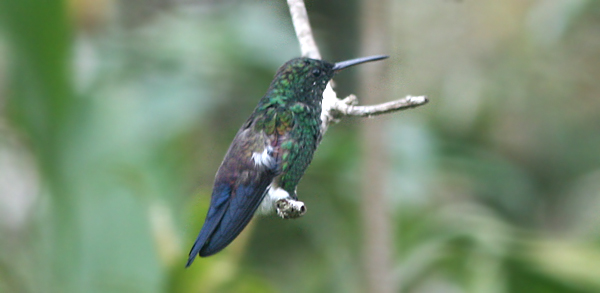 Blue-tailed Hummingbird
Dropping down in altitude while driving westward opened up new avifauna opportunities. We browsed raptors from the van, adding plentiful Gray and Short-tailed Hawk to the trip list. Egrets both Great and Cattle turned up frequently as well. One particular cow pasture was too tempting to pass up so we pulled over to admire some unforgettable White-throated Magpie-jays. Groove-billed Anis were grooving along the fence which attracted our attention to some flycatchers perched on posts. We all agreed on Tropical and Western Kingbirds in the mix but could not, alas, achieve consensus on an improbable Fork-tailed Flycatcher!
The action subsided momentarily as we battled the seemingly endless hand-hewn cobblestone road that leads to the heart of Los Andes. Crawling through rectilinear rubber orchards at a pace that allowed us to marvel at the menial workings of sap collection, I wondered where the birds had gone. Clearly, the rubber monoculture was wanting as habitat. However, once we arrived at the big house, the gracious nerve center of the Los Andes enterprise, all manner of excellence ensued.
Before I get to the birds, I should mention how comfortable yet elegant the lodging is at Los Andes. The food is unpretentious but fantastic, with exquisite organic ice tea made from the reserve's own leaves flowing all day long. This house is a home, one that feels connected to both the agricultural history of the area and its abundant natural blessings, and our genteel hostess Olga made us feel a part of its mission and tradition.
How about those birds? We arrived to spot a Lesser Goldfinch perched next to a White-collared Seedeater on the far side of an ornamental pool while the tall bare tree next to our van held Social Flycatcher, Red-legged Honeycreeper, and Red-billed Pigeon at the same time! These were the same limbs that one afternoon bore both terrific Thraupis tanagers of the region, Blue-gray and Yellow-winged yet earlier has served as a predatory perch for some ineffable Pygmy-Owl, either Ferruginous or Mountain. Within minutes of a hammock and that outstanding ice tea, Los Andes has birds galore.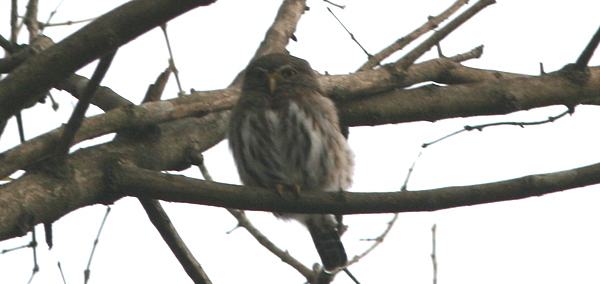 Pleased to meet you. Can you guess my name?
I don't normally do this but just to give you an idea of the avian abundance around the ecolodge, I'll share the yard list I amassed over a couple of afternoons noodling around: Western Tanager, Clay-colored Robin (lots!), Baltimore Oriole, Bullock's Oriole, Orchard Oriole, White-winged Dove, Melodious Blackbird, Great Kiskadee, Yellow-bellied Elaenia, Golden-fronted Woodpecker, Gray Hawk, Cattle Egret, Pacific Parakeet, Barred Parakeet, Blue-tailed Hummingbird, Black-headed Saltator, Violaceous Trogon, Green Kingfisher, Emerald Toucanet, Rose-breasted Grosbeak, Masked Tityra, House Wren, Bushy-crested Jay, Orange-billed Nightingale Thrush, Indigo Bunting, Painted Bunting, Northern Rough-winged Swallow, Magnolia Warbler, Wilson's Warbler, Townsend's Warbler, Rufous-capped Warbler, Black and White Warbler, Turkey Vulture, Black Vulture, Great-tailed Grackle
Insane, right? This list doesn't even include the birds I mentioned earlier or ones that I missed but Rick Wright, the brainiest bird-spotter in the West, saw and mentioned in his own enticing description of Los Andes. More important, this list pales against some of the species we viewed when we explored the star natural attraction of Los Andes Private Nature Reserve, the cloud forest trail known only as "El Quetzal"…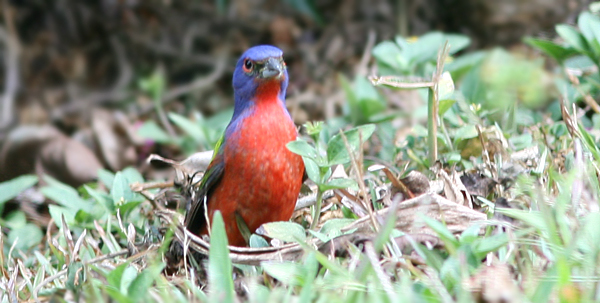 Painted Bunting