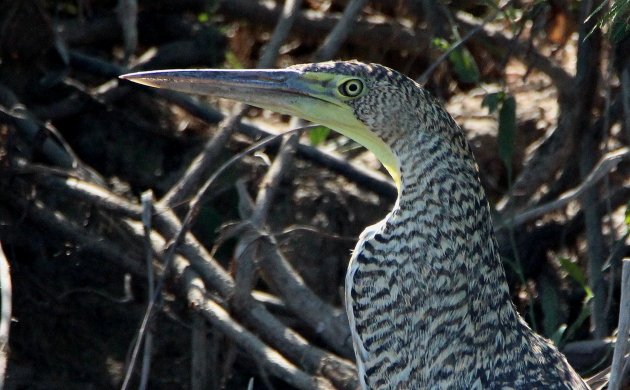 During the period from 1994 through 2006, I mostly dedicated myself to itinerant ministry. In other words, I travelled, sometimes every weekend. Most of this travel was in Mexico, but I also visited different regions of the U.S., Cuba (twice), South America (twice), Europe and Morocco (once) and Bali (once). But here is the truly tragic part: I was not birding during those years! I can only imagine what my life list would be like now, if I had.
My wife and I have been pastoring a local church since 2006, which discourages too much travelling. But the church has matured in its ability to do well when we are absent, and this has been accompanied, over the past year or so, by a notable increase in the number of invitations for us to minister elsewhere. And, just between you and me, I will confess: I am not immune to the desire to minister in very birdy places!
The third weekend of January, I travelled to the coastal city of Acapulco to give a seminar on family finances at a church there. My schedule was not too full, so there was lots of free time to check out the local fauna. And my hosts, God bless them, seemed eager to make that happen. They even seemed to enjoy going along for the ride.
Acapulco is built around one of the world's most beautiful bays. It originally served as the port of entry for goods brought from Asia by Spanish galleons. These goods, purchased with Mexican silver, would then be transported overland through Mexico City, and shipped from Veracruz to Spain. This was a rare early example of a globalized economy.
The city then boomed as a tourist destination during the 40s, 50s, and 60s, before being surpassed by the new cities of Cancun and Cabo San Lucas; but it still attracts large numbers of tourists from Mexico City. Being only a bit further north than Bangkok, Acapulco's climate is tropical. I was happy to be there in January, rather than during the warmer months!
The birdy goodness started with my first dawn in Acapulco. My hosts had arranged for me to stay in a beautiful private home, high on a ridge overlooking the city, and the forested area surrounding the home attracted some very noisy (and, for me, exciting) birds. At the crack of dawn, I was awakened by the calls of several West Mexican Chachalacas. These turkey-sized birds, named for their raucous calls, can muster an impressive level of volume. It wasn't long before they were joined by any number of White-throated Magpie-Jays, a particularly exciting development since I had just included the three I had seen during 2019 in that year's Best Birds of the Year list. And now, this garden was crawling with them!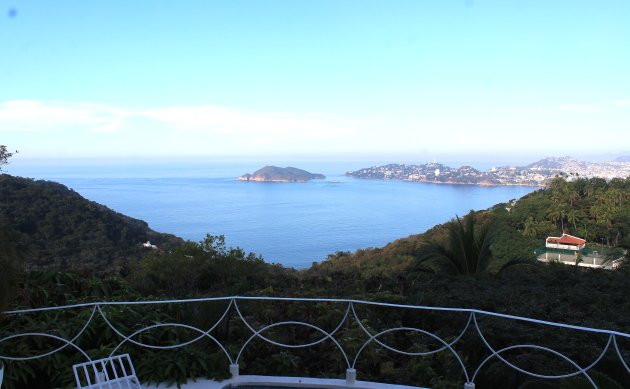 The view from my (temporary) patio: it's a rough life.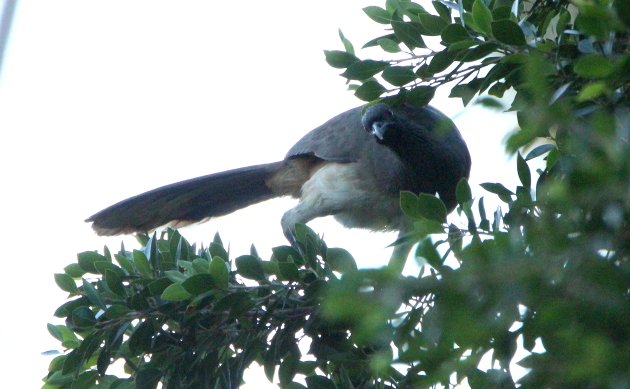 This Chachalaca took a break from its busy morning of squawking to check me out.
The White-throated Magpie-Jay: such a beautiful bird!
As if the Chachalaca and Magpie-Jay noises weren't enough, there were also many pairs of White-fronted Parrots screeching as they flew overhead, though I never managed a photo of those. And my one lifer for the trip was a family of Rufous-naped Wrens that apparently live in the same garden.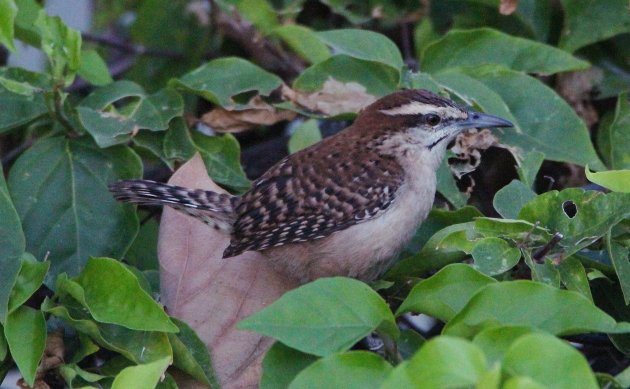 Since my church responsibilities would not resume until that evening, my hosts took me to visit a small church they had founded near the banks of the Laguna de Coyuca, a large estuary I had previously identified as a good wild area for birding. (How nice of them to have a church there!) Prior to being served an obscene amount of fried local fish for lunch, a young local church member took us out on the estuary in his panga, a small rowboat used for fishing. I had never birded this way before, and can confirm that what I had heard is true: Birds are much more tolerant of human presence when those humans are on a boat! And the birds along the walk to the estuary weren't bad, either: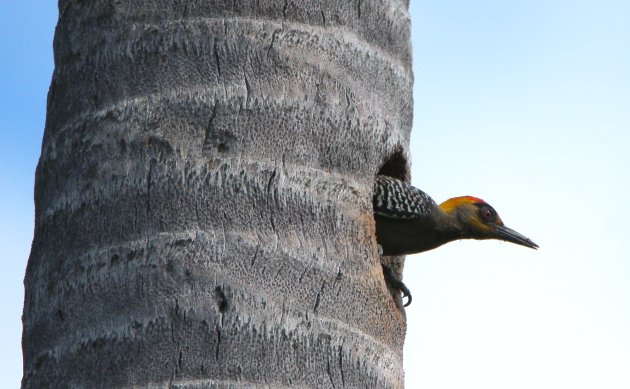 Looks like nesting time has arrived for this Golden-cheeked Woodpecker.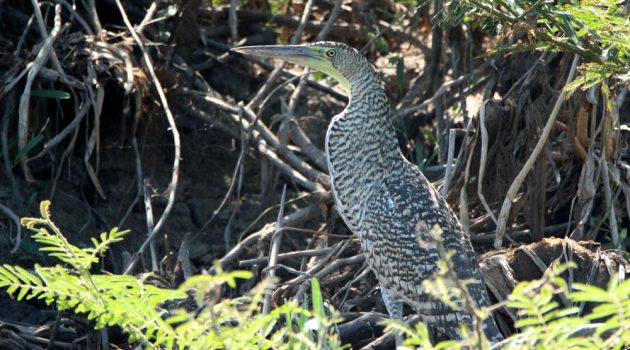 We saw lots of the usual Heron, Egret, Cormorant, and Pelican suspects. But this Bare-necked Tiger-Heron was a real treat for me.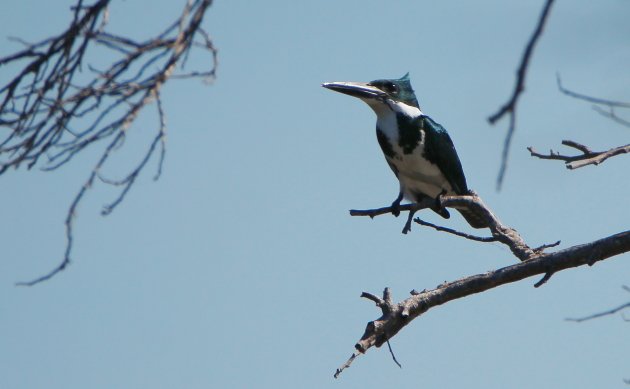 Ditto for this handsome Amazon Kingfisher.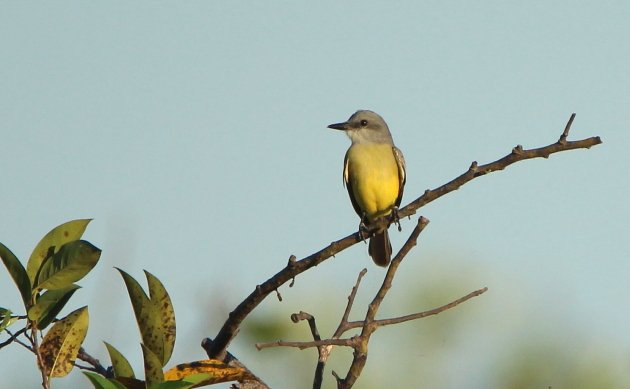 If you go to Acapulco, you can expect to see (and hear) lots of Tropical Kingbirds.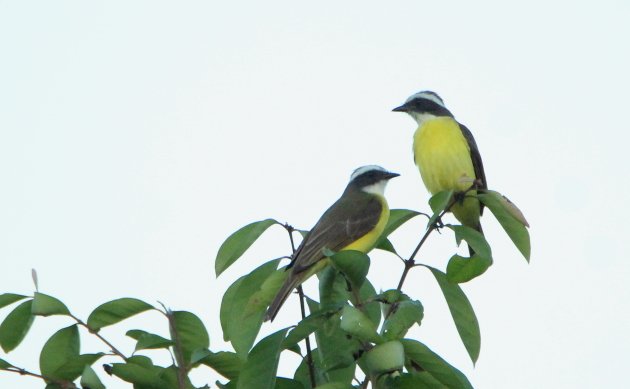 How do you tell Social Flycatchers from their similar cousins? The Socials have short bills and olive wings…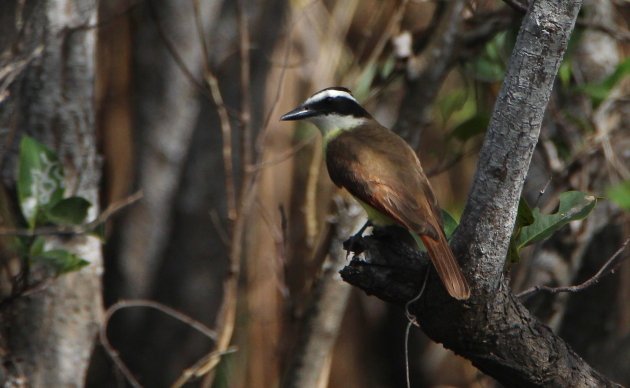 …while the Great Kiskadee has a rather massive bill, and rufous on its wings and tail.
Is Acapulco a worthwhile birding destination? I would definitely say that it is. (The 29 species I added to my January list say so as well.) Be sure to check out Laguna de Coyuca as well, while you are there.