Oh Belize. A beautiful country on Central America's coast, Belize boasts spectacular diving and snorkeling, immense cave systems, beautiful rivers, dense jungles, and of course, hundreds and hundreds of birds.
My husband and I arrived in Belize just after a late afternoon thunderstorm. It was the beginning of the rainy season, and a quiet time in Hopkins, a small Garifuna village in south-central Belize (they are much busier when it is winter in the US). Our plan was to spend a few days seaside before going inland, and we were itching to get out on the water.
We got our chance on a guided fishing tour out to the mangrove islands, a thirty minute boat ride off the beach. We were all set for a full day of combining our two loves: fishing and birding.
The birding was relatively easy. I sat in the boat, Floyd, our guide, worked the motor, and Brian fished on the bow. A camera and my binoculars occupied a seat next to me, periodically protected with a Ziploc bag when we moved from place to place or when a passing shower threatened. On all sides we were surrounded by unbelievable blue water, a bright azure color when the white sand shown through shallow water, a deep cobalt blue where it deepened. I had the weird sensation that I wanted to hug that blue water, which is sort of an odd feeling to have. It's possible all the sun made me a bit loopy.
Magnificent Frigatebird
Our first birds came before our first fish. Magnificent Frigatebirds soared overhead, their giant wingspans stretching black across the sky. One pair actually had a fish, but were constantly trying to snatch it from each other, performing aerial maneuvers that seemed to make dropping the fish a certainty. Despite their piratic tendencies, frigatebirds are one of my favorite species, and I could watch them all day.
As we reached the mangrove islands, Brian and the guide began looking for Permit, one of the most elusive fish for anglers. To spot a school, they searched for sharp tails jutting up above the water, and we slowly circled the shallows, looking, looking, looking.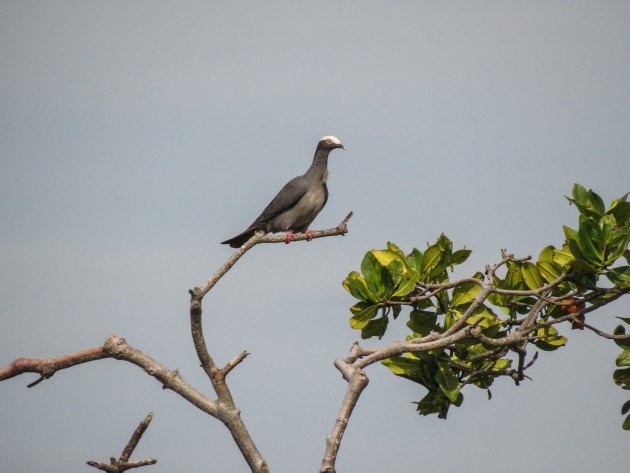 White-crowned Pigeon
Well, they were looking. I was obviously more interested in the winged creatures. Brown Pelicans and Neotropical Cormorants fished and sunned themselves perched on the low mangrove trees, and I treasured my long and close up looks at each. Great-tailed Grackles buzzed, chortled, screeched, and made just about every other sound you can possibly think of, and were by far the most populous birds out there. One island hosted a ton of White-crowned Pigeons, while others were resting places for my frigatebirds.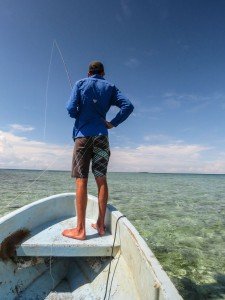 Searching for Permit
While I was enjoying my birds, the fishing was slow. Floyd moved the boat periodically to look for schools, and when they didn't appear would whistle and admonish, "Come on now, show yourselves! Don't be hiding from us!"
Around noon we found a bunch, and Brian and the guide jumped out to wade for them. No luck, but it was fun to see them. They're so hard to fish for that even getting a cast towards them was an accomplishment.
As the afternoon progressed, the birding slowed but the fishing picked up. They switched from Permit to Bonefish, another Belize specialty, and could easily see the schools at the edge of a larger island. With two strikes and a lot of casting the fishing definitely became more interesting, but after almost six hours on the water I was looking for other birds besides pelicans and grackles.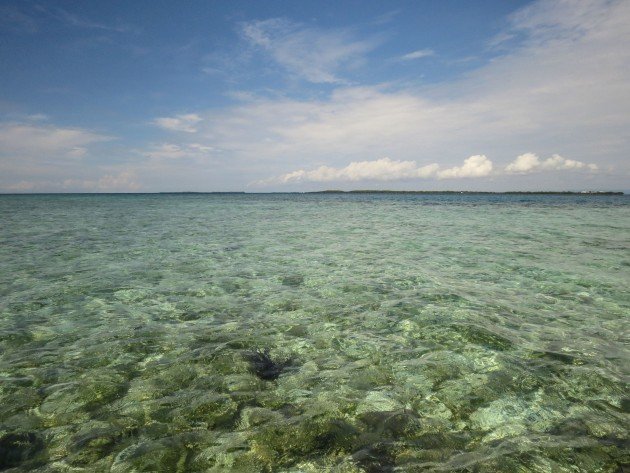 Beautiful shallows
Turns out, I got my wish! Near where we were fishing was a reef jutting out into the ocean, a rocky top accruing a variety of driftwood. On one large log two shapes looked vaguely familiar, and as I brought my binoculars to them I realized why: they were Ospreys!
Ospreys have a distribution that stretches across the globe. I watched one preen and another eat a fishy meal, thousands of miles from where I've seen other ospreys on the east coast of the US. Cool!
By the end of the afternoon I just sat back and relaxed. Taking photographs and looking through binoculars on a wave-beaten boat gets the stomach churning after awhile, and I was content to watch the blue of the sky against the blue of the sea.
All in all, another successful fishing and birding adventure. We saw new fish, new birds, and, most importantly, avoided horrible sunburns!