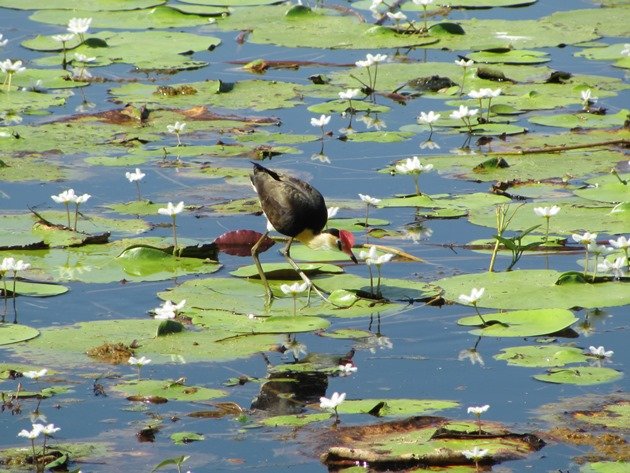 On our recent trip over the border into the Northern Territory to Keep River National Park we spent a day birding around Kununurra before we set off on our return trip to Broome. We had spent a few days there last year visiting Ivanhoe's Crossing, Hidden Valley National Park and Lake Argyle. We returned to Lake Argyle before heading into town and the male Great Bowerbirds still had a bower in a very similar spot to last year with a similar collection of rocks and bones. Some of the creeks close to town that had been good for finches and mannikins in recent weeks had been burnt and were no longer productive.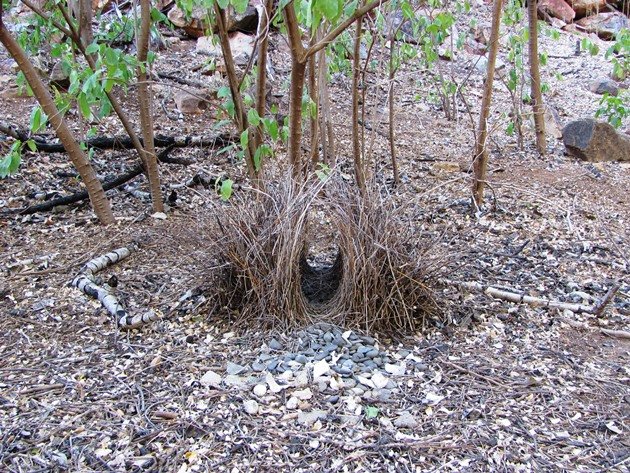 Bower at Lake Argyle
Once we got to town we headed out on Weaber Plain Road to observe what was using the irrigation channels and to see what was amongst the crops. Kununurra sources water from Lake Argyle and crops include pumpkins, watermelons and chickpeas. Crocodiles may inhabit the irrigation channels and swimming is not advised! At many of the sluice gates there were good varieties of birds roosting. One gate had Glossy Ibis, Pied Heron, White-faced Heron, Little Pied Cormorant and Cattle Egrets all roosting together.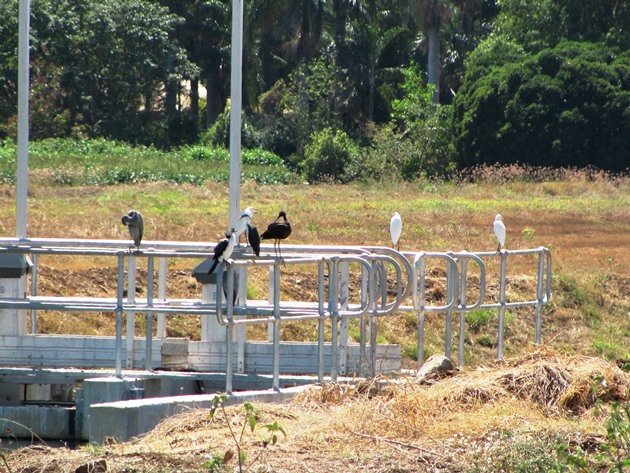 Birds roosting on sluice gate
As we reached the end of the sealed section of Weaber Plain Road we noticed that the water truck had been along the unsealed section to supress the dust and the Fairy Martins were busy taking advantage of the wet mud available. They were collecting it and carrying it away for nesting under the culverts.
Fairy Martin collecting mud
We took the road towards the Frank Wise Institute of Tropical Agriculture, where trials of various crops take place and we came across an Australian Bustard stood in one of the crops. We slowed down and pulled up beside the crop to discover two more Australian Bustards in the crop. We had seen one earlier in the day beside the road between Lake Argyle and town, but to have three together was an incredible sight.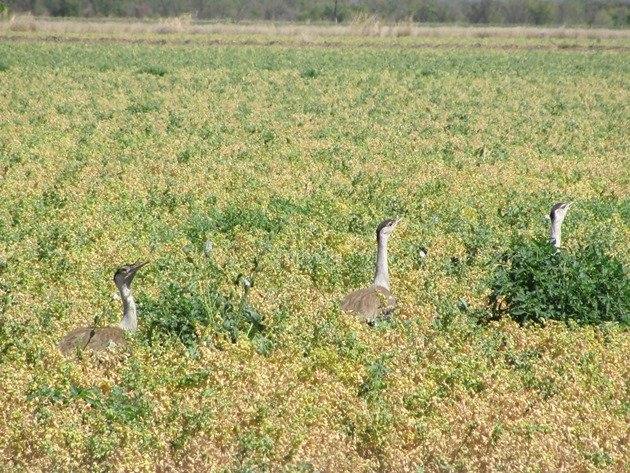 Three Australian Bustards
Closer to the research centre we discovered a flock of over 150 Brolga walking through one of the recently harvested crops. Straw-necked Ibis accompanied them as they searched for food amongst the crop. Every power line in the area had a Red-backed Kingfisher on it and it would have to be one of the easiest species to see in the agricultural area! Black Kites and Whistling Kites were also common along with Nankeen Kestrels.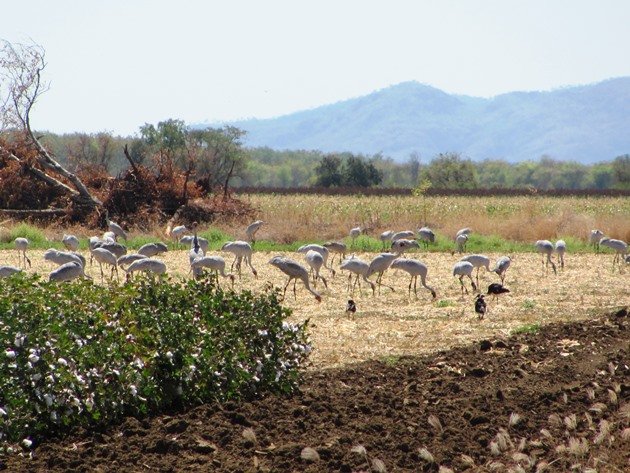 Brolga and Straw-necked Ibis
The muddy channels alongside the crops were also being used by a variety of species including Brolga and Masked Lapwings.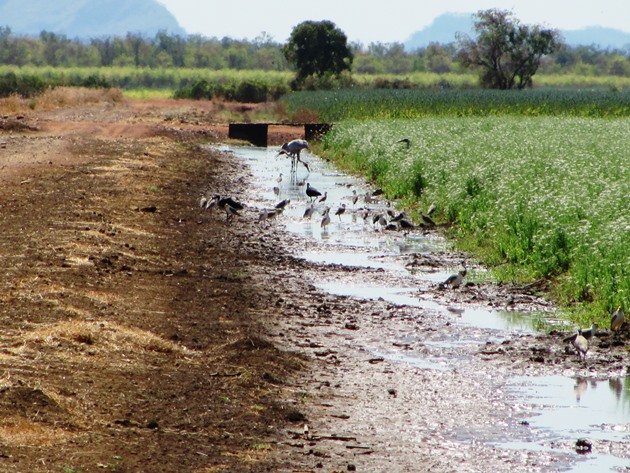 Brolga and Masked Lapwings
We returned to Ivanhoe's Crossing and the Crimson Finch were still there, but we failed to see the "orange" bird from last year. The Shining Flycatcher was coming down to the water in exactly the same area as last year and the Little Black Cormorants were diving for fish. Rainbow Bee-eaters were constantly swooping overhead and Double-barred Finch were also coming in for water. The road remains closed due to continued maintenance on the diversion Dam.
We then came back into town to visit Lily Creek Lagoon and to see over 50 Comb-crested Jacana. This is by far the easiest place to see this species and there were both adults and juveniles present walking across the lily pads.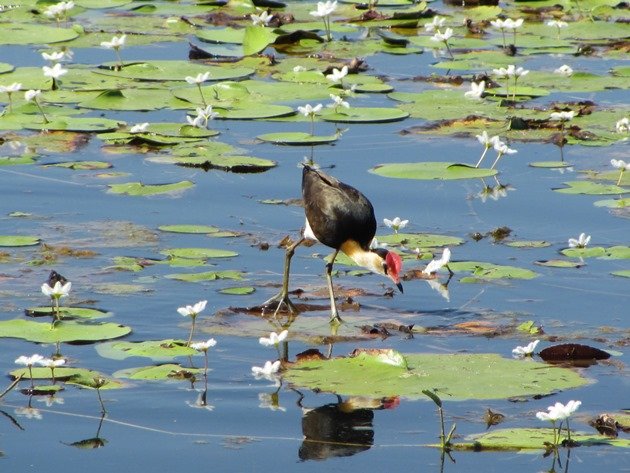 Comb-crested Jacana
The trees were noisy with a variety of honeyeaters including Blue-faced Honeyeaters, White-gaped Honeyeaters and Yellow-tinted Honeyeaters.  Having seen so many Red-backed Kingfishers on the power lines in the agricultural area it was great to observe two Sacred Kingfishers at the lagoon. There were also Purple Swamphens around the edges of the lagoon and Green Pygmy Geese further out. Straw-necked Ibis and Crimson Finch were also present in good numbers and there is plenty of shade to enable you to enjoy the area and the birdlife.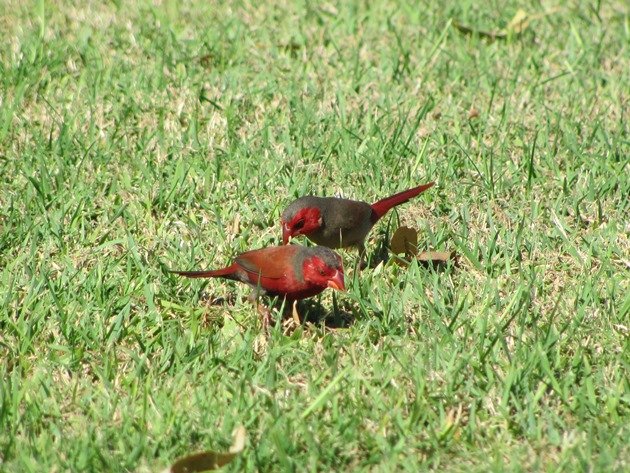 Crimson Finches
Kununurra is a great little town to go to and see a wide variety of birdlife and if you don't get a chance to go over the border into the Northern Territory to find White-quilled Rock-Pigeons or Sandstone Shrike-thrushes then you can take a walk in the Hidden Valley National Park right in town to see them.