It's Poop Week on 10,000 Birds and Sewage, though far from glorious, is great fertilizer. And the water treatment facilities built to support them are kept wet throughout the year, even in the blistering heat of summer in Cyprus. Or at least that's why I think that the Larnaca Sewage Works is a great location to check out whenever you're birding in the area.
Technically it's in Meneou, not in Larnaca proper, just behind the airport. There's a nice hide there that provides a great view but admittedly offers hardly any protection from the wind during rough weather (the hide is marked in the image below). Ducks, gulls and grebes love it there though; while they might be see in the surrounding area when there's water, never pass up a chance to scan the pools there with your scope.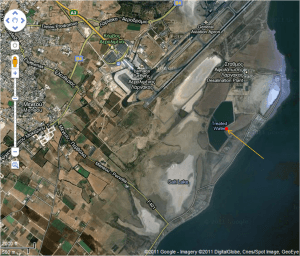 Besides ducks, gulls and grebes, surprises that you'll see there include Avocets, 11 of which were seen there last week. Occasionally you'll also see Terns: Black, Whiskered, White-winged, Common, and Gull-billed. Black-winged Stilts and Spur-winged Lapwings frequent the area except during the winter months too. Shorebirds occasionally visit too.
The Ayia Napa and Paphos sewage works are worth checking out now and then also, but there'll be fewer good birds that you can see there. It's not because they don't have any birds – I have – but the birds can and do use the greater amount of cover to be seen less. And there's no hides at either Ayia Napa's or Paphos' sewage works. The one that's not worth stopping at is Nicosia's sewage works, which rarely has more than Coots. If you're near Nicosia's, check out the adjacent small reservoir instead, which does in fact have a hide and some good trails around the water's perimeter, for some great birding.
For Larnaca's though, here's an idea of what you're likely to see from the hide (see next pic). I took that in spring of 2008, and the pools look a bit different since then, but it should give you the general idea. Luckily, I can't recall the smell ever having been bad at Larnaca's sewage works.
________________________________________________________________________________________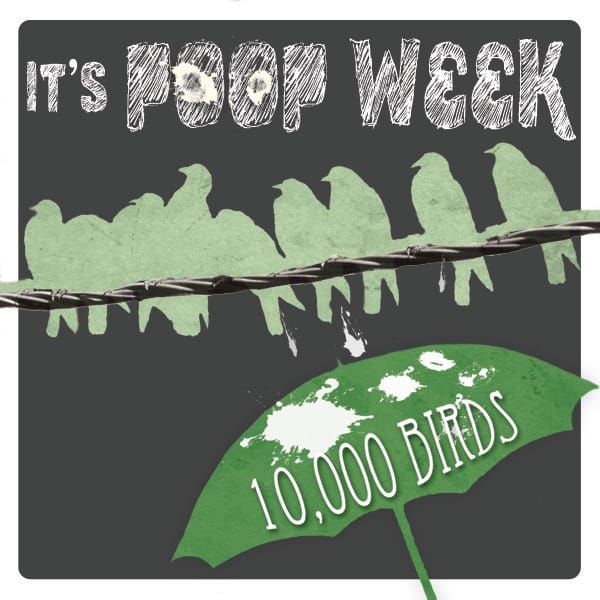 Poop Week is a week of themed posts on 10,000 Birds that cover the intersection of poop and birding, a fertile precinct if there ever was one.  Rather than just discuss the horror of a pigeon dropping droppings on someone's head we decided to really get down the nitty-gritty details of poop, to the point where it is squishing up between our toes.  Not only is Poop Week a fascinating way to spend seven days in June it is also a serious attempt to elevate the level of discourse in the bird blogosphere, which, as we all have no choice but to admit, is far too low.  Enjoy, and make sure to wipe up afterwards, would you?
________________________________________________________________________________________