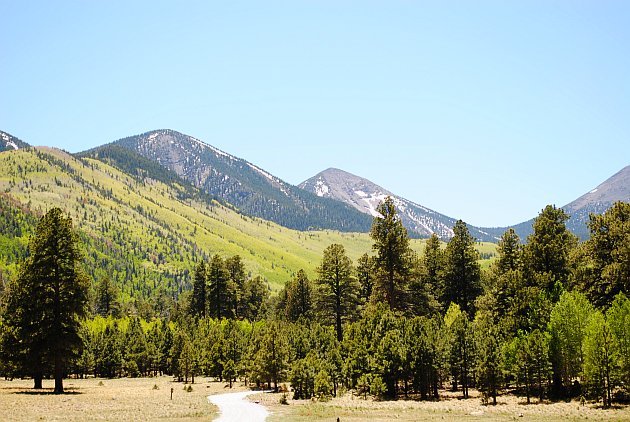 After nearly a week of traveling through Arizona's very dry southeastern corner, I decided to make a detour to Flagstaff for a change of pace, a change of scenery, and a chance at seeing an assortment of birds more typical of the Great Basin than the Sierra Madre of Mexico. Being from southern Florida, the thought of birding through verdant alpine meadows and rich pine forest with snow-capped peaks as a backdrop really appealed to me. Flagstaff, a mecca for the outdoor enthusiast, did not disappoint in providing such scenery with plenty of access trails both within the city and in natural areas to explore.
Lewis's Woodpecker, flycatcher or woodpecker?
The city of Flagstaff itself is riddled with urban parks weaved together with a system of forest corridors and an extensive urban trail system, meaning both residents and visitors alike are never far from a natural area. Dominated by pine forest, these parks and trails are home to western specialties like Steller's Jay, Mountain Chickadee, Pygmy Nuthatch, and Violet-green Swallow along with more widespread species such as American Crow and White-breasted Nuthatch. Perhaps the main target for any birder visiting in the summer is the uniquely beautiful Lewis's Woodpecker, the most bizarre woodpecker species I have yet to encounter. While exploring Flagstaff, I found a pair of these birds nesting near the Flagstaff Medical Center in a patch of forest. Birds would take turns sallying from a prominent perch like a flycatcher (although I have seen other woodpeckers sally, these seem to do it better than the others), flapping with smooth strokes of its long, broad wings reminiscent of the flight pattern of a crow. The birds never called while I watched, unlike the noisy Acorn Woodpeckers nearby — an unusually quiet woodpecker species. Truly, a must see species in North America.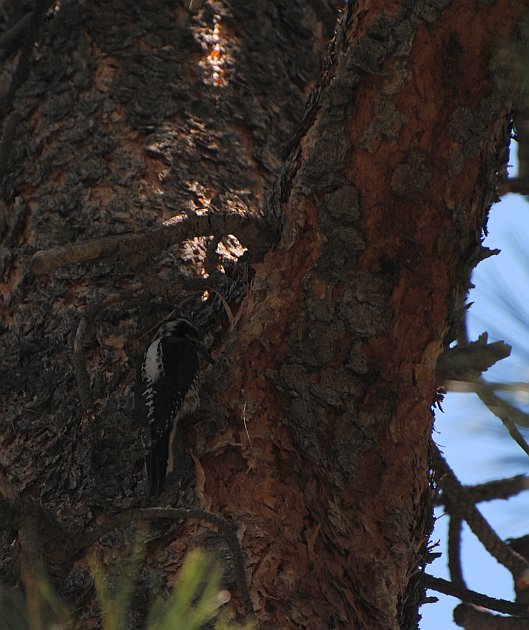 A poor photo of  a great bird, American Three-toed Woodpecker!
Lockett Meadow, about an hour's drive outside of Flagstaff, offers higher elevation habitats and thus a different assortment of bird species. Alpine meadows, groves of aspen and pine, and burnt fields of tree snags create a habitat mosaic that attracts a mixture of breeding passerines from both the northern Rocky Mountains and the Sky Islands of southeastern Arizona. More northerly species which occur here include Red-breasted Nuthatch, Dark-eyed Junco, and Ruby-crowned Kinglet while more southerly species include Red-faced Warbler. The numerous tree snags attract an interesting assortment of woodpeckers, with Hairy Woodpecker and Northern Flicker being the most common. Williamson's Sapsucker, Red-naped Sapsucker, and American Three-toed Woodpecker are all possible as well. I had the good fortune of encountering an American Three-toed Woodpecker near the beginning of the Inner Basin Trail, foraging by flaking away at the bark rather than hammering or chiseling.
Flagstaff makes for an interesting addendum to an Arizona birding trip, and I only wish I had more time to further explore what the city had to offer. The woodpeckers and scenery alone make it well worth the trip up north from Phoenix.  Hopefully, I will be able to return to Arizona soon to continue to explore what this state has to offer.