It's been awhile since I last decided to write about a birding excursion in verse so I figured it was about time. The Gulper See, the destination versified here, is a large lake and nature preserve about an hour-and-a-half's drive northwest of Berlin. I decided to visit the Gulper See on Jochen's advice and I don't regret the decision one bit. It's a gorgeous place and I'm sure that if the wind hadn't been blowing so hard the whole time I was there I might have picked up a lifer or two. A word of warning: I have a tendency to invent or embellish dialogue in order to make rhymes or fit the (admittedly poor) meter so don't take anything quoted too seriously. But enough with the exposition: on to the doggerel!
It was late in the morning when the Mercedes got going
With a German beside me that the German language was knowing
An obvious advantage when birding in Deutschland
Like having a drummer when starting a rock band.
Annalena her name, my friend Mike's brand new spouse.
He'd have joined us too but had to work (the louse).
She is no birder like I am no German;
I'd try to convert her with a birding sermon!
As I drove far too fast I kept my eyes out for birds
And Annalena taught me some choice German words,
Which won't be repeated in this kid-friendly forum
Cause you know if kids hear 'em they just can't ignore 'em.
This is ridiculous, on just the third verse
I've already digressed from birding to curse.
I'll try to do better, I'll do my darn best
To avoid such unpleasantries for all of the rest.
On the ride out we saw buzzards and crows
And kestrels, yeah, we saw some of those.
Lena was amazed, she said it so sweet
Not at my bird-skills but my ignoring the street!
I acquiesced and turned my eyes to the road
Until another bird being chased by some crows
Crossed directly through my field of view
And Annalena exclaimed "This simply won't do!"
I agreed, and humbled, continued to drive
And we made it to our destination alive.
Well, we made it to our first destination,
A restaurant where I'd revive my appreciation
For schnitzel, that deep-fried, pork* treat,
Which I could not get enough of to eat.
And a beer, a fine Hefeweizen,
But just one, as I wanted to be arrivin'
At the Gulper See in condition to bird.
And birding inebriated could get absurd
And lead to reports of eagles four
Despite only two that by us did soar.
After the shnitzel and after the beer
We got back in the car though quickly we veered
Onto a side road after passing a lake
For the ducks that we saw we could not forsake!
We got out of the car, through a locked gate we snuck,
Then behind some cottages (empty, what luck!).
We came out to the lake and a bird flew away
A Kingfisher, my second for my German stay!
I was quite thrilled, I was quite happy
Annalena looked at me like I was just sappy.
But I put up the scope and focused on Grebes, Great-Crested
Though we tried hard, they couldn't be bested.
Back to the car, on the road again,
We realized we'd taken a wrong turn when
We consulted a map that said we'd gone south
You should've heard the German curses come from my mouth.
But it was all good; we soon got on track
After taking some roads best labeled "back."
We arrived at our goal, the glorious Gulper See
And walked to the water, Annalena and me.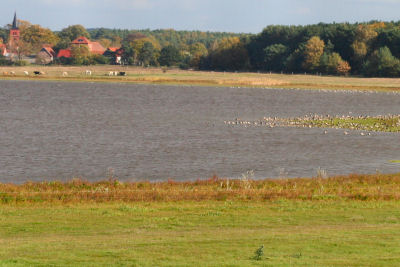 The Gulper See
We saw geese, Greater White-fronted and Greylag
Though really it was Pink-footed I wanted to bag.
I pulled Mike's scope from out of the car
So we could see the geese that were far
Away from us, but it was no use.
As Pink-footed Geese are far too obtuse
To understand the fame they'd accrue
By appearing before our small birding crew.
Then we came upon a birder intent.
To me he seemed to be heaven sent
As he was staring so hard through his scope
I figured he had a goose that was dope.
Alas, I was wrong, he was just hoping
To see something good so I started moping.
I spoke no German and he had no English
So Annalena translated my goose wish list.
Though Pink-footed Goose didn't translate so well
But I had a field guide that really worked swell.
I pointed to pictures of what I wanted to see
And he indicated he'd come up empty.
So we plodded on along the shore of the lake
Pausing now and again for pictures to take.
The air it was cold and we started to freeze
So we sought shelter behind some tall trees.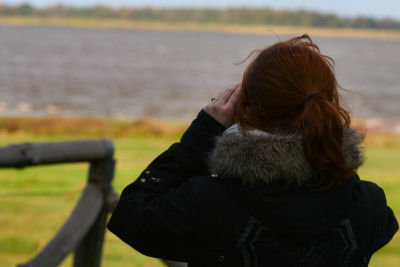 Lena birding
And the wind, the cold wind, my, how it blew
Turning both Lena and I a bright blue.
Fortunately, we saw blinds there for shelter,
That saved us from being blown helter-skelter.
From inside the blinds we examined the geese
While waiting for the strong winds to cease
Which they didn't. They really made it tough
To see the ducks out on the lake made rough.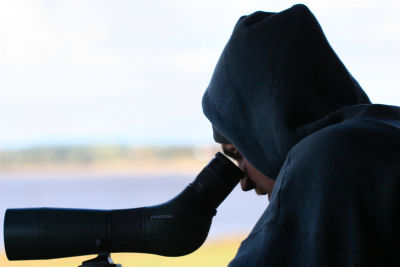 me and Mike's scope (thanks again Mike!)
We did see some, but none that to me were new
Goldeneyes, Wigeons, and Mallards a few.
Gadwall and grebes, and Great Cormorants flew.
"Those cormorants are not like the ones from Peru,"
Is what Lena said with scarcely a thought.
"What?!?!" I replied, suddenly quite distraught.
"What did you say? Birds in Peru?
Speak, woman, speak, or I'll throttle you!"
How could a non-birder have seen birds I have not?
And remembered them well, as if she was taught?
She knew they were colorful, not like the ones here.
I nearly cried, in fact I started to tear.
Because it seems Annalena had been holding back.
A secret birder she is, and that is a fact.
She couldn't hide her joy at the sight
Of a White-tailed Eagle putting waterfowl to flight.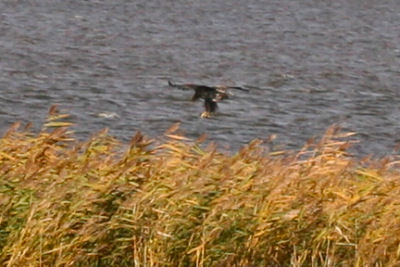 best shot I could get of a White-tailed Eagle
After seeing the eagle we knew we'd do no better
So we headed back to Berlin in the windy weather,
Sadly turned in the keys to the car,
And after picking up Mike went out to a bar!
In retrospect it was a heck of a day
I saw lots of birds, what else can I say?
Well, hanging with Lena was great fun too
And she's a birder now (kind of) what about you?
Hopefully, Annalena will become a hardcore birder now so when she and Mike move back to the U.S. he can keep Daisy company while Lena and I go birding…and thanks to Mike and Lena for their wonderful hospitality while I was in Berlin!
*I tried to avoid the veal wiener schnitzels as I don't particularly like how veal is produced, but, to be honest, I can't read German so often I had no idea what I was actually ordering.