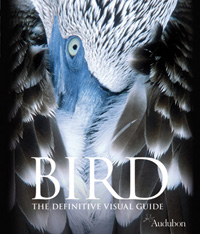 If you read my review of BIRD: The Definitive Visual Guide, you probably got the sense that I loved it. I'm hardly the only one. Birdfreak, Bill Schmoker, and John Riutta are also among the growing legion of fans of this big, beautiful, bird-laden bombshell. You could be too, and sooner rather than later if you play your cards right…
BIRD: The Definitive Visual Guide is just an awesome book, ideal for birders, nature lovers, and essentially anyone with eyes. With the holidays coming, this volume may top many lists. It retails for $50.00 in the United States and $60.00 in Canada but the fine humanitarians at DK Publishing have empowered us to give away not one, not two, but FIVE copies of their precious publication. As you might surmise, we're going to have some fun with this.
Over the next five weeks, we will be giving away one copy of BIRD: The Definitive Visual Guide per week. Each giveaway will have different conditions. All of them abide by the following disclaimers: these giveaways are open to everyone and anyone with the exception of Mike, Charlie, Corey, and our immediate families; these giveaways have no cash value; we are the final arbiters of who receives each book; and all local laws, rules, and restrictions apply. (Lawyers in the audience are invited to help us bolster this boilerplate.)
The rules for the first two giveaways are below. I'll be adding to this page as we introduce subsequent contests, so be sure to bookmark it. Also note that even if you receive a book from one contest, you're still eligible to receive other ones. Now have at it and good luck!
1. Help Spread the Word About These Giveaways
This contest, technically the first one since the Essay contest won't resolve until December, is one of the easiest one to participate it. Simply help us promote the giveaways we'll be running for the next five weeks by posting a link to this page on your blog. Anyone who posts a link on their blog or website will automatically be eligible to win our first giveaway. Anyone who posts a link on their blog(s) will be added to the list from which we will, through the magic of a random number generator, select a winner. Only one link per blog will count and links on multiple blogs generate multiple entries. The deadline is Friday, 11/9. We'll select the winner of this contest on 11/10.
Yes, you may reason that publicizing these giveaways may be contrary to your best interest since every additional participant may lower your odds of receiving a book. I should note, however, that by NOT publicizing them, you have no chance whatsoever of receiving the book earmarked for this giveaway. Anyway, this machine runs on karma so spread the word and let everyone know that there are plenty of free copies of BIRD (well, five actually) to go around!
WINNER: Patrick of The Hawk Owl's Nest
2. Write an Original Bird Limerick
We're sure that many of you have already started working on your essay in praise of your favorite bird species, but others may need a little exercise to get the creative juices flowing. Here's an odd one: write an original bird-themed limerick. Admit it, everyone loves a limerick yet there are precious few devoted to birds besides this gem from 1910 written by Dixon Lanier Merritt:
A wonderful bird is the pelican,
His bill will hold more than his belican.
He can take in his beak
Food enough for a week,
But I'm damned if I see how the helican.
So make your contribution to the historical canon. Send me your best effort by Friday, 11/16. Please limit your limericking to three verses in total, related or separate. We'll be publishing all the limericks with attribution together on a single page for posterity!
WINNER: Chris J. Strolin of OEDILF
3. Share your Favorite Birding Location
BIRD is a volume with hidden depths. Not only does the book dazzle with spectacular bird photos and accounts, but scattered throughout are descriptions of Great Sites, internationally acclaimed vortexes of avian activity. But awesomeness is, as it's been said, in the eye of the beholder. What is your Great Site, the park, promontory, or preserve that defines, for you, the best of birding? Choose one publicly accessible location, unless you want twitchers trampling your backyard feeders, and share a sentence or two about what makes it magical. Simply send me your Great Site and description to volunteer yourself as the randomly selected recipient of our fourth free copy of BIRD. The deadline is Friday, 11/23.
WINNER: Liza Lee Miller of The Egret's Nest
4. Write an Essay in Praise of Your Favorite Bird Species
Since BIRD is a paean to the planet's avian diversity, let's join the authors in celebrating the birds we love. Write an original essay of at least 250 and no more than 750 words in praise of a single bird species. Photos of up to 400 pixels in width are welcome as long as the author has rights to the images. The title of the post must be "In Praise of (SPECIES)" with content suitable for an audience of all ages. By submitting an essay, you are consenting to having it published on 10,000 Birds.
Send your essay to us by 11/30. We will then post every submission on 10,000 Birds throughout the first week of December for your reading pleasure after which we'll either select the winner ourselves or, assuming we can get the right WordPress plugin to work, create a reader poll to determine the winner. So pick your favorite bird species and help us love it the way you do.
WINNER:  William Lynch (poll results)
5. Share an Idea for an Amazing Gift for a Birder
Do you have original, innovative, or infallible ideas about what gift best suits a bird watcher? Send me one excellent suggestion for what you would buy for the birder you love (or like or are obligated by familial or social ties to purchase gifts for, etc.) by Wednesday, December 12. Corey, Charlie, and I will choose our favorite ideas and award one of four different amazing books to the authors of those ideas. We'll also aggregate all the gift ideas in the hopes of assuaging everyone else's last-minute giving needs.
WINNERS: Christine Guarino, Clare Kines, Carrie Laben, and Will Raup