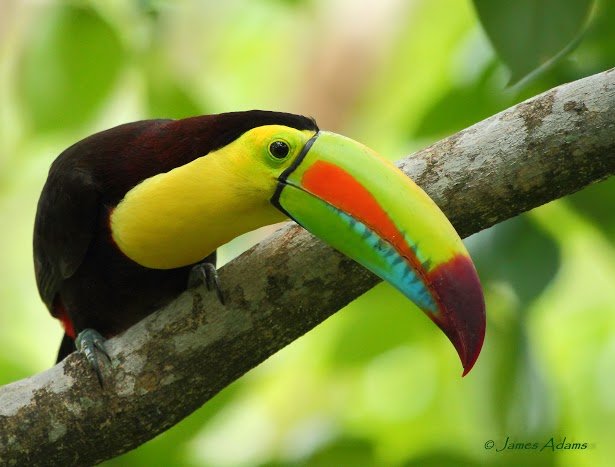 After wrapping up our time in the highlands of Honduras, Chris Lotz (owner of international bird tour company Birding Ecotours) and I arrived at the deservedly famous Pico Bonito Lodge. Prior to arriving, I had very high expectations as to the quality of the rooms, cuisine, and hospitality at this lovely lodge nestled in the foothills of Pico Bonito National Park. Victor Emmanuel memorably stated that Pico Bonito Lodge was one of the two most beautiful lodges in all the Neotropics during his stay at Cristalino Lodge in the Brazilian Amazon. In case you are wondering, Cristalino Lodge was his other top choice.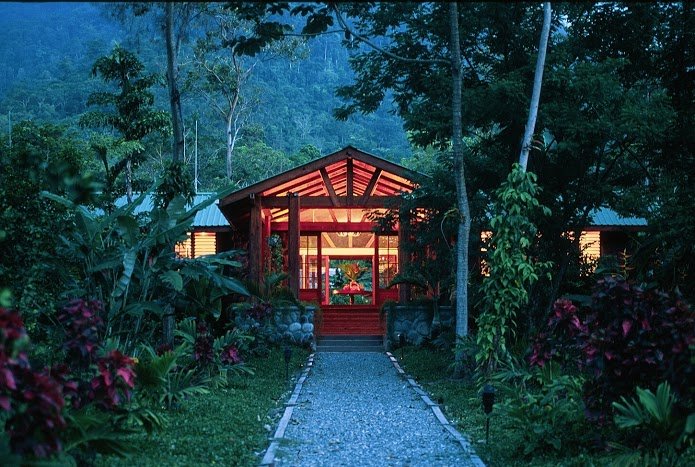 The Lodge at Pico Bonito is an inviting, idyllic place for relaxation as well as for enjoying wildlife. Photo by James Adams.
The rumors are true. The Lodge at Pico Bonito is absolutely beautiful from the spacious and comfortable rooms to the exquisite and refined menu offerings at the restaurant. Despite the efficiency with which the place was run, everyone at the lodge always seemed so relaxed. Indeed, time seemed to move more slowly here. There was definitely always the temptation to just sit at the restaurant, sip a warm cup of coffee or tea, and watch the constant antics of parrots, toucans, hummingbirds, and more going about their daily routine. For someone who wants to unwind from the stresses of everyday life, this seemed like the perfect place. However, for me, there were birds to be seen.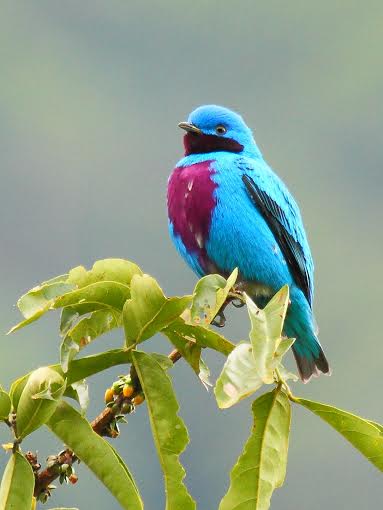 Lovely Cotinga is the flagship species at Pico Bonito, where it is perhaps easier to see than anywhere else within its range. Photo by James Adams.
For the hardcore birder, Pico Bonito has plenty to offer. More than 400 species have been recorded at the lodge to date. This is the site for the luminously colorful Lovely Cotinga, which gathers around fruiting trees high up in the canopy. Although it was not the easiest species to find in September during our visit, these radiant blue birds can be seen even from the restaurant during certain times of the year. Central American Pygmy-Owl is another key species at the lodge. Although apparently not uncommon, its tiny size and penchant for calling from the tallest trees in the forest make it difficult to spot.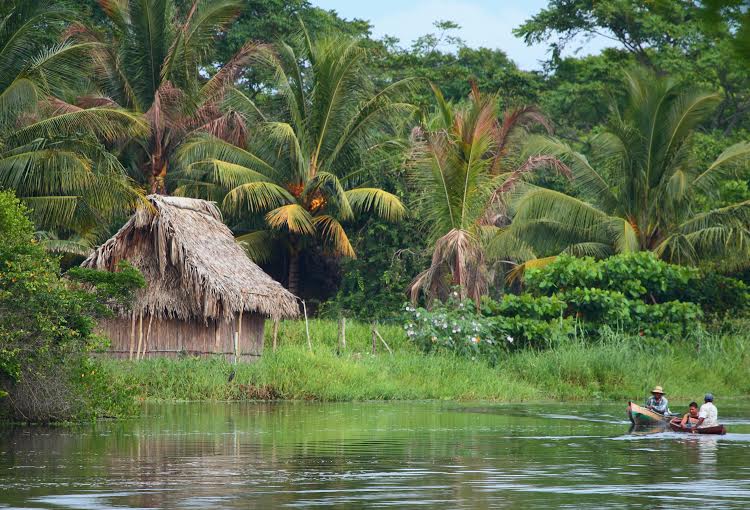 Cuery y Salado Preserve protects a coastal mangrove system full of wildlife from monkeys to trogons. Photo by James Adams.
 During our stay at Pico Bonito, Chris and I visited various birding sites nearby which offer a completely different set of species than what is available at the lodge itself. We first visited Cuero y Salado Wildlife Refuge. Half the fun of this site is the process of getting there by an old, repurposed "banana train!" Once we arrived, the boatman expertly guided us through the many river channels where we observed Mantled Howler Monkeys lounging lazily on thick branches, various kingfishers, and more. A brief stop at a small, sandy beach was productive for resident Collared Plover as well as a variety of familiar migratory shorebirds. That afternoon, we paid a visit to the Rio Santiago Nature Resort where we observed 11 species of hummingbird at the feeders (and this was the slow season) as well as finding a Tody Motmot tucked away in the dark understory of a small ravine on their forest trail. Tody Motmot is perhaps one of the most charismatic bird species in all of Central America, and Honduras is perhaps one of the best places to see it.
The following day, we paid a visit to the relatively dry Aguan Valley. Sitting in the rain shadow of the surrounding mountains, this valley contains a unique thorn forest and cactus plant community which harbors populations of several bird species that are well removed from their main distribution such as White-lored Gnatcatcher and White-bellied Wren. However, the true star of this habitat is the only endemic bird of Honduras, the Honduran Emerald, which is actually one of the most common bird species within its tiny range. Lesser Roadrunner is another spectacular species of the thorn forest scrub of the Aguan Valley, which we observed at length right along the main road!
The last site we visited from Pico Bonito was Lancetilla Botanic Gardens. Originally founded in 1925 to test the adaptability and marketability of the plantain, it also protects 1,281 hectacres of tropical lowland forest rich in birds such as Rufous-tailed Jacamar and Pale-billed Woodpecker. During our visit in mid-September, land bird migration from the United States and Canada was in full swing which added to the overall excitement of birding a site such as this one. A squadron of several dozen Common Nighthawk flew overhead first thing in the morning as we got out of the van, and we quickly came up upon our first big feeding flock for the day. Tropical tanagers, tyrannulets, and euphonias mixed freely with boreal migrants such as Yellow Warbler, Blackburnian Warbler, American Redstart, and Great Crested Flycatcher. Although some might have already reached their final wintering grounds, others like Common Nighthawk and Blackburnian Warbler would continue all the way into South America — and it was great to see them on the Central American leg of their journey.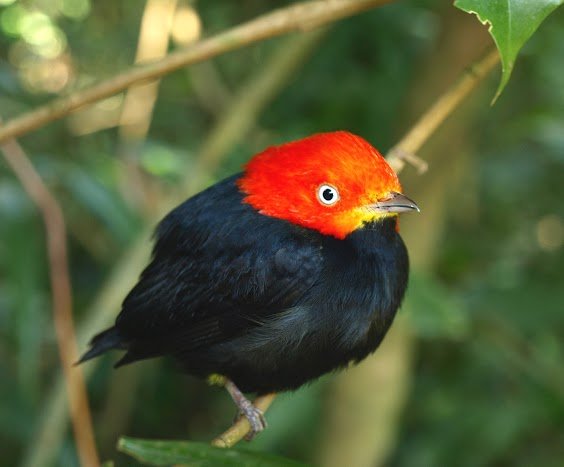 Red-capped Manakin is a common bird along the forest trails at Pico Bonito. Photo by James Adams.
Alas, the trip was over too soon but I left with a very positive impression of Honduras with its interesting biogeography, beautiful preserves, rich biodiversity, and hospitable people.
I would like to give a warm thanks to Chris Lotz (Birding Ecotours) for making this trip possible for me, who will now be offering a Honduras trip for 2016 (in the mean time, please check out their many other offerings). I would also like to give a big thank you to Pico Bonito Lodge for their hospitality and providing such a great birding experience for the second half of our trip in Honduras.