After the long drive from Berlin, made longer by the difficulties I encountered with my rented Mercedes' navigation system (long story, but a cool car), I arrived in Greifswald ready for some birding! Fortunately for me Jochen had set me up to meet Hendrik, a crack local birder who previously lived in the U.S. and is fluent in English. He was willing to show me as many birds as possible in what was left of the day. Our destination? Karrendorfer Wiesen, a meadow, marsh, mudflat and pond preserve on the Greifswalder Bodden, a bay of the Baltic Sea.
Once I checked in at the cheap and charming Pension "Das Sofa" we were in the Mercedes and heading north out of town to Karrendorfer Wiesen. In a field along the way we paused to get my first lifers of the trip to northeast Germany when we spotted a flock of about 50 Eurasian Curlews and lots of Northern Lapwings. The lapwings were awesome with their crests, their wide rounded wings, and their contrasting plumage. We hadn't even reached the preserve and I had two, wait, there was a Black-headed Gull there too, so make that three lifers!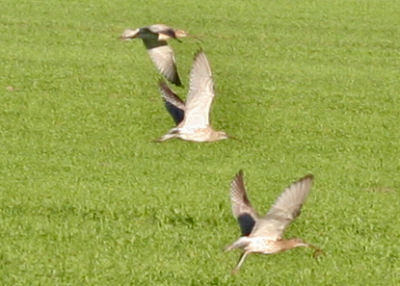 Eurasian Curlews in flight
Just short of the parking lot some small birds were bopping around in the bushes so we rolled down the windows and quickly knocked off two more lifers! Two Black Redstarts were in the bushes and several Yellowhammers, which, in my humble opinion, rival North America's warblers with their brilliant yellow coloration, flushed into a field.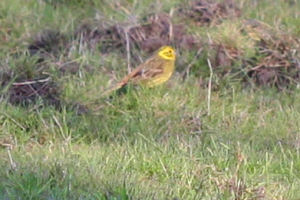 this picture does not do justice to the beautiful Yellowhammer
Once we parked and got all of our stuff together we walked along large reed beds, pausing to check a small pond where Hendrik had recently had a Kingfisher, but the diminutive and brilliantly-colored bird was nowhere to be found. Then we scanned the bay and quickly found my first ever Great Crested Grebes, which seemed to me to be like a cross between Horned and Western Grebes, but much more clumsy than either in flight. Many Mute Swans were in the bay and it was nice to see them in their native habitat unlike the introduced ones in the U.S. Also present were Eurasian Wigeon, and I must say it felt weird to be scanning through them hoping to find an American Wigeon! But the highlight of the bay for me was the distant looks at many Tufted Ducks. I guess rather than trying to chase them as vagrants I should have just waited to see one in Germany.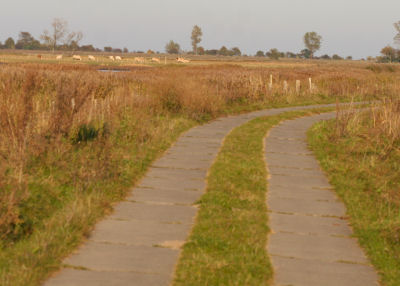 the road through Karrendorfer Wiesen
And, in addition to the aforementioned waterfowl, a single Whooping Swan and a whole flock of Bewick's Swans flew over us. Both species were lifers for me and I really enjoyed hearing the bellows of the Bewick's Swans echoing across the bay. And, as if two new swans, a new grebe, and a new duck weren't enough Hendrik also showed me four new geese! Greater White-fronted Geese were around in numbers as were Greylag Geese. A small flock of Barnacle Geese were a treat with their black-and-white plumage and the single flyover Bean Goose was unsatisfying but a lifer nonetheless.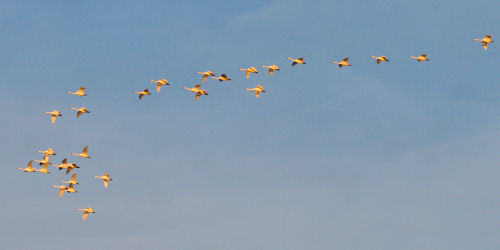 Bewick's Swans flying over Karrendorfer Wiesen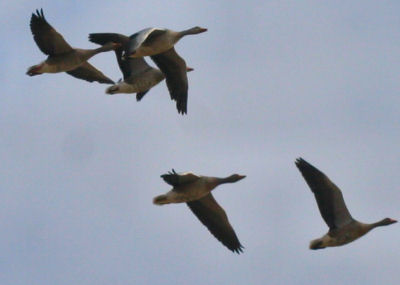 Greylag Geese in flight
Hendrik knows his birds well, and, in addition to telling me the names of birds as they flew over or flushed from cover, he also would list the field marks I should have been noting. This was very helpful when a White Wagtail gave us brief looks and when Meadow Pipits flew over in a flash.
Then we got to an area of extensive mudflats where hundreds of Dunlin were feeding, accompanied by lots o' Green-winged Teal and Black-bellied Plovers. This is where the Swarovski scope Mike let me borrow came in very handy as Hendrik used it to pick out a Common Ringed Plover, several Spotted Redshanks, a Bar-tailed Godwit, and a distant Ruff, all, of course, lifers for me. The life shorebird bonanza wasn't complete, however, until I noticed a small shorebird isolated from the rest through my bins, got it in the scope field, and called Hendrik over to figure out what it was. A Little Stint, it turned out, my fifth life shorebird in about fifteen minutes!
Then, just to show off the birding possibilities of the area, Hendrik pointed out a perched juvenile White-tailed Eagle, our fifth raptor and my second life raptor of the day (the other being a distant Common Kestrel).
On the way back out of the marsh we kept hearing Bearded Reedlings in the reeds but none would show. Instead, every time a bird flew from the reeds it would be a Blue Tit.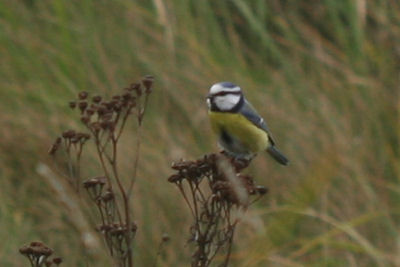 Blue Tit
Finally, as the sun began to set, and I lagged behind Hendrik, some movement caught my eye…a rail, running away and behind some reeds. All I saw was its back end and not well. Hendrik told me there was a 99.9 percent chance it was a Water Rail but I was hesitant to count it on such a field-mark-less sighting. It was our last sighting of the day except for some large bats whose English name I have forgotten but whose German name translated to something like "evening flier" (somebody help me out here).
It was a pretty darn satisfying three-or-so hours of birding and after we parted ways I enjoyed figuring out that I had 27 lifers for the outing! I like birding a new continent!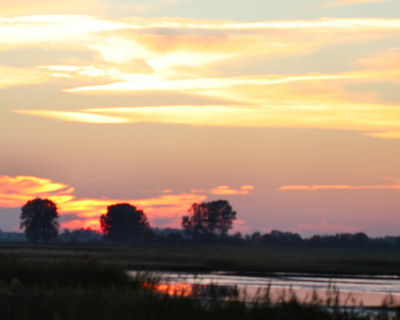 sunset at Karrendorfer Wiesen