When I found out that I was going to have to take a trip to Lansing, Michigan, for work, I wasn't very happy at all.  Granted, I was operating from ignorance, but I have this image of Michigan just rusting into the landscape and leaving nothing of interest behind.  Fortunately, once I asked folks where I should bird during the one open evening I had, I was quickly set straight and told about an array of birding options.  Wren offered to help, but Jochen was insistent that I contact Laurent, so I did, and Laurent was very helpful (though it was kind of a bummer that we couldn't manage to schedule a birding outing together).  Also, Wendy from Michigan Audubon offered her assistance, which I didn't take her up on (next time!).  Anyway, I decided to spend my one evening of birding time at the Maple River State Game Area, a wetlands, fields, and forest area about twenty-five miles north of downtown Lansing, and am I ever glad that I did!
So once I got out of the airport I headed east a bit on 69 and then due north on 127.  As I approached the parking area on the right, which is just after 127 goes over the Maple River, I spotted my first good bird of the drive, a Caspian Tern diving for some fish!  Sweet!  It would have been a year bird if I hadn't already seen one in May in Kazakhstan.  Once I pulled into the lot and got my paltry selection of gear together (because I was trying to travel light to avoid checking bags and because it was a work trip I had only bins and my camera with a short lens, so don't expect any stellar birds shots in this post) I was ready to go…but first I wanted to make sure I knew where I was going.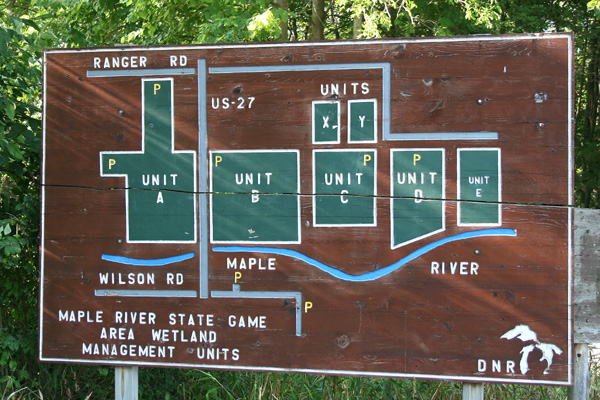 I was parked in the little lot in the northwest corner of Unit B (and the sign is old: 27 is now 127)

The only trail option I had was to walk east along the north edge of Unit B on a slightly overgrown trail, but one that was loaded with dragonflies and grasshoppers.  I was amazed by the sheer volume of cool bugs and I desperately wished I had my macro lens with me, or, failing that, someone who knew bugs better than I!  As I walked I added some common species to my day list and nearly soiled myself when a Great Blue Heron flushed from within ten feet of me from the waterway that paralleled the trail, screened by reeds.  Eventually the trail took a sharp turn to the south and towards the river, and became a boardwalk that terminated in a blind.  Perfect!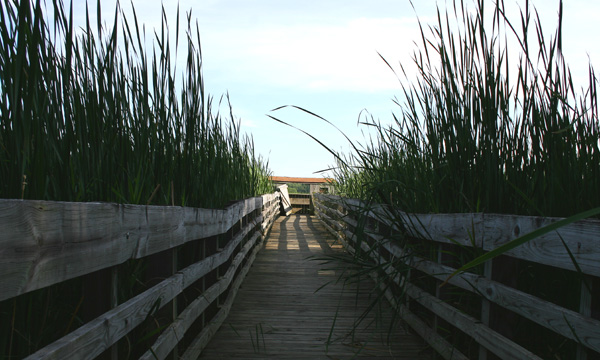 Once I reached the blind I was pleased to add Wood Ducks to my day list and also to watch hordes of Red-winged Blackbirds flush from the extensive reed beds and circle in the air before returning to the reeds.  It was a very peaceful and pleasant spot and I spent quite a bit of time there enjoying the soft breeze brushing through the reeds until I suddenly remembered that I had limited time and lots more space to explore!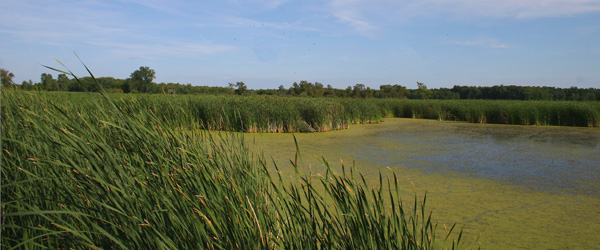 So I walked back to the car and drove a bit north on 127 until I came to Ranger Road where I took a right and headed through corn fields to explore Units C and D.  The first two parking areas I came to had no trails one could walk down, though I did spot an Olive-sided Flycatcher, an actual year bird and a relatively early migrant (I would assume), at one of them.  The landscape was nice as well.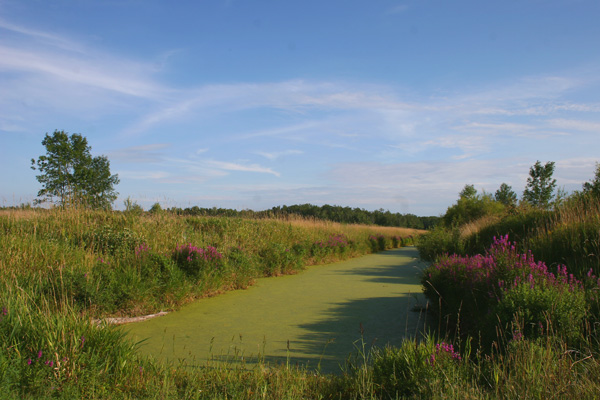 I finally found a lot with a trail, well, a lot with a maintenance road with a chain in front of it that said "Authorized Vehicles Only" but I figured that since I wasn't going to drive down it that it would be fine for me to walk it.  And am I ever glad I did because not only did I add charmers like Field Sparrows and Indigo Buntings to my day list but I also finally found a muddy spot with shorebirds and quickly added Killdeer, Spotted Sandpiper, and Greater Yellowlegs.  There were more shorebirds further back but with just bins and with the light against me there was no way I was going to identify them.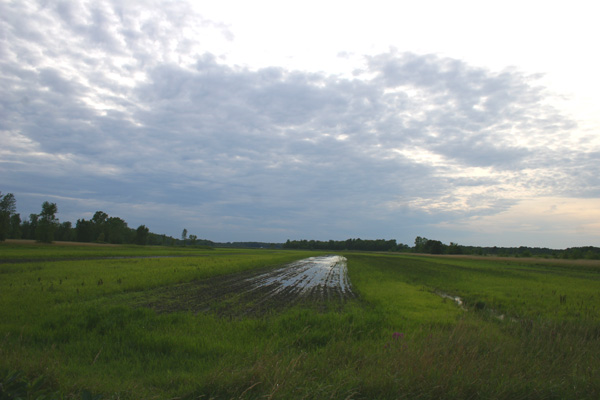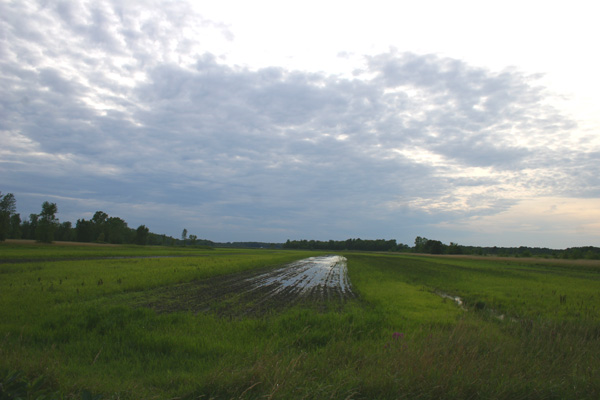 It was shortly after the shorebird spot that the mosquitoes, who had apparently never tasted the blood of a New Yorker and found mine irresistible, came out in numbers and forced me to beat a hasty retreat back to the car.  Seeing as I was losing light anyway and hadn't even found my hotel yet, much less checked in, I decided to call it a day and head back to Lansing.  On my way I had to stop and take a few shots of these Canada Geese as they flew overhead honking into the wind.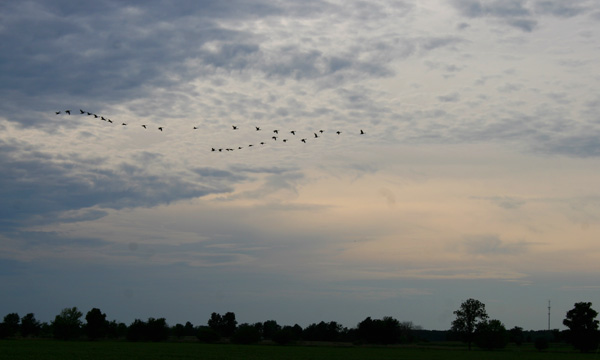 All in all it was a very satisfying outing, one made just a bit more satisfying when an American Bittern flew across the road in front of me as I crossed the Maple River on the way south, one last year bird for the day!
Someday I hope to go back to Michigan and do some serious birding there…it certainly deserves more than one evening's attention!