Here it is nearly two weeks since I returned from my European sojourn and I'm still writing about the birds I saw during my twelve-day stay. I can't imagine what would happen if I ever visited a country like Peru where the number of species exceeds 1,800! I guess I should be wondering if our devoted readers are sick of reading about Great Tits and Karrendorfer Wiesen but, when I think about it, I don't really care, as I am enjoying reliving the time I spent in Germany. So if you are sick of reading about the birds of Germany skip this post. If, on the other hand, you want to read more about the avifauna in the land of schnitzel and autobahns then click that "Read all of…" link below and enjoy the story!
When I left off Hendrik and I had successfully found one out of two targeted woodpecker species and were headed off to the Klarteiche (which, if an umlaut was over the "a" would mean "sewage ponds") Ladebow, to the northeast of Greifswald. We hoped to find some of the reed birds that Hendrik hadn't managed to get into my field of view yet, to say nothing of Little Grebes and Eurasian Coots. The ride to the sewage ponds was interesting, and we proved that a rented Mercedes not only handles nicely on paved roads, but also can successfully traverse fields rather well.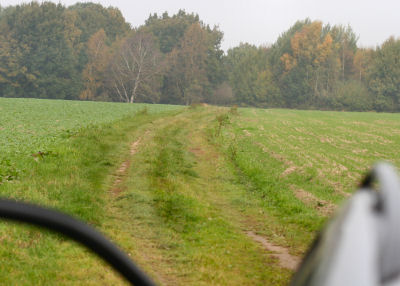 I should've got a shot that showed the potholes.
Anyway, walking to the sewage ponds from where we parked we saw some of the usual species like European Greenfinches, Eurasian Blackbirds, Yellowhammers, Great Tits and a flyover Great Spotted Woodpecker. I was pleased to add Marsh Tits, which looked very similar to Willow Tits (and chickadees), to my life list when two cooperated long enough to be identified but not long enough to be photographed.
The sewage ponds held my first-ever Eurasian Coots, Eurasian Wigeon, some Gadwall, a couple Common Moorhens, Northern Shovelers, a single female Northern Pintail, Mallards, and, possibly, a Little Grebe (I saw a small bird dive but it must have come back up deep in the reeds because we didn't see it again).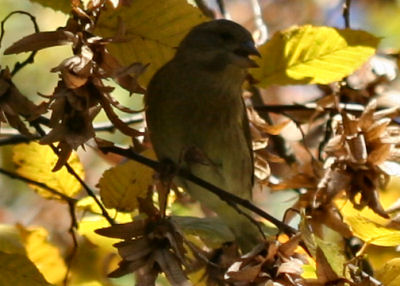 European Greenfinch
On the way back out though the fields we stopped for a bit to watch a pair of Common Buzzards interact in flight.
Then it was on to coast at Wampen where we saw some of the usual shorebirds like Dunlin, Bar-tailed Godwits, Eurasian Curlews and Black-bellied Plovers, in addition to waterfowl like Bewick's Swans, Common Goldeneyes, Long-tailed Ducks, and Great Crested Grebes. And, amidst all of the Black-headed, Great Black-backed, European Herring, and Common Gulls Hendrik managed to pick out an oddity. The bird he found was one that I'm sure I never would have noticed had he not pointed it out, a juvenile Mediterranean Sea Gull, a recent split from the Yellow-legged Gull, not to be confused with the similarly-named Mediterranean Gull. I didn't even know that it existed as a species, much less that there was one right in front of me!
In addition to all of the birds on, in, and around the water we also saw several passerines, the most notable being an unexpected pair of Stonechats, unexpected because they are not usually still around by the middle of October. We also got great looks at a Skylark in a field and some Meadow Pipits. Hendrik, for probably the third time in the three days I birded with him, heard a Linnet but I don't think I'll ever check it off my life list.
Another bird I won't be checking off my list anytime soon are Bearded Reedlings, which we didn't even hear in Wampen despite the great habitat.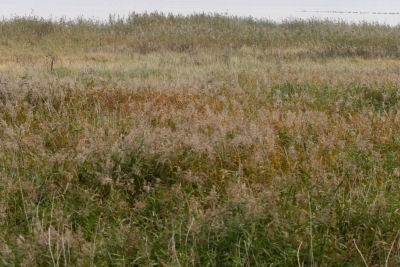 reeds but no reedlings
By about two o'clock it was time for me to return to Berlin and I said my goodbyes to Hendrik and to Greifswald. Hopefully, I'll see both again soon (and hopefully the darned Bearded Reedlings will cooperate next time!). Before the Mercedes was tested out on the autobahn, however, I added one more lifer in the form of two little birds on some bare earth on the side of the road while waiting to go through a roundabout…Crested Larks, my last lifer of the northeastern Germany trip.
Many, many, many, many thanks to both Jochen and Hendrik, without whom I wouldn't have seen half the birds I did!