After the pre-breakfast birding whetted my appetite for some seriously good birds I couldn't wait to get up into the the snow-capped Tien Shan Mountains that we could see from the grounds of the Hotel Altyn-Kargaly in Almaty.  The Tien Shan Mountains, which run east-west and straddle southeastern Kazakhstan, northwestern China, and pretty much all of Kyrgyzstan, are linked by other mountain ranges to the Himalayas, so it is pretty easy to imagine the amazing species present on and around the elevated peaks of the Tien Shan, two of which top out at over 7,000 meters.  I had never birded at such high elevations before (though, of course, we got nowhere near 7,000 meter), I had never birded any mountains in Eurasia at all, and I had a list of birds I wanted to see that was about a mile long…so, yeah, the half-hour drive to the dirt road we would use to head up into the mountains felt interminable and I felt like asking "Are we there yet?" every five minutes.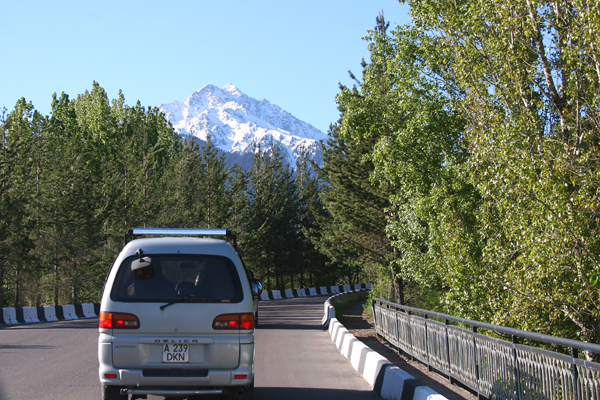 I tried convincing our driver to pass the other vans, figuring that being first in line would be more fun than being number three out of four but my total lack of Russian and his near-total lack of English made communicating such a concept impossible.  And after a brief and nearly disastrous experiment in trying to use hand gestures to show what I wanted it seemed better that I just let him watch the road and be content to follow the others.  Really, the scenery was so great that I should have just sat back and enjoyed it.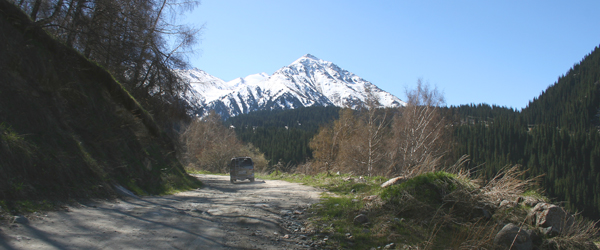 Anyway, we finally left the more settled areas behind and immediately stopped and admired Grey-crowned Goldfinches (Carduelis carduelis caniceps), a subspecies of European Goldfinch that might someday be split, and Azure Tits, which made me think of miniature, crestless Blue Jays, and a soaring Black Kite.  It was a worthwhile stop but we didn't linger long because we had lots of ground to cover and great birds to see.  Our next stop along the now-dirt road netted us a horde of Red-billed Choughs, Common Raven, Grey Wagtail, a calling Common Cuckoo, Golden Eagle, and a Greenish Warbler, not bad for a mere five minutes on the side of the road.  But it was the Brown Dipper at the next stop, my first ever dipper anywhere, that was easily the best bird of the ride into the Tien Shan Mountains.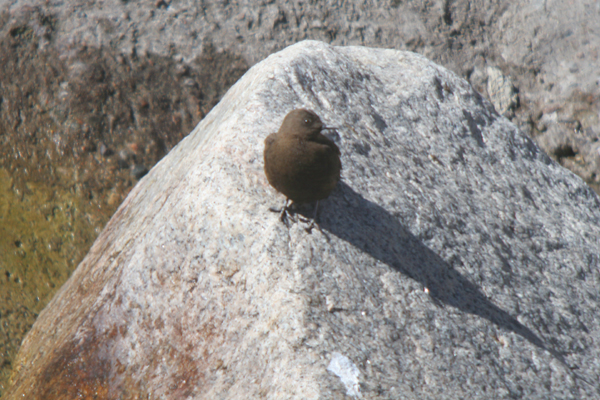 I hope you enjoyed that dipper picture because it is the only bird shot of this post.  We were, after all, trying to make time heading up into the mountains.  Our goal was Big Almaty Lake, a high-elevation lake that is fed by a high-elevation river, perfect for Ibisbill, a species we all desperately wanted to see.  But I am getting ahead of myself here and should focus on the trip, not the destination.  As mentioned earlier, the scenery was simply superb, even when an oafish birder stepped in the way…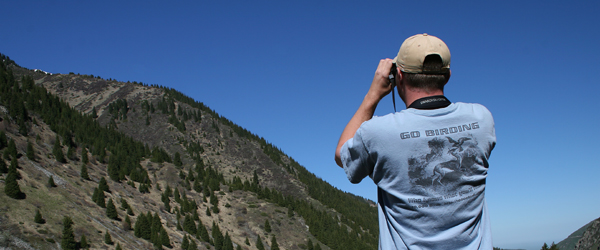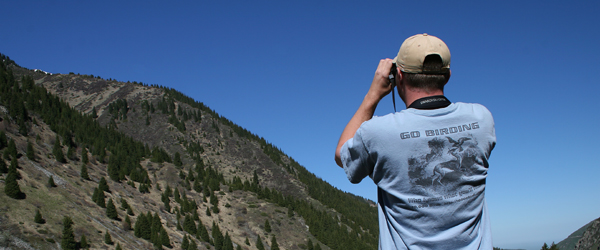 photo by Dale of  Discovering Alpine Birds
On the rest of our ride up into the mountains we added three more species, Goldcrest, Common Buzzard, and Common Kestrel, all rather easy-to-find birds but there were much better species awaiting us once we reached some higher elevations.  In the meantime, I kept taking scenic shots…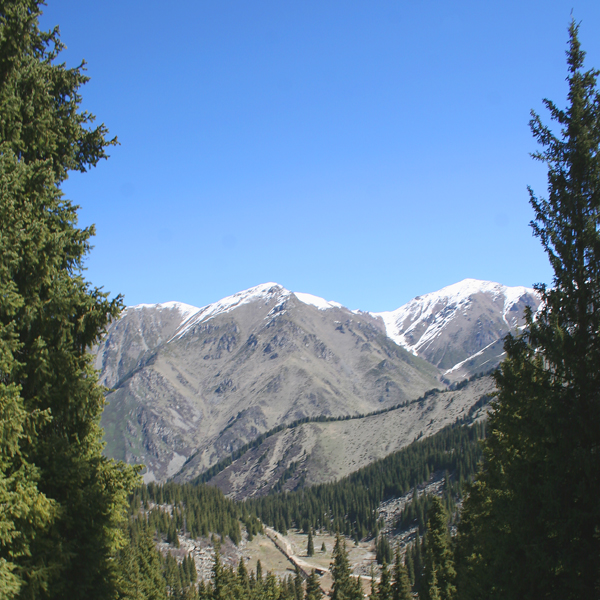 Eventually we managed to arrive at Big Almaty Lake but you will have to wait until the day after tomorrow to see and read about that experience…so make sure you come back!
________________________________________________________________________________________________
My trip to Kazakhstan was made possible by the wonderful folks at Swarovski Optik who sponsored the trip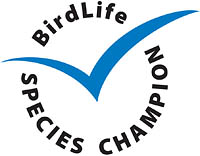 not only to draw attention to their marvelous optics but to the fact that Swarovski Optik is, with the RSPB, the Species Champion for the Sociable Lapwing, a critically endangered species that breeds almost entirely in Kazakhstan. We here at 10,000 Birds, the only blog designated a Species Champion by BirdLife International, salute Swarovski Optik's commitment to conservation.
To learn more about 10,000 Birds' commitment to conservation through BirdLife International's Species Champion program and what it means to us at 10,000 Birds (or to donate to the program through 10,000 Birds) just click on the nice Species Champion logo to the right.