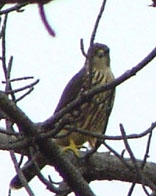 The Core Team was not idle during this Labor Day weekend. Sara's dad, Will and Sally were visiting and these are two people who do not let the grass grow under their feet. Somehow, between entertaining them and entertaining ourselves, we realized that we'd birded four of New York City's five boroughs. This is a feat we are unlikely to surpass, since, as far as I'm concerned, the secret to a happy life includes staying the hell out of Staten Island.
We spotted a multitude of birds over the last few days including virtually all of the expected species. Rather than list them all, I'd like to just mention some of our more exciting sightings.
BRONX: We kicked off the holiday weekend by exploring a section of Van Cortlandt Park we've never seen before. Of these places, there are many, considering that Van Cortlandt, the city's third largest park, sprawls across 1,146 acres of prime Bronx woodland. We lucked out with this portion of the John Muir trail system on the Woodlawn side of the park. The swarms of gnats and mosquitoes were annoying, but augured well for our hopes of spotting tiny bug-eating birds. We were pleased to come up with two beauties we haven't seen since we started birding, Blue-gray Gnatcatcher and American Redstart. We also saw Black-and-white Warbler, Blue-winged Warbler, Baltimore Oriole, and some Empidonax flycatcher.
BROOKLYN: Since they live in a landlocked state, Will and Sally were interested in visiting the ocean. We aim to please, so we traveled out to the Rockaways to observe the highly-agitated Atlantic. The weekend's unseasonably cool weather and storm-tossed surf kept most beach-goers away. The wind whipping down the beach also made walking the boardwalk anything but relaxing. Vast sandstorms obscured our vision, but we still spotted the usual gallery of gulls: Herring, Ring-billed, Great Black-backed, and Laughing. The few peeps strong enough to withstand the gritty gusts were unidentifiable blobs. We didn't stay here long at all.
QUEENS: Since we were in the area, we decided to dip into Jamaica Bay WR just to see if anything was happening. As usual at this time of year, the main action was at the East Pond, a marshy place we could not penetrate with Mason's stroller. Instead, we walked to the West Pond in hopes of spotting Blue-winged Teal. The West Pond offered the same common waterfowl we see every time we come to Jamaica Bay, as well as Pied-billed Grebe, American Wigeon, and Greater Yellowlegs. The reeds across the way held a wonderment of waders. Standing in a perfect row from left to right were Little Blue Heron, Great Egret, Glossy Ibis, and Tricolored Heron. Our favorite spot of the day had to be the Merlin pictured above. We were fortunate to catch this fetching falcon twice; both times it remained in place long enough for us to train our scope on it. What a spectacular bird! The disappointment of the day was the briefest glimpse of a trio of Black Skimmers, just good enough to exclude most other species but not nearly good enough to add them to our list. The Black Skimmer is a life bird for us and I am not going to rob myself of the satisfaction of really seeing one of these gorgeous gulls for the first time.
MANHATTAN: Where else does one bird in Manhattan than Central Park? We checked out the NYC Bird Report to determine where seasonal specialties might be found. Lots of sharp warblers are being spotted in the Loch and Wildflower Meadow, so we mobilized. The Magnolia Warbler we sought was nowhere to be found, but we did see plenty of immature American Redstart. We also enjoyed views of Common Yellowthroat, Northern Flicker, and even a Ruby-throated Hummingbird untethered to a backyard feeder amongst the urban avifauna. We were also happy to see our old friend, the Muscovy Duck back in the Pool.
Spotting and, even better, identifying so many warblers after a long dearth of them has been a great pleasure. One of the reasons for our good fortune is that, with the coming of fall, these bright little birds are back on the move. However, I ascribe much of our success to a fantastic video we viewed recently called Watching Warblers. Later this week, I'll be talking all about it, so stay tuned.