Birding at the eastern end of Long Island in the depths of winter, especially a winter like we have had in New York this winter, is not for the faint of heart.  When you get out to Montauk Point at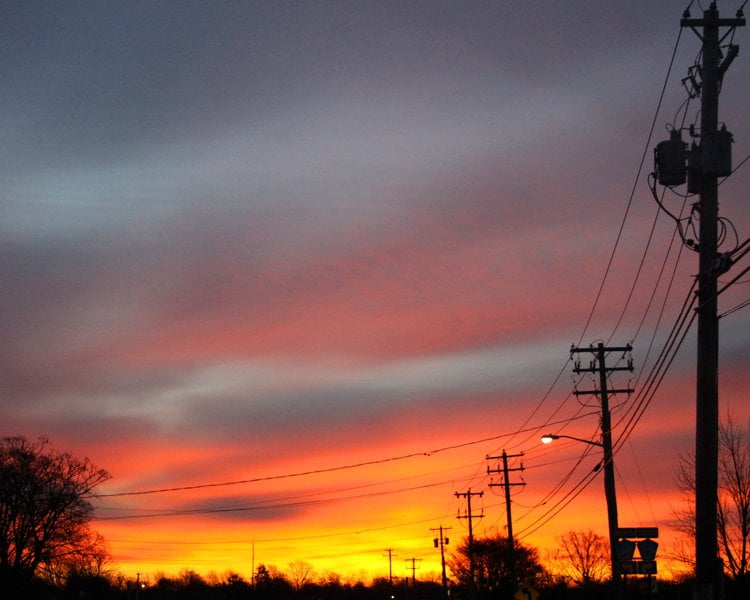 the eastern tip of the south fork of the island water surrounds you on three sides.  That means that if the wind is blowing from any direction except due west it is coming off of the ocean, and the ocean in winter is, of course, cold.  Also, it is entirely possible to get all the way out to the Montauk Point and find that it is mostly devoid of bird life, which means that a two-hour drive from New York City was just totally wasted and you are freezing nearly to death for no reason.  Of course, it is also entirely possible that you get out to Montauk Point and there are tons of scoters and other species around in which case life is good.*  Fortunately, the latter was my experience on Sunday and our birding crew had a great day out on the east end of Long Island seeing a host of birds and having a grand old time in the process.

mostly Black and Surf Scoters but there are some Common Eider in there as well
Now, for the record, the original plan for Sunday's birding had not entailed a ride out to Montauk Point, but a pelagic trip out of Freeport.  Sadly, that trip was cancelled due to poor conditions at sea, so the trip out east was kind of an avian consolation prize.  Because the pelagic trip was meant as a trip for both the New York State Ornithological Association and the New York State Young Birders Club you can imagine the number of disappointed birders in the New York metropolitan area on Sunday.  It's a good thing that there are other options for birders besides getting on a boat!  Seth and I left Forest Hills at quarter after six in the morning, picked up two members of the New York State Young Birders Club, Benjamin Van Doren (the outgoing President) and Greg Lawrence (who learned during the day that he had won the election to become President for 2011: Congratulations, Greg!).  We continued east and picked up a third stalwart young birder, Brent Bomkamp (who is planning a coup**), before making a beeline for Montauk.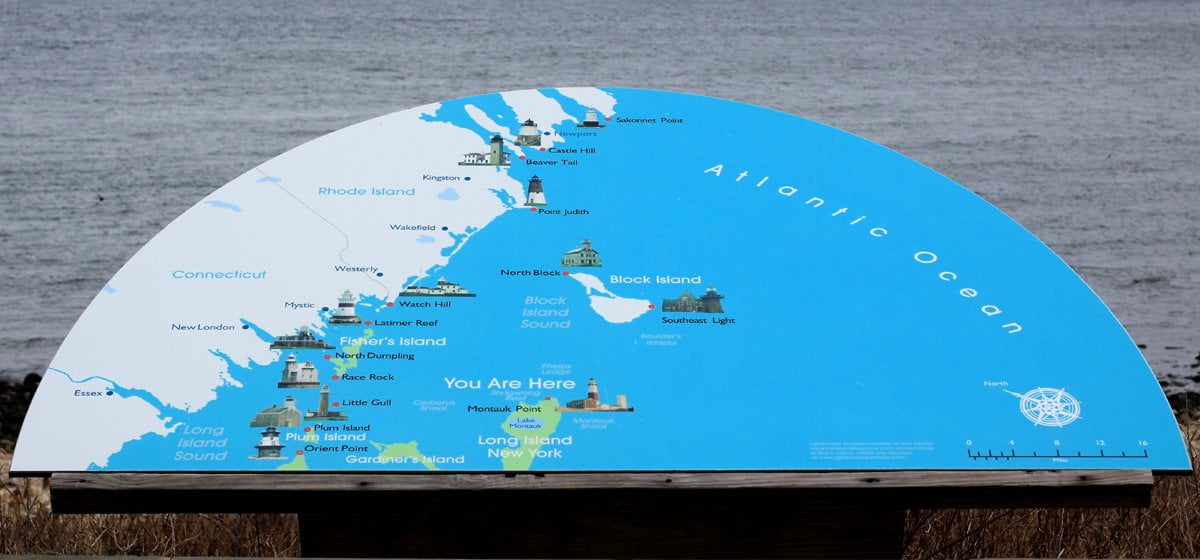 a helpful map (you can click it to make it bigger)
Once we reached Montauk Point and started scanning from the restaurant it very quickly became clear that there was an absurdly large number of scoters in sight (that picture up above was one small portion of the total).  In addition to the scoters there were lots of Common Eiders and small numbers of Red-breasted Mergansers, Common Goldeneye, Brant, and Greater Scaup.  In addition, we had several small flocks of Razorbills fly by!  Though it was a wonderful wildlife spectacle the diversity of bird life was not terribly great so after watching the flocks of scoters for forty minutes or so while trying to find something else in the flocks we moved across the tip of the Long Island to Camp Hero, where I shot the short video below looking south off of Camp Hero's bluffs.
Could you hear the Black Scoters calling over the sound of the surf?  We saw pretty much all of the species we saw earlier but added our only gannet of the day, some Bonaparte's Gulls, and at least four King Eider, though we did not get lucky enough to see an adult male.  The shot below is digiscoped at really long range.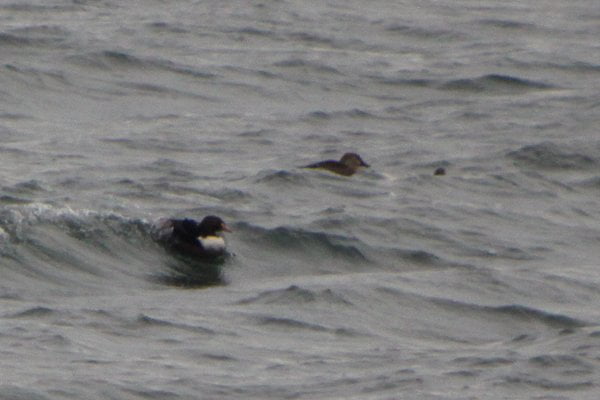 At Camp Hero we also met up with several other members of the New York State Young Birders Club (including Jacob Drucker who you met a couple weeks ago and Hope Batcheller who has actually written a guest post here) and several other birders who had planned to go on the pelagic and the rest of the day was spent both caravaning with other birders and sharing information with other birders not caravaning.  But our next stop was a stop for which we needed no information as the bird has been reliable for nearly a month and it took a mere ten minutes or so for my third Western Tanager in New York State to show up at the feeders it has been frequenting (you can read about the other two here and here).  From there we tried finding birds at Ditch Plains but didn't see much new other than a nice flock of 24 Purple Sandpipers feeding in the rocks at the edge of the beach.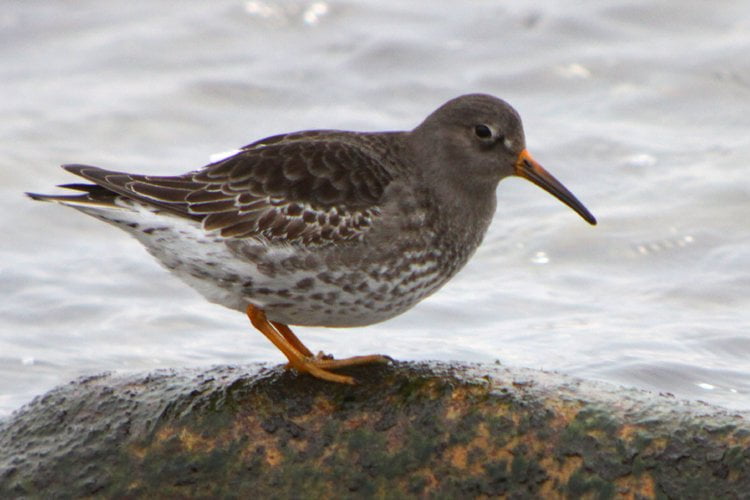 Purple Sandpiper Calidris maritima above and below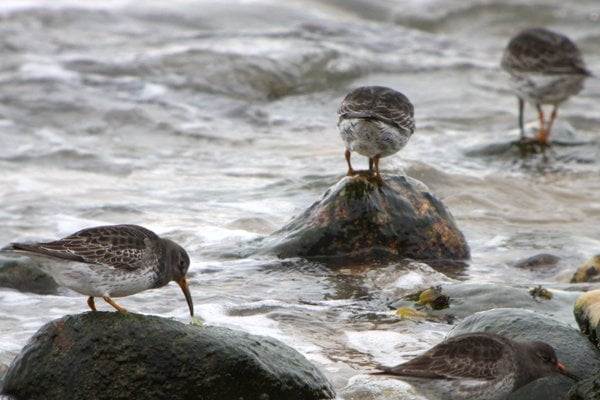 A stop at the jetties that protect the entrance to Montauk Harbor got us some more new birds for the day, including Great Cormorant.  The best birds there were easily the two Iceland Gulls but the Long-tailed Ducks were a close second, if only because a nice pair swam into easy digiscoping range.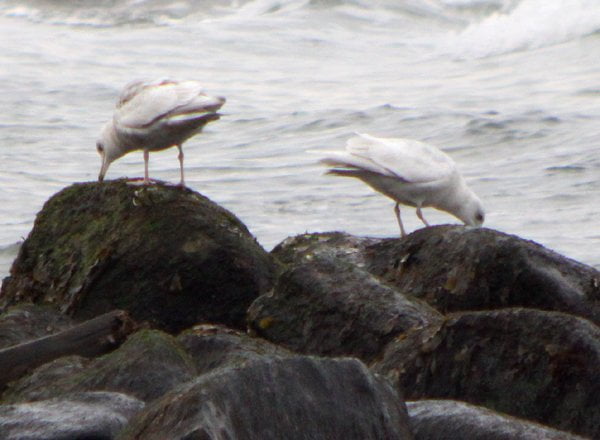 Iceland Gulls Larus glaucoides (digiscoped from very long range)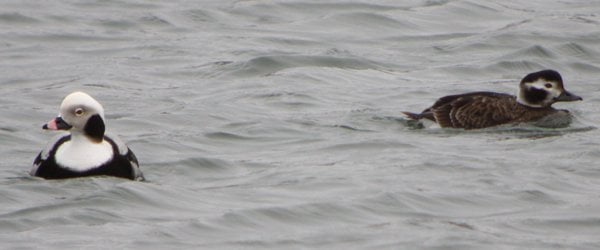 Long-tailed Duck Clangula hyemalis
It is at this point that our stops starting blending together for me a bit, but I do remember two Lesser Black-backed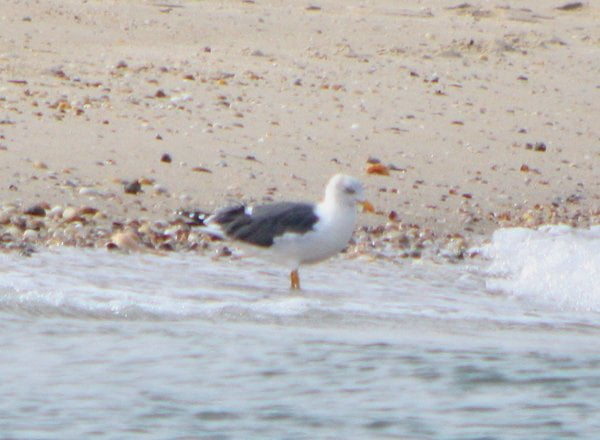 Gulls at Lazy Point, one of them being the famous Larry the Lesser, a Northern Harrier at a location that I can't remember, a Ring-necked Pheasant at Hook Pond, and not too much else until we reached Dune Road.  Of course, once we had made our way west we got reports of birds like Tundra Swan and Red-necked Grebe that we either flat-out missed or at locations that we had not stopped to check.  Despite missing those birds further east we had a fun time in strong winds at Dune Road trying to figure out if the white splotch I found perched in some brush on a small island was a Snowy Owl or some kind of refuse.  It was a pretty funny revelation when it was finally decided it was refuse and ten scopes were packed up at once.  Ten scopes focused on garbage!  Talk about a trash bird!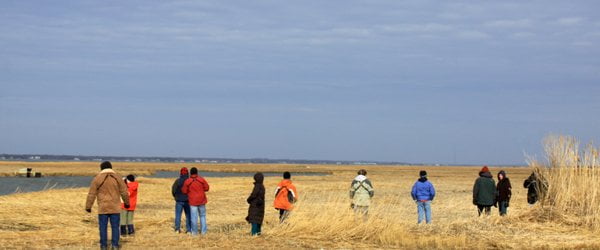 a horde of birders at Dune Road
Our sole remaining highlight of the day was a Seaside Sparrow that flushed twice briefly before settling back into the marsh where it remained.  We called it a day early, as several people had very long trips to get home way upstate, and I was back home in Queens myself before dark.  And, no, I wasn't at all upset when I heard that Dune Road had a Short-eared Owl hunting at dusk.  I didn't really want to see one of those anyway…
…
*Literally.  The Sibley Guide to Birds lists Surf Scoters and Black Scoters at 2.1 pounds apiece and White-winged Scoters at 3.7 pounds.  Given that there are 2,000 pounds in a ton and one estimate of the number of birds out at Montauk this Sunday was 60,00 Black Scoters, 40,000 Surf Scoters, 20,000 dark scoters (which means either Black Scoter or Surf Scoter) and 10,000 White-winged Scoters that means that there were 144.5 tons of scoters off the point.  If you add the 3,000 Common Eider at 4.7 pounds apiece you have a total of 151.55 tons of seaducks!
**No, not really.  So far as I can tell there are no plans to overthrow Greg and install a benevolent dictatorship.  Which is why Greg never stood next to any large drop-offs while Brent was standing near him…