According to my Peterson Field Guide to Birds of North America, the Common Goldeneye (Bucephala clangula) is "fairly common" but the Barrow's Goldeneye (Bucephala islandica) is "scarce." They also list the third member of the genus Bucephala, the Bufflehead (Bucephala albeola), as "common."
I find this categorization to be pretty accurate, so whenever I see the Common Goldeneye, I look for any Barrow's Goldeneye that may be hanging with their more common cousin.
Here is a pair of Common Goldeneye, the drake has a glossy green head with a large round white spot before the eye. The female has a dark brown, fairly round head and a gray bill.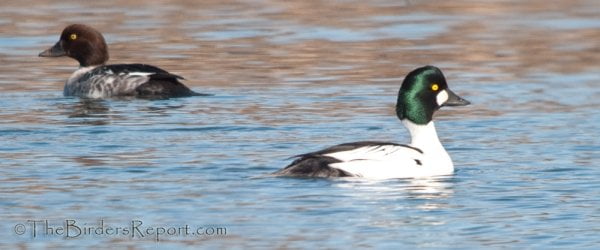 The Barrow's Goldeneye drake, on the other hand, has a glossy purple or blueish head and a white facial crescent shaped spot. The female has a steeper forehead and, from late November until May, has a yellow-orange or pinkish-orange bill.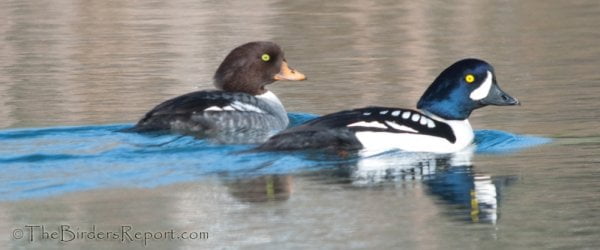 You can see that the Common Goldeneye drake lacks the mostly black scapulars with white spots and the short black bar extending downward at the side of the breast shown on the Barrow's Goldeneye above.
Female Barrow's Goldeneye with breeding experience exhibit high fidelity to previous nest sites and females without previous breeding experience prospect for potential nest cavities in summer prior to a nesting attempt1. This seems to be true of all three of these species of duck.
All three ducks of the Bucephala genus being cavity nesting species, are fighting habitat degradation caused by logging activities that decrease the number of large trees offering nesting sites. Since 60% of the world population of Barrow's Goldeneye breeds and winters in British Columbia1 and this species shows high nest site fidelity, we are lucky that they readily use man-made nest boxes that may be useful in any recovery program.
The loss of habitat and degradation of Canada's Boreal Forest is of special concern for these birds as well. For more information on the threat of the Tar Sands development and proposed pipeline read this post.
Here's one last look at the beautiful Barrow's Goldeneye Drake.
I hope you are able to spot the Barrow's Goldeneye even if they are "scarce," before they become "rare."
References: 1 Birds of North America Online