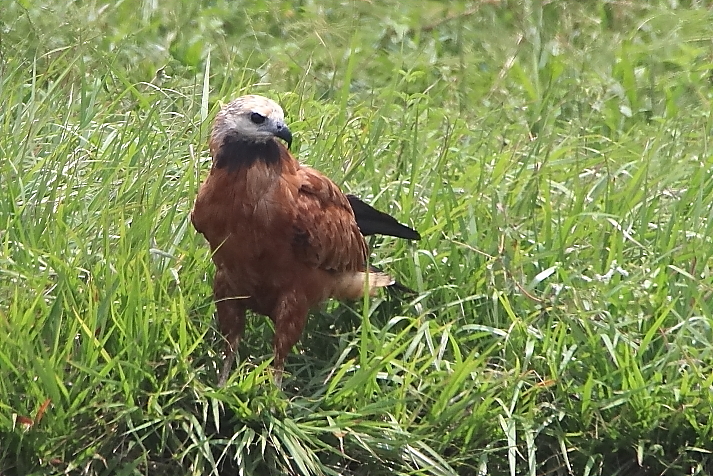 Tabasco is probably the wettest state in Mexico. During Mexico's dry season (which is just now ending), most of the country turns brown, as our plants survive the annual drought by dropping their leaves. But Tabasco only turns from a big swamp into slightly swampy grasslands punctuated with some remaining swampy jungle. As such, it offers some unique birding experiences.
I recently traveled to Villahermosa, Tabasco's state capital, to speak and sing in several Presbyterian churches there. During my stay, I was busy on Tuesday, Wednesday, Thursday, and Saturday nights, as well as all day Sunday. But the mornings, and all of Friday, were free. Even better, I happen to have an online birding buddy who offered to make space that Wednesday and Friday to take me to see some of Tabasco's birds. Since I have limited experience with eastern Mexico, and even less experience with tropical species, I enthusiastically accepted.
Good choice! By week's end I had 30 new species on my life list. And the final species, seen in the neighborhood in which I was housed, gave me my 500th species in Mexico. 500 down, 600 to go.
Our first day out, Wednesday, I saw several lifers even before reaching our target site. Two showed up blocks from my host's home. I grabbed some severely overexposed photos of my first Green-breasted Mango.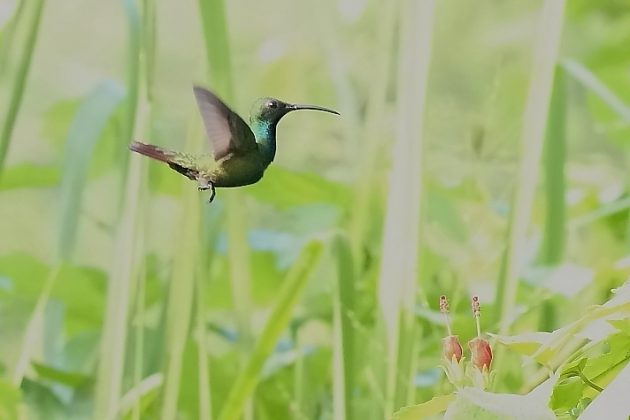 There were numerous Pale-vented Pigeons, and one was clearly nesting.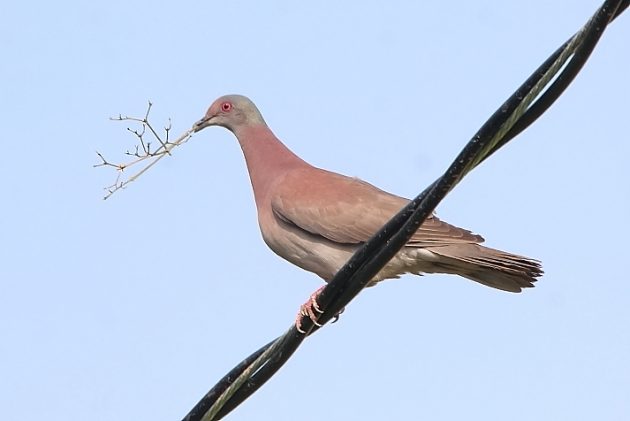 Some non-lifer Plain Chachalacas seemed unusually confident; West-Mexican Chachalacas on my home turf are much more timid.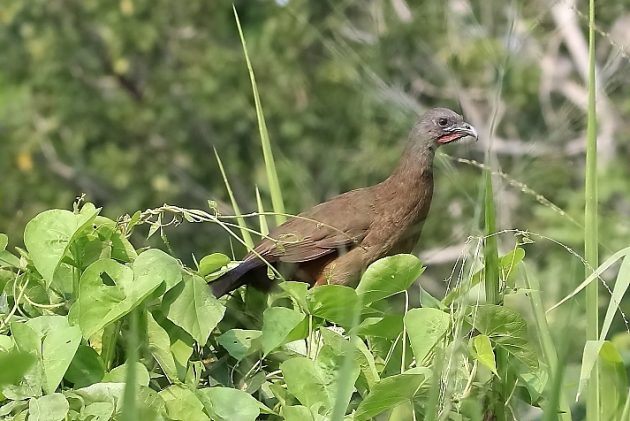 I had seen Altamira Orioles a few times before. Still, each species on this trip was a Tabasco-lifer, so every one was a welcome addition.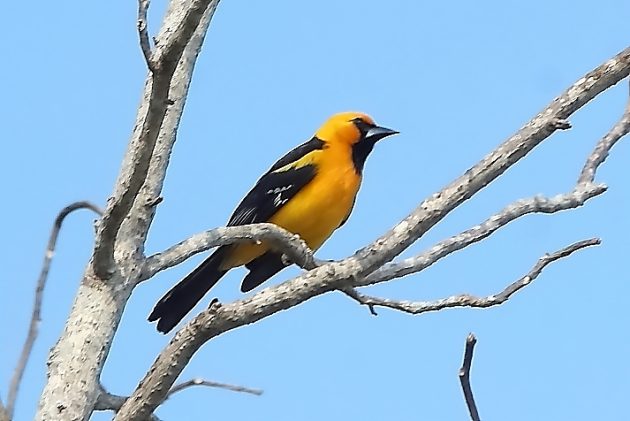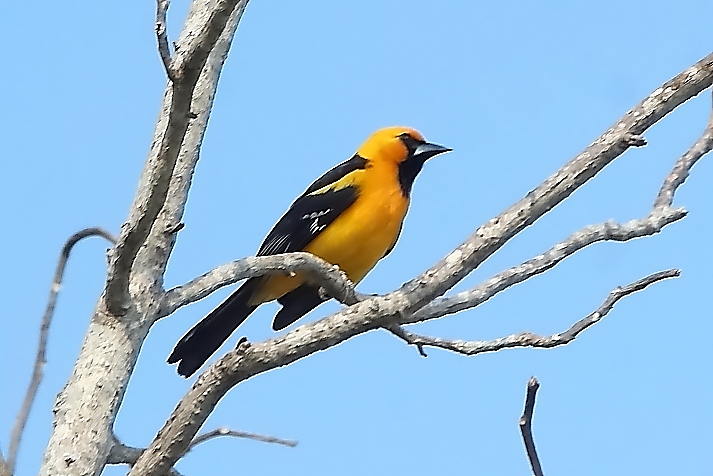 Then we detoured into the center of Villahermosa, to see the Northern Potoo that spends each day in the garden of one of Rolando's family members. This was a lifer I had long hoped for! Mexicans call this the "Stick Bird" (pájaro estaca), and, sure enough, it never moved as I observed it.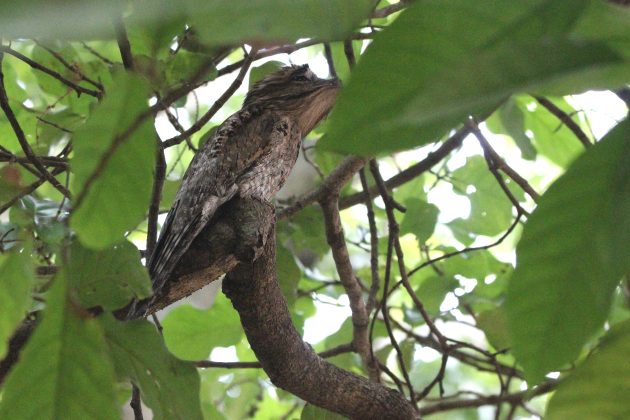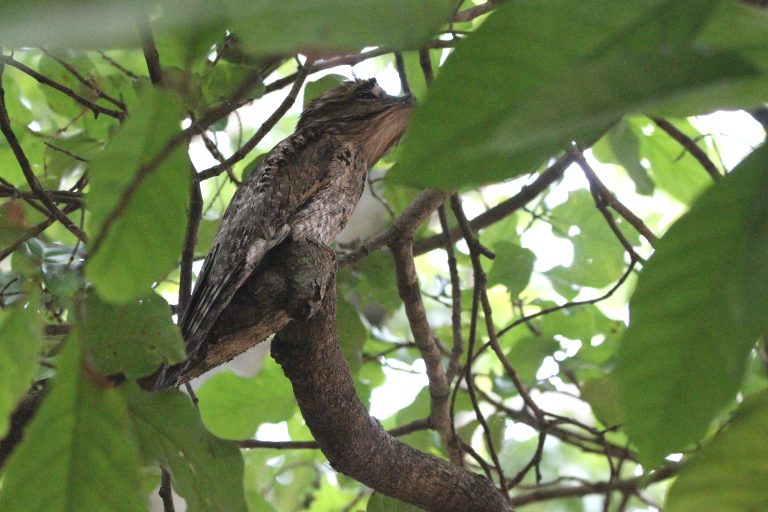 "Nothing to see here, I'm just a stick."
Then Rolando took me to Jonuta Road (el Camino a Jonuta, pronounced hoe-NOO-tah). I had heard about Jonuta Road for years. It stretches from Chiapas state to the border with Campeche state, Tabasco being a small and narrow state. The road travels almost entirely through marshy pasturelands. I told Rolando I didn't feel I was really in Tabasco, because I had yet to see a cow standing in water. Then we saw a cow, standing in water.
Because of this, many of the species we saw are water-loving species. Bare-throated Tiger-Herons, a rarety elsewhere, are almost a pest here.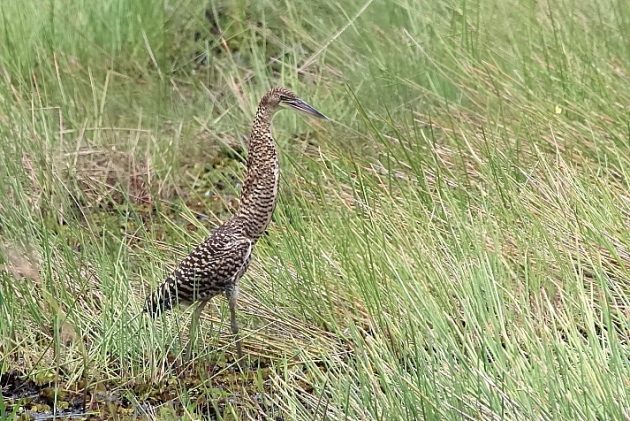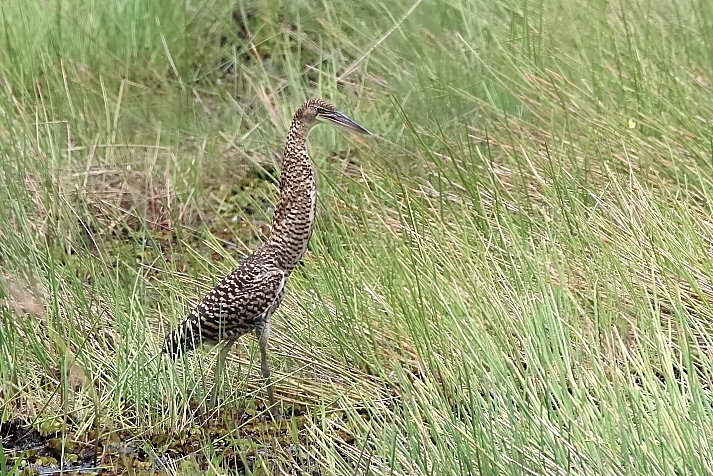 In an unusual twist, Tiger-Herons get their name from the markings on juveniles and immatures.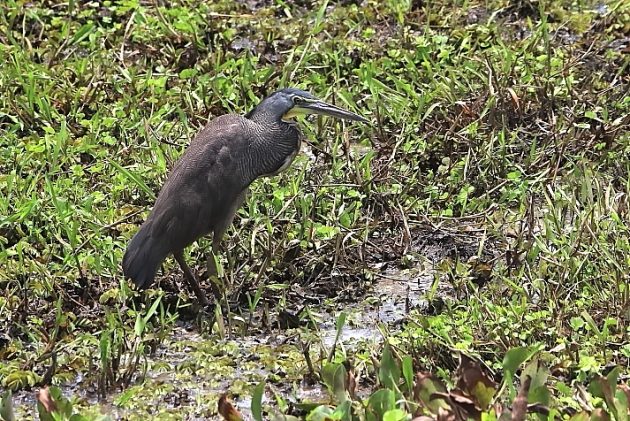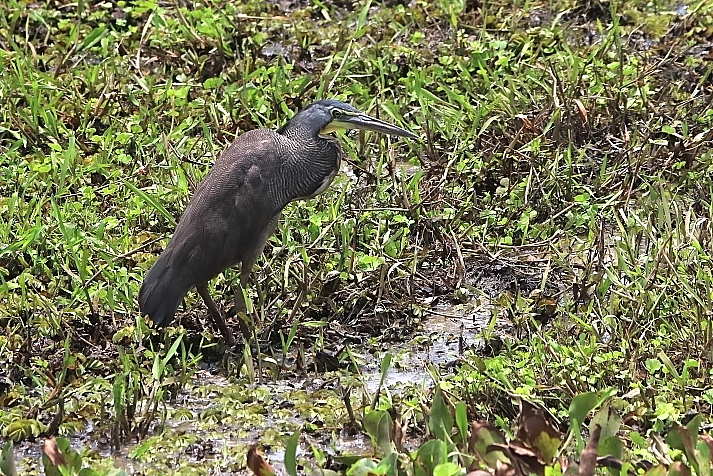 Adults are much less tiger-ish.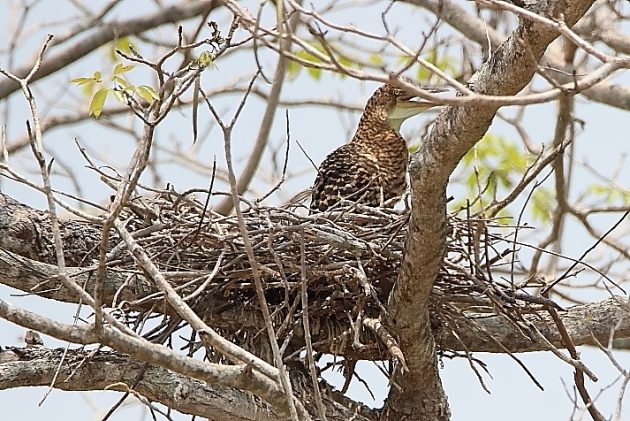 This one had yet to leave the nest.
The similar Pinnated Bittern, however, was a bird that Rolando had doubted he could show me. And yet, there it was! This bittern has "tiger-stripes" in all ages, but they are vertical, not horizontal.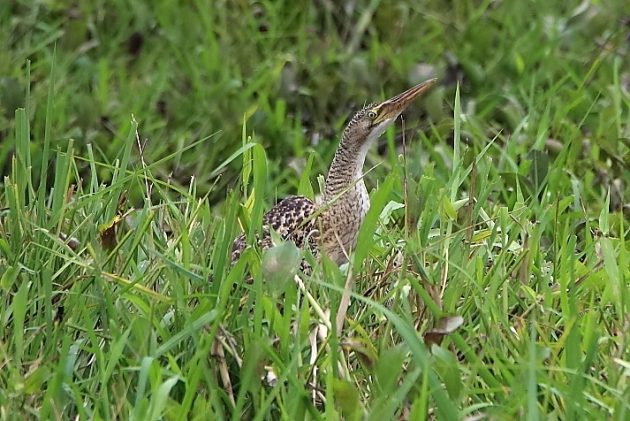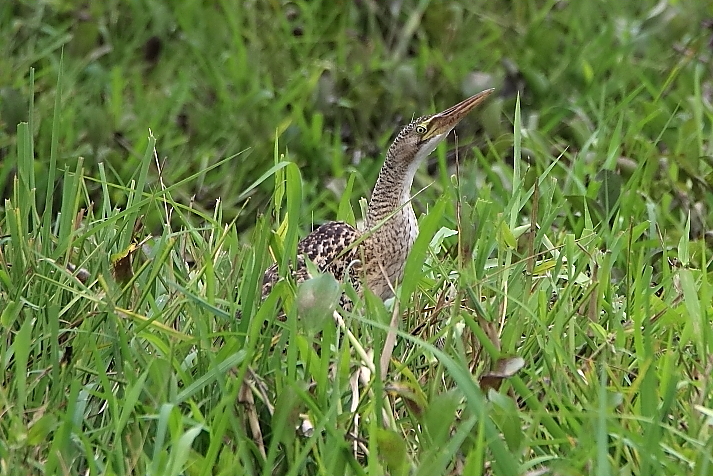 Limpkins also appeared regularly. Limpkins love to feed on freshwater snails. A west-coast Limpkin was a lifer for me just one month earlier; but on the Jonuta Road, they were everywhere.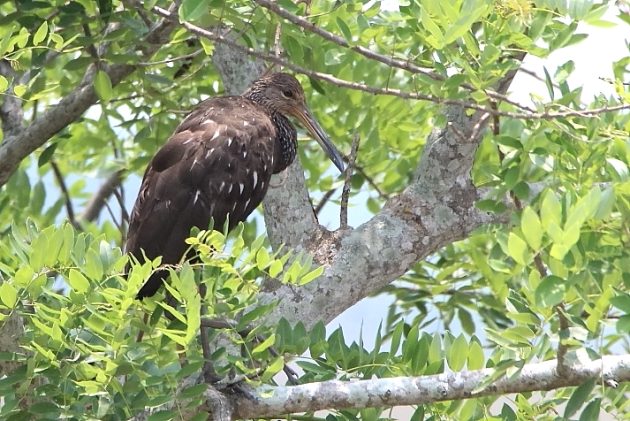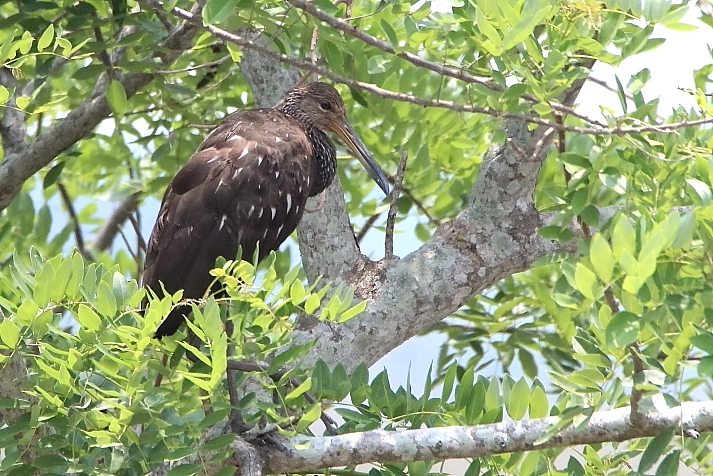 Much more surprising, however, is that freshwater snails are also the preferred food for a local member of the hawk family. I had seen an adult Snail Kite once while birding in Veracruz state, but was still excited to now see an immature one in Tabasco.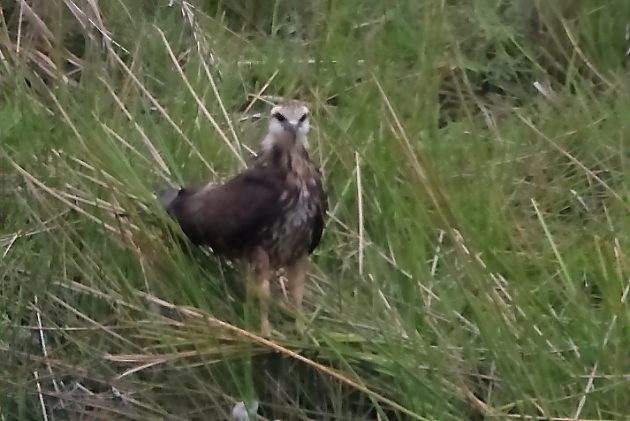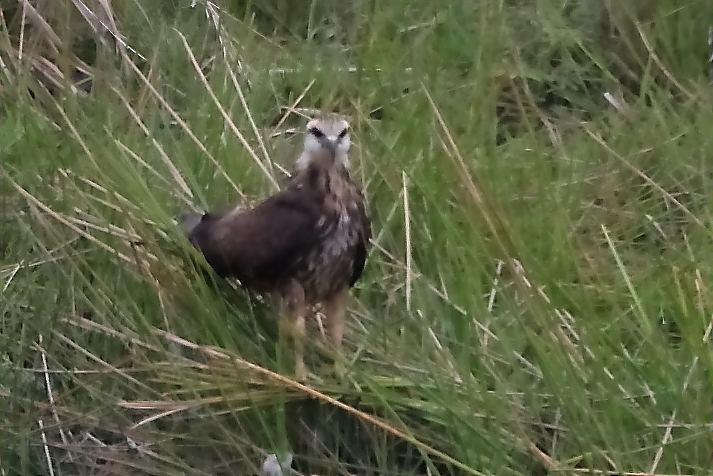 Here in Mexico, they call Ospreys "Fishing Eagles". But Tabasco has a second bird of prey that fishes. Again, Rolando was keeping his fingers crossed that he could show me a Black-collared Hawk. But we did not see one… We saw four! I wish I could have seen one fishing.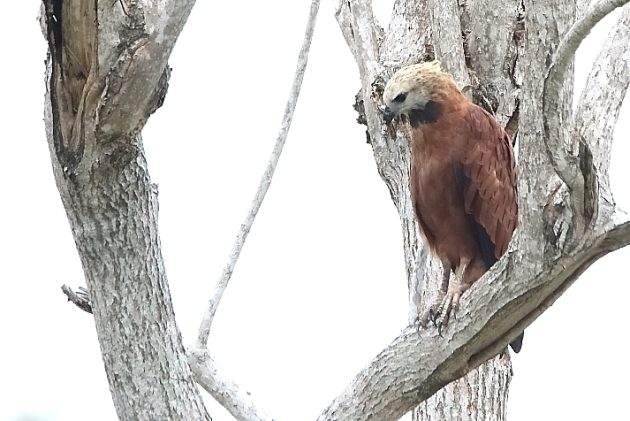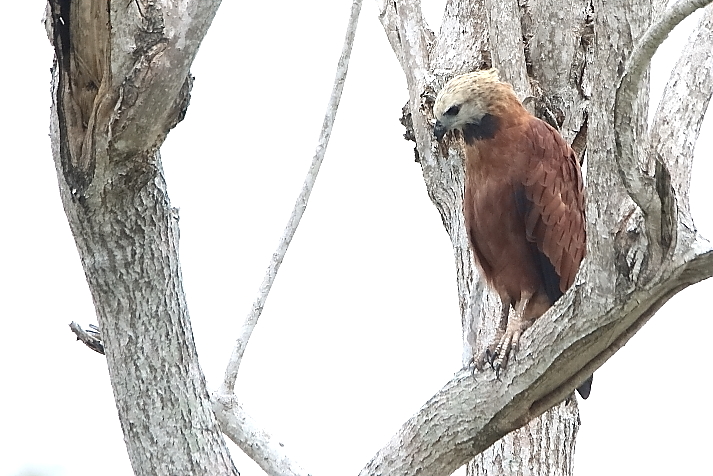 In Mexico they call this bird the "Cinnamon Eagle", Águila Canela.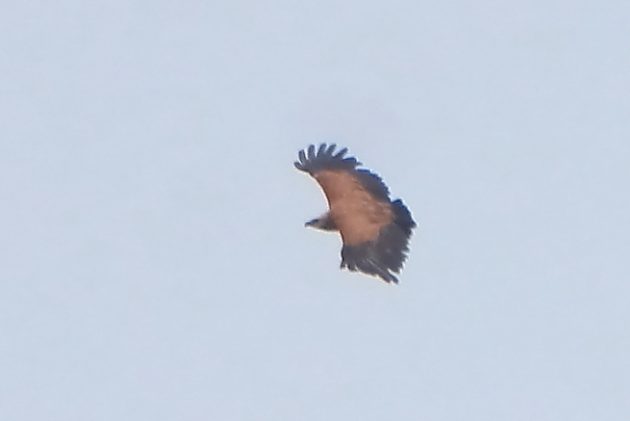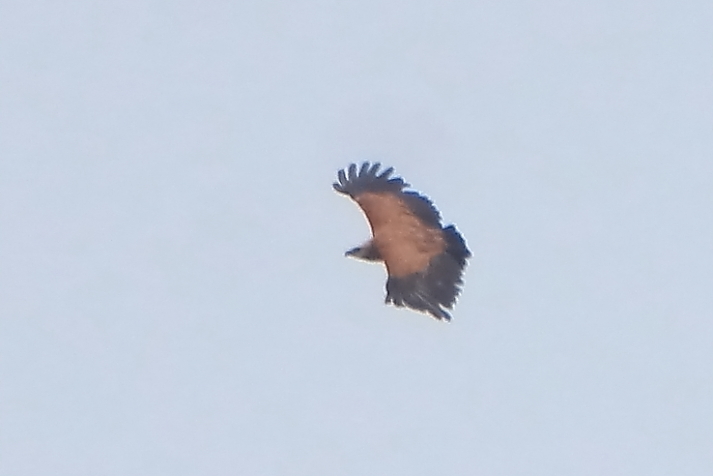 I never did manage a photo of the Olive-throated Parakeets that flew overhead, my lifer #6 for the day. But the #7 Couch's Kingbirds were more helpful. This species is nearly identical to the Tropical Kingbirds that can be seen and heard everywhere in tropical Mexico. But their lower, raspier calls left no doubt that these were Couch's. Rolando was also excited about this find.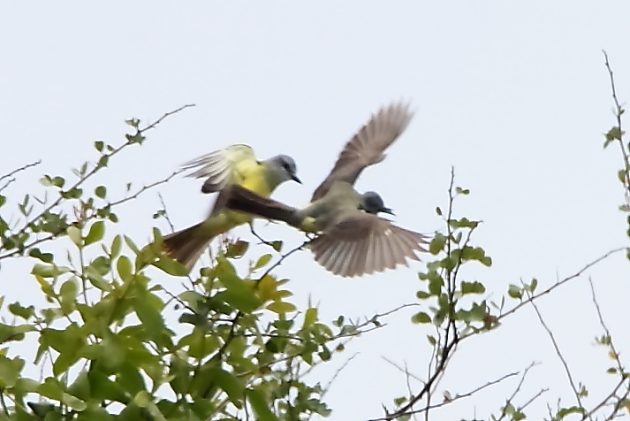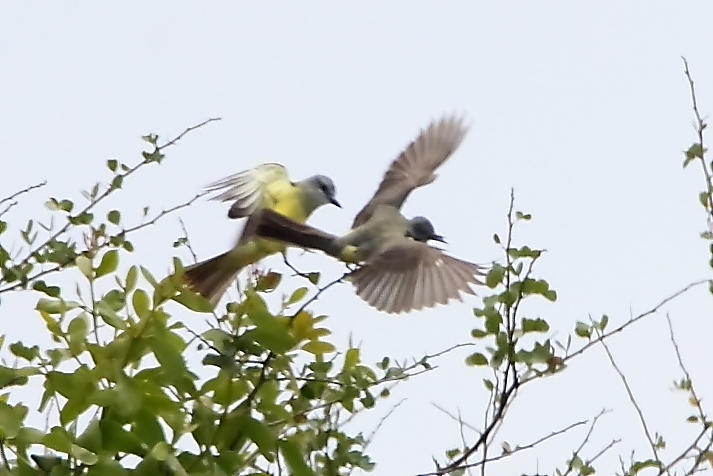 On the way to Jonuta Road, Rolando informed me that in this region, Lesser Yellow-headed Vultures are common, but Turkey Vultures are unusual. Go figure! I wish I could have gotten a good photo, but… Lesser Yellow-headed Vultures look just like Turkey Vultures, unless you get a close-up of their head. Which I did not get. I could show you a great photo from Acapulco, but that would be cheating.
Eastern Meadowlarks sang from many fenceposts. They certainly are not rare birds, but they do know how to pose for their portrait!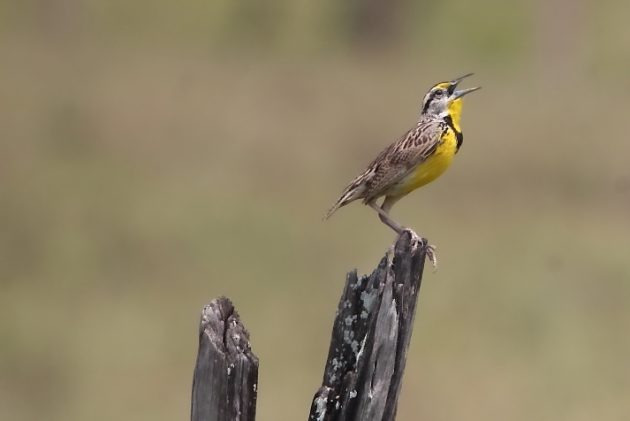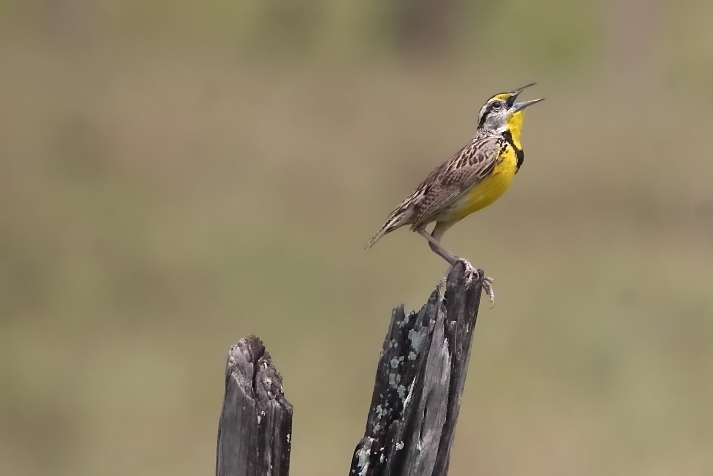 Our one Tropical Mockingbird for the day preferred to choose a dramatic stance for his portrait.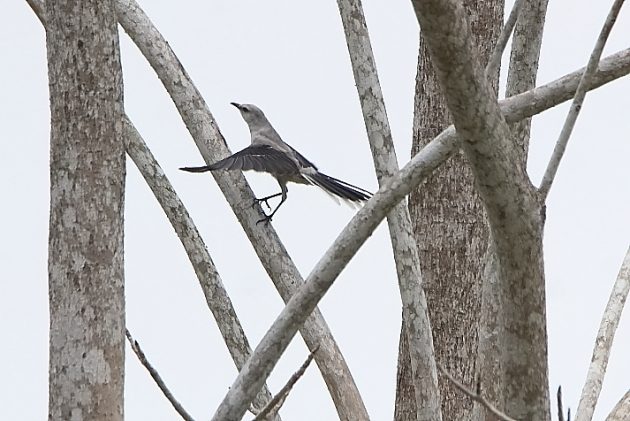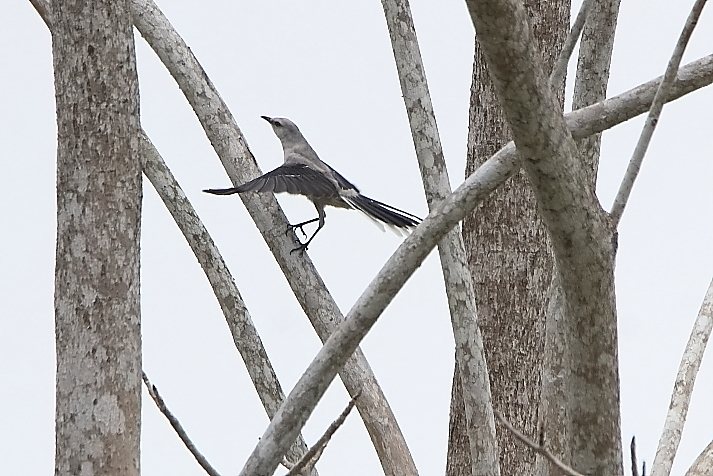 The absence of white wing patches confirms that this Mockingbird is Tropical, not Northern.
On a trip to Veracruz state many years ago, we saw lots of Fork-tailed Flycatchers. But you can never see too many Fork-tailed Flycatchers.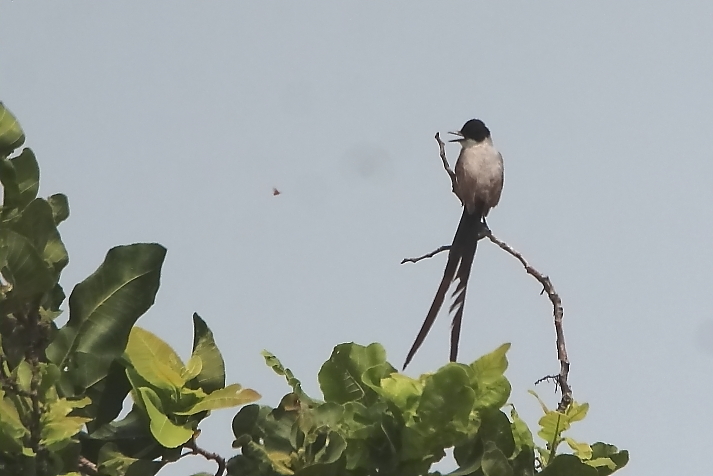 Needless to say, I had a spectacular experience with my friend/guide. Rolando Chávez is a lawyer and accountant, but in his "spare time", he does serve as a professional birding guide, using his excellent command of the English language. Click on his name here to contact him. Or you can find him in Instagram at rchavezdm. If you go to Villahermosa, do look him up!
Next week: our even better experience in a Tabasco jungle.