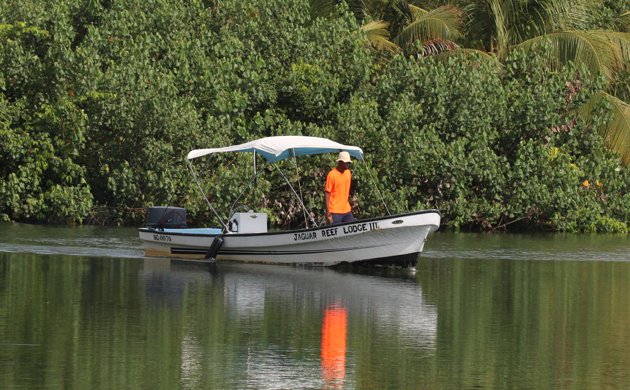 While in Belize back in August one of the outings we signed up for was a boat ride along the Sittee River, a mangrove-lined and placid river that flows into the Caribbean just south of Hopkins. We met our guide in the late afternoon and took the short golf cart ride to the marina where he dropped us off on a dock and went to get the boat. (He's returning for us in said boat in the photo up top.)
We, being me, Daisy, and Desi, piled in and headed upriver, hoping to see some cool creatures and have a good time on the river. We managed to do both of those things and the breeze from the boat's constant movement was a welcome relief from the heat and humidity of the tropics in August. As we headed upriver we ogled the mangroves and generally enjoyed ourselves. Then the guide pointed out what would be the first of many iguanas and Desi was pretty happy and ready to head back.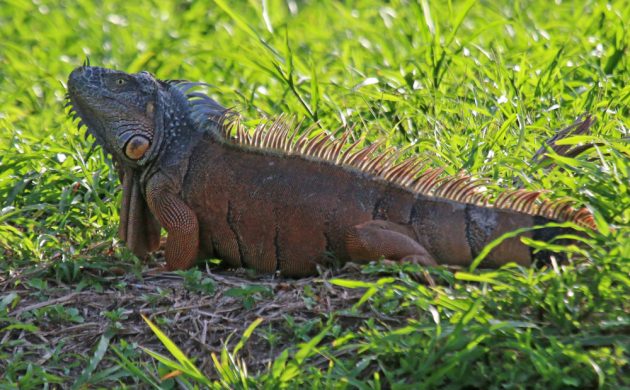 female Green Iguana
But we pressed on, me with the hope of cool birds, Desi with the hope of crocodiles, and Daisy because she just likes being on boats. Yellow-crowned Night-Herons, Little Blue Herons, and more iguanas were easily our most frequent sightings and we stopped to look at all of them. Eventually, I had to ask that we stop stopping for these exceedingly common creatures and focus on covering more distance in the hope of finding a wider variety of creatures to see. Soon this strategy paid off, as we came across a Gray Hawk right along the edge of the river. It is a common bird itself but I had never managed to see one so well even though I butchered the photographic opportunity.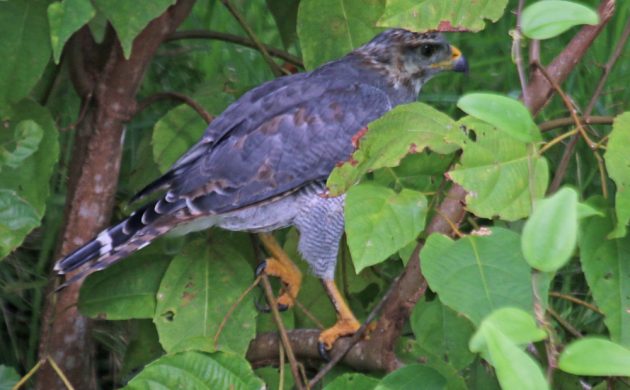 Gray Hawk nearly in full adult plumage
After the hawk the species piled up fast, with a flyover Black-headed Trogon, Pale-vented Pigeons, Olive-throated Parakeets, and wide variety of other species showing themselves.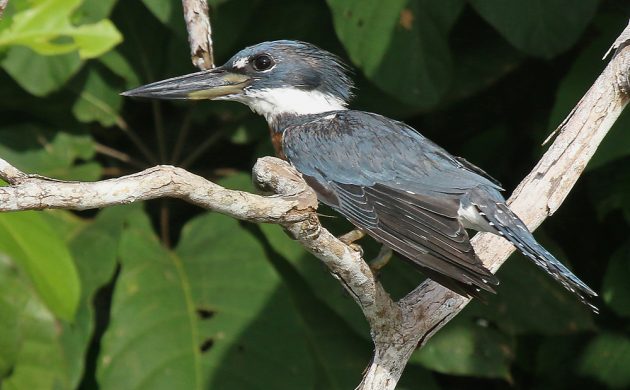 Ringed Kingfisher, both above and below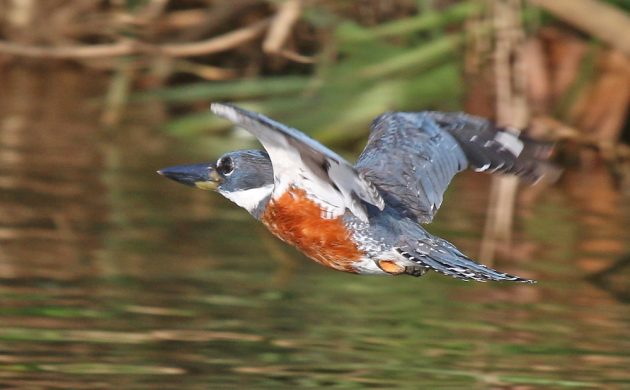 One of the advantages of birding by boat is that birds seem not to recognize people in boats as a threat as much as they do a person on land. I'm not sure why this is but we sure took advantage of it.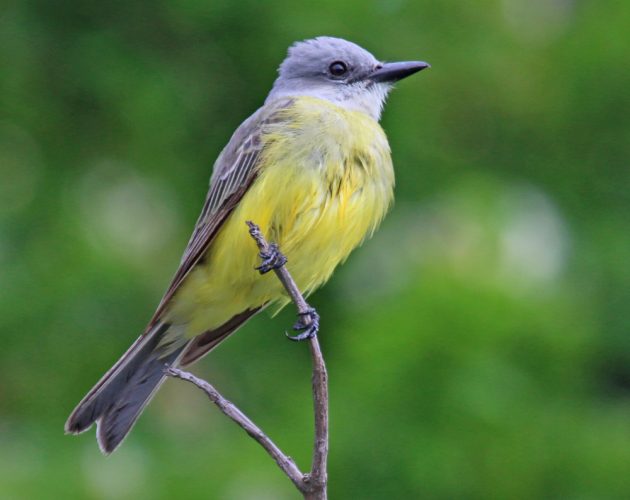 It didn't matter how close we got to this kingbird as it never called so I had to leave it as a Tropical/Couch's Kingbird.
For me, the highlight of the trip came when a heron flushed from well ahead of the boat and flew upriver. I immediately knew it wasn't anything I was used to seeing and then I realized what that meant. "Bare-throated Tiger-Heron!" I yelled, and the guide sped upriver after the bird.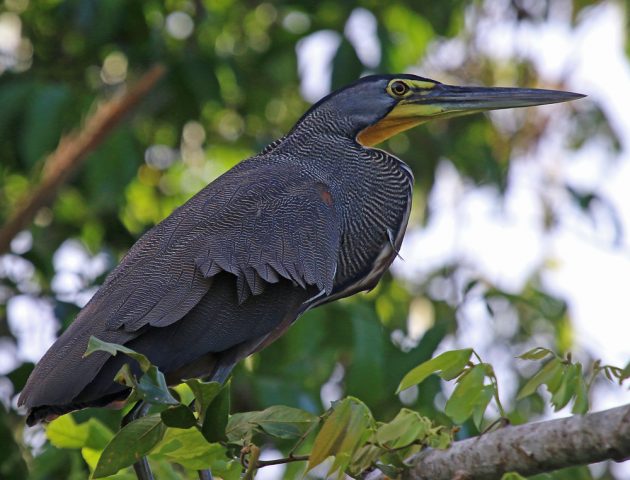 Bare-throated Tiger-Heron
We caught up to the bird where it perched as you can tell from the photo above, and enjoyed point-blank looks at this awesome creature for about five minutes, before it decided it had enough and took off further upriver. Even Desi, who had been growing bored with the boat ride (even iguanas couldn't keep him entertained), was awed by the tiger-heron.
The ride back downriver wasn't as exciting as we had seen most of what there was to see, though adult and juvenile Common Black Hawks were cool despite being silhouetted against the late afternoon sun.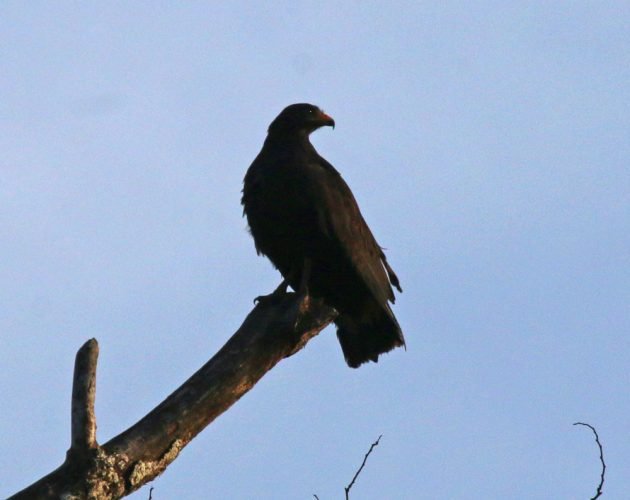 adult Common Black Hawk
If you end up in Hopkins and have a choice of a variety of things to do choose snorkling before the river ride. Maybe it's better in winter when there are neotropical migrants around but on the entire boat trip the only new species we saw for the week-long, not-birding-intensive trip in Belize was the tiger-heron. It was a nice outing but it fell short of the other activities we participated in during our vacation. Perhaps we had grown jaded from our previous amazing excursions but even an hour-long, morning walk brought me more species than the boat ride.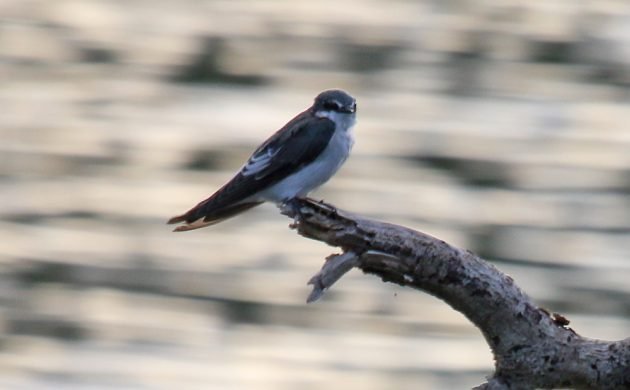 But, hey, Mangrove Swallow!