All twitchers will experience it at some stage or another. That most dreaded of disappointments. The dip. For those that might not fully comprehend, the birding slang-term to "dip" or to "dip out on" a bird is to go looking for a particular species and not find it. That bird can then be referred to as a"dip", the noun version of the word. There are small dips, big dips, memorable dips, disastrous dips, expensive dips, exhausting dips, sad dips. You get the picture. Dips are not cool. They can be interpreted mathematically by this simple equation: Bird: 1 ; Birder: 0. Dips are spoken about in hushed tones, if spoken about at all. Some competing birders take delight in the dips of fellow twitchers. And many a birder has been given the death-stare by his/her fellow birders for even mentioning the word on a twitch for a particularly rare species. But some dips are so significant that they become the stuff of legend. Most birders prefer not to recollect their biggest dips but I convinced a few well-known birders to share theirs. And I'll start with mine, although it literally pains to recall…
It was 2003 and a Common Redstart was reported from the Nossob Rest Camp in the Kgalagadi Transfrontier Park in northern South Africa. I was only one bird shy of the magical 800 number for my Southern African bird list and this was a species that would allow me entry into the exclusive 800 Club (with unlimited access to any airport lounge across the globe, free First Class upgrades on 72 different airlines and a free meal at KFC). So I pleaded with the wife, who was well-pregnant with our first child, and she reluctantly agreed to let me go as long as I was back soon. No problem. It was only 750 miles away from my home in Cape Town. Nothing that couldn't be achieved through dogged determination and Redbull! Off I went. The bird had been reported the very day I left and I made surprisingly good time, arriving in Nossob in the evening after about 15 hours of straight driving. Two days later I was still searching. Nothing. And then my wife called to say she was in hospital in premature labor!! Back in the car, back to Cape Town at break-neck speed. An unhappy wife, 1,500 miles later and the biggest dip of my birding career! When I finally got to 800, all club benefits had been cancelled due to some loophole in the 800 Club benefits program. Common Redstart 1; James Currie 0.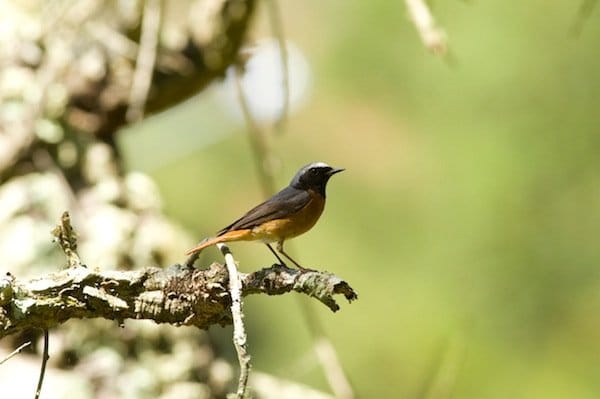 Common Redstart by Frank Mclintock
Gavin Bieber reports his biggest dip as follows. It was late October 1999 and Millennium Fever was in the air. But there was something else in the air too, Twitching Fever. And Gav had a severe dose of the latter. A Eurasian Dotterel had been reported from Ocean Shores, Washington. This bird had only been recorded in the United States a few times and was listed as a Code 4 by the American Birding Association (Code 4 translates into "make plans to twitch now" for many American birders). Problem was Gavin was in Victoria, Canada over 500 miles away. A different country separated by lots of water. Not to be deterred he drove from Victoria to the ferry. Then paid $60 for the ferry to Vancouver. Then crossed the border and drove the remaining 300 miles or so to Ocean Shores where he arrived at midnight and slept in the car. The next day the bird was nowhere to be found. It was seen every day for two weeks on either side of that one fateful day in late October 1999. Eurasian Dotterel 1, Gavin Bieber 0.
Not to be outdone by Gavin, Paul and Anita Guris were outfoxed by a Cuban vagrant not once but twice! In fact it was two weekends in a row in March of 1995. The bird in question was a Cuban Pewee that had showed up in Spanish River Park, close to where I now live in Palm Beach County Florida. Unlike Gavin's bird, the Cuban Pewee was an ABA Code 5 (translates into "forget about any plans and leave immediately" for many hard-core birders). This was in fact the very first record of Cuban Pewee in the ABA area and would have been classed back then as a once-in-a-lifetime Mega-tick! And these two frenetic birders were all over it! This is how it worked out for Paul and Anita:
Chase #1:  Drove from Blue Bell, Pennsylvania to Boca Raton, FL.  Roughly 1,200 miles and 18 hours.  The bird was seen the day before. Drove back 1,200 miles and 18 hours.
Chase #2:  Bird was spotted again. Drove to Philadelphia. Int'l Airport, flew to Orlando, FL on a discount airline full of screaming kids and drunken parents headed for Disney so it felt like weeks. To quote Marisa Tomei in My Cousin Vinny, "Oh my gawd!  What a frikkin' nightmare!". Then drove four hours to Boca Raton, FL. Missed the bird AGAIN. Anita still makes impolite noises when the name of this species comes up. Cuban Pewee 2; Paul and Anita Guris 0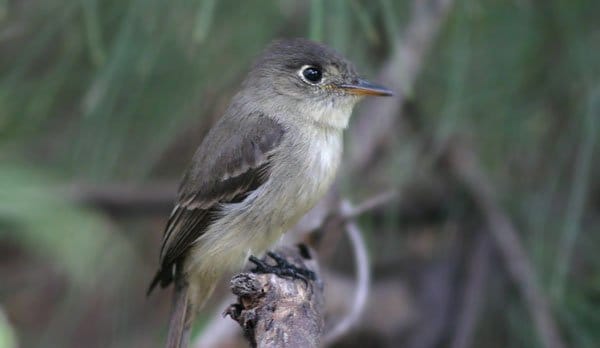 A Cuban Pewee by Mike Bergin
Jochen Roder
spent a long time walking to dip on a
Snowy Owl
in Norway. In 1992, a fellow birder he met in Norway mentioned that
Snowy Owl
was possible north of the village of Vadso. He had himself found pellets west of Vardo the day before and actually wanted to go searching there, but changed his mind and followed the other birder's advice. After destroying the hand-brake of his car on a bumpy road leading inland, a repair that would cost him the equivalent of $1,000, he set out on what turned out to be a 25 kilometer fruitless search on foot. After he had reached the high tundra and was approximately 10 km away from the car with no shelter in sight, it started to rain. It started to rain very, very heavily. It was the hardest rain he had ever experienced, with drops so big they literally hurt. He was completely soaked in no time with all his spare clothes soaked (it would be 5 days until the sun came out and he could finally dry his clothes!). After dodging lightening all the way back Jochen arrived back at the car. He later learned that the place where he had found the pellets near Vardo was the most reliable place for Snowy Owl and that he would have found it in no time near the road had he not followed the other birder's advice.
Snowy Owl 1; Jochen Roeder 0.
Mike Freiberg couldn't believe his luck when he had the opportunity to chase two Code 4 rarities not too far from his home in Philadelphia, Pennsylvania. I say not too far because he only had to drive several hundred miles for both birds, spending fourteen hours searching and driving like a mad man. First he drove to Bombay Hook National Wildlife Refuge, Delaware to twitch a possible Little Egret that had showed up. No luck but Mike knew he could get the "predictable" Kelp Gull at Sandgates, Maryland as the tide began to pull out at Bombay. The predictable Kelp Gull never showed up in the four hours he spent at Sandgates. At that point, the tide was changing to high tide in Delaware so he wisely decided to chase the Little Egret, again. As he was pulling into Bombay Hook he met some birders who told him that the egret roost ahead of us had the bird in question. He pulled up, the only birder there besides his uncle who had come along for the ride. Well, as he got out the car he inadvertently slammed the door and 300 egrets took flight. Major disappointment. Little Egret 2; Mike Freiberg 0. Kelp Gull 1; Mike Freiberg 0.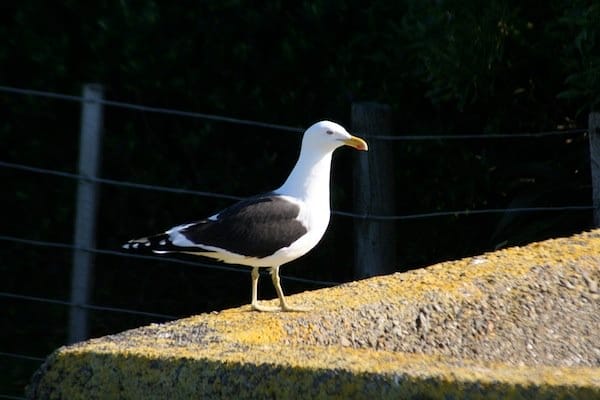 Kelp Gull by Duncan Wright
Dave Faike lived up to his last name when he went on a fake dip. Its one thing to dip. But a fake dip! C'mon, how much worse can that get! Dave writes as follows, "I vividly recall driving for a couple of days one January, over icy roads through intermittent snows during bitter cold temperatures and bracing winds, from Central Idaho across 630 miles (one-way) of sagebrush-covered high desert in the middle of nowhere to whatever refuge was located in S.Oregon in order to search for an RBA-posted, confirmed Whooping Swan, spending hours observing virtually every swan from various vantage points around a mostly frozen refuge, four-wheeling down snow-covered roads, freezing ears, noses, lips toes and fingertips off, staying overnight in that ratty little motel .. only to conclude that somebody had misidentified a Bewick's Tundra Swan.  I also remember watching a car loaded with birders arrive the following morning, use their window-mounted spotting scopes from the confines of their vehicle without ever turning off its motor, eventually spot the same Bewick's Swan, high-five each other and drive away." C'mon! Bewick's Swan 1; Dave Faike 0.
Rich Hoyer, like Paul and Anita, dipped twice in close succession. The bird in question? A Fork-tailed Flycatcher. Rich acidly writes the following, "Total miles driven in two attempts: 720. First time left Bandon Oregon late morning. Next day from Corvallis, Oregon. Destination: Ilwaco, Washington. First drive was 7 hours, there 3.5 hours back. Second was 3.5 hours each way, total 17.5 hours driving on the 13th and 14th September 2005. Bird was found on the 12th, and again after I left there on the 13th. So I returned the next day but it was never seen. I still haven't seen it in the U.S." And all this – just for a Code 3 bird. Talk about a nemesis-bird Rich! Fork-tailed Flycatcher 1; Rich Hoyer 0.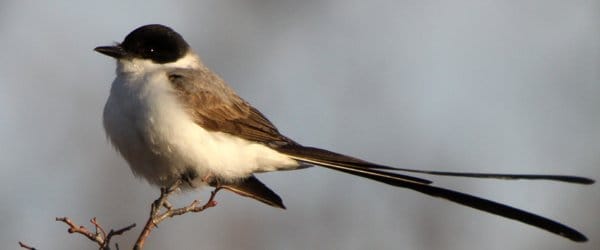 A Fork-tailed Flycatcher by Corey Finger
And lastly, I had to include Richard Crossley's two biggest dips. Both for the same beautiful bird – a Ross's Gull. Way back when he was still young and handsome, he hitchhiked from Plymouth, England to Cley, Norfolk – 750 miles round-trip. Always concerned with his own personal safety, he only hitchhiked at night so he could bird during the day. Needless to say he dipped. His second attempt for Ross's Gull was to Filey Brig in Yorkshire. It was a freezing night. After some great hitching, he arrived in the middle of the night, frozen and shaking like a leaf and was left with no choice but to 'borrow' someone's car til daybreak. After spending all day there without seeing the bird, it was a long 350 miles back. (700 miles total).  His third try for Ross's Gull was from Plymouth to Thurso – from the southern tip of England to the northern tip of Scotland (1,600 miles round-trip).  After about a total of 3,000 miles hitching on freezing winter nights, he finally got it but not without sacrifice.On the way home from Thurso he got propositioned for his troubles by a male driver looking for love who generously offered him 50 pounds. Richard writes that even though he was flat-broke, he didn't give in! On this occasion at least. Of course, a few years later a Ross's Gull turned up 400 meters from where he lived in Plymouth. Ross's Gull 2; Rich Crossley 1; Creepy Driver 0.
We would love to hear your dips so comment below!