My first sign something was wrong while I scanned the East Pond of Jamaica Bay during my long day's birding last Thursday was a sharp pain in my belly. I knew it wasn't my appendix, as I had mine out several years ago and the pain was in the wrong spot anyway. Then it hit me: I hadn't eaten anything except a couple of poptarts and a banana and that meager repast had been hours before!
I decided to soldier on, and continued down the long path from the East Pond all the way to the bay proper. The deerflies and mosquitoes attacked in squadrons, biting me and sucking my blood. I refused to surrender but regretted every drop of blood and chunk of flesh of which they deprived me. I made them pay though, and my "birding pants" ended up streaked with blood where I wiped off the mosquito remains…
Then the Eastern Towhees started in, singing "Drink your tea!" At first I ignored them but as they became more and more insistent I started talking back to them: "Drink my tea? I don't have any tea! Do you have some tea, or crumpets? I would love some you cursed birds! Why must you mock me so?"
Yeah, so maybe I had been outdoors for too long. But did I stop? No, of course not. I soldiered on, getting to the bay and seeing, well, birds I had already seen during the day. I lingered, hoping something would fly in…nothing. Then I saw this: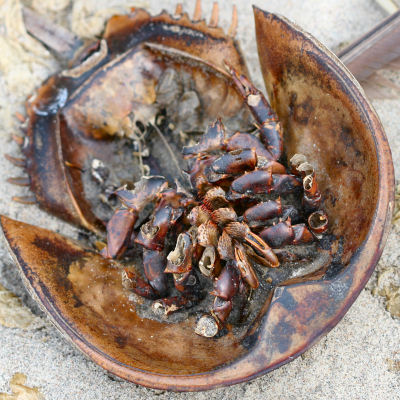 dead Horseshoe Crab for dinner anyone?
And scared myself by wondering if it would taste as bad as it smelled (after all the gulls seem to like them). This depraved thought made me hasten back towards my car on the long trail, again besieged by insect hordes, and now mocked by Yellow Warblers as well: "Sweet, sweet, sweet, I'm so sweet!" It sounded more an invitation than a declaration to my hunger-ravaged mind. I started to think how I could catch one to see just how sweet the little yellow birds are…
Fortunately, once I got back to my ride I remembered that just down the road from Jamaica Bay is a Starbucks, to which I hastened and stumbled in, sweaty, smelly, dirty, and disheveled, and ordered one of everything while the well coiffed clientèle looked on in horror.
Who says birding isn't an extreme sport? And remember, one can not live on birds alone.