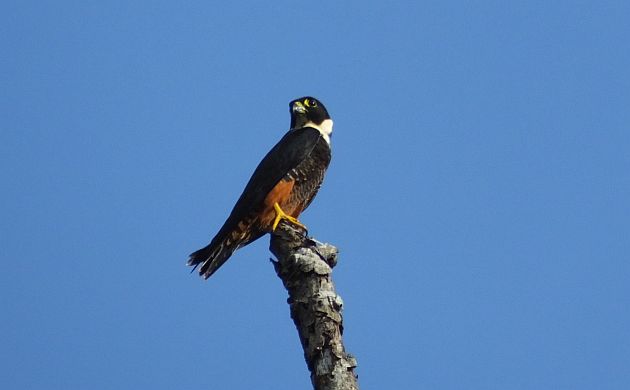 In January, we moved to a new place at a slightly lower elevation yet still located in the Central Valley rather near the main airport. As with any home inhabited by birders, we have kept track of all species heard or seen, night and day. Although that may sound as if we stand out there at all hours like a bino wearing sentinel watching the trees, most of our birding is typical yard list stuff; just keeping eyes and ears out for whatever avian things come our way. It's an urban area but lucky for us, a nearby stream and a small farm on the other side of the street inject it with more life. The farm would have even more birds if not for the bio-diminishing blend of poison and monoculture but the adjacent hedgerow does support quite a few species especially when the figs and other trees are in flower or draped with fruit.
Over the past six months, we have had some expected species and others less so. A few have also arrived but only stayed for a short time or just haven't vocalized again (such as the Barn Owl that was screeching in the windy January night). The expected birds have been pretty standard species in much of the urbanized Central Valley, birds like the cool Grayish Saltator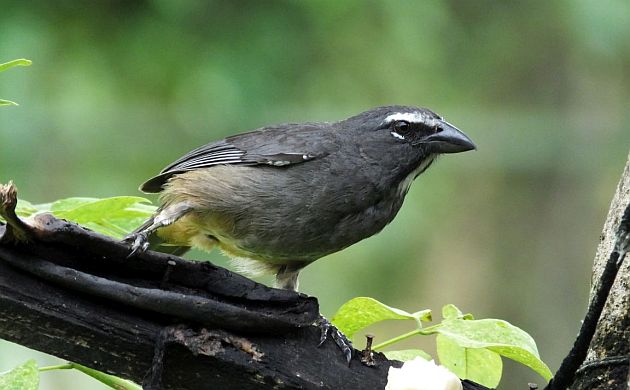 noisy, inquisitive Rufous-naped Wrens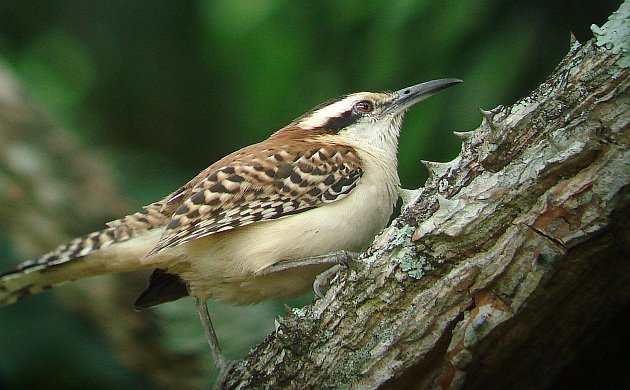 Great Kiskadee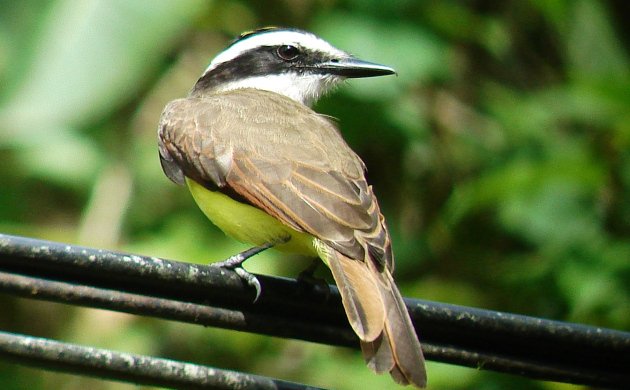 Clay-colored Thrush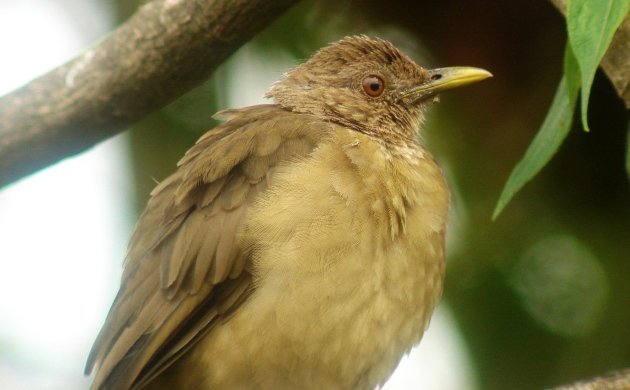 and White-winged Doves (sort of like our Mourning Dove)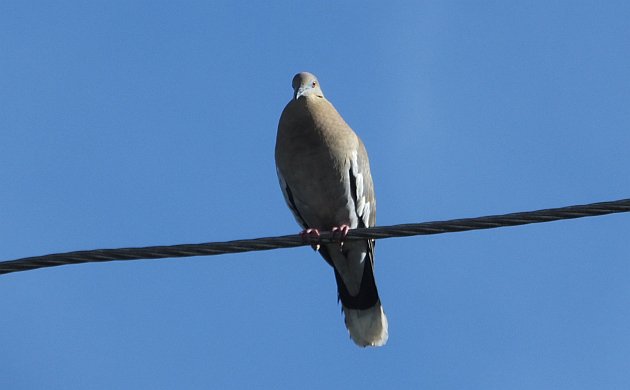 These birds persist and can do quite well in a landscape that blends concrete with gardens and long wiry fingers of green that mark the many small waterways of the Central Valley. Those riparian zones are vital for many species (including Boas and frogs) and are surely why some early mornings feature the rollicking voice of Gray-cowled Wood-Rail and the cool song of the Rufous-and-white Wren.
Other expected species have included common migrants and wintering species like Yellow-throated, Red-eyed, and Yellow-Green Vireos,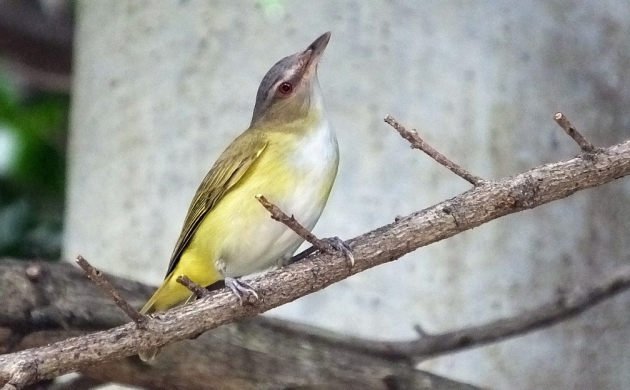 This one is a Yellow-Green.
and Yellow and Tennessee Warblers.
The expected species are always nice but it's the unexpected birds that add a bit more flavor to the spice of birding life. Up in here, those choice birds have come in the form of:
Scarlet Tanager and Eastern Kingbirds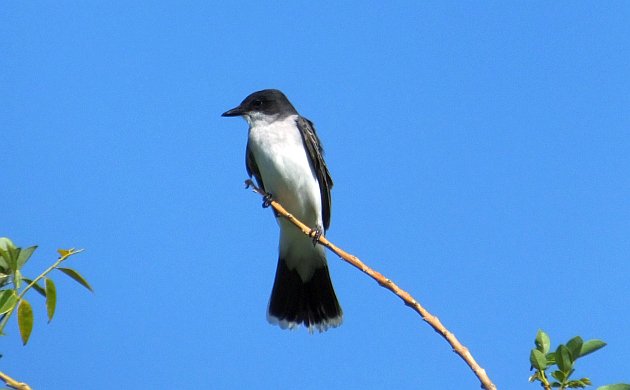 These birds do move through Costa Rica in large numbers but more so on the other side of the mountains than near our place. During spring migration, we were happy to see several of each of these eastern birds forage in fruiting trees across the street. They were joined by more exotic Piratic and Sulphur-bellied Flycatchers.
Bat Falcon!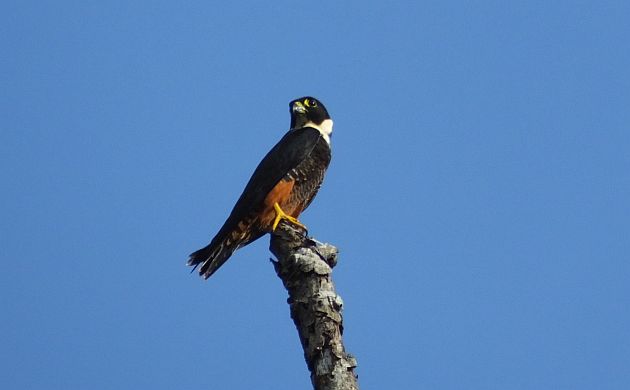 Pretty rare in the Central Valley, just the other day, one of these quick, Hobby-like Falco species flew close overhead, I suspect it was attracted by a large flock of swallows and swifts that were feeding at the edge of a massive deep gray cloud.
Speaking of birds on the wing, migrating Cliff Swallows have been expected but because this was one of those species that was evasive where I started my birding, and also because one might end of being a rare Cave Swallow, I love watching each one.
With the Cliffs were many swifts, a few expected Chestnut-collared Swifts often forage overhead in the morning and were also up near those clouds. With them, though, were several others of a less expected species, the Spot-fronted Swift. Although this bird might even fly over the Central Valley on a daily basis, it probably goes unnoticed because it forages so high overhead. They can occur but you just don't expect them and especially not in the numbers my partner and I had. Thanks to the storm cloud, these little known swifts were driven low enough to see and, especially, hear them give their diagnostic "laser gun" vocalization. Several were calling, my conservative estimate was at least 20 and I suspect there were many more!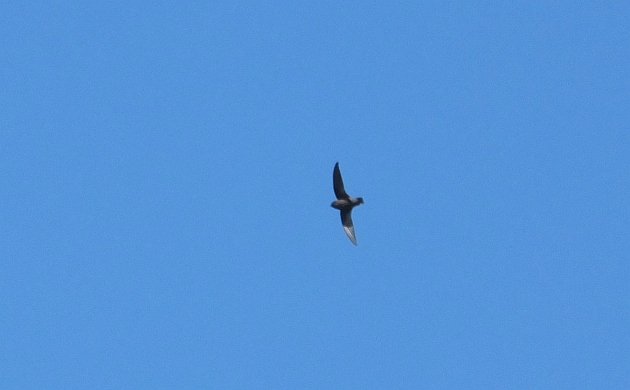 A likely Spot-fronted Swift from another day.
Although Black Swift wasn't present the other day, we have also seen that less expected species forage high over the house on a few occasions.
White-fronted Parrot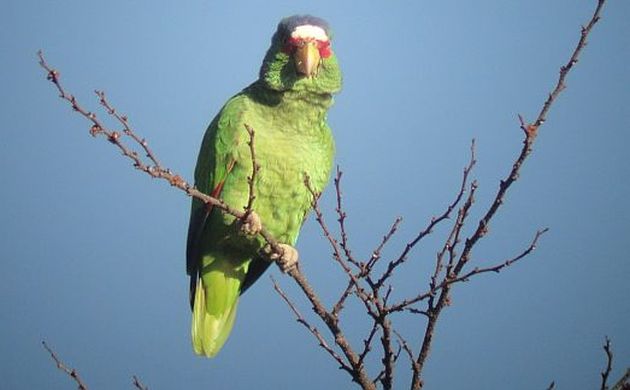 This dry forest species does move into the Central Valley at times, but I didn't expect it at the house. We have had it a few times along with more regular numbers of expected Crimson-fronted Parakeets and White-crowned Parrots.
Plain-capped Starthroat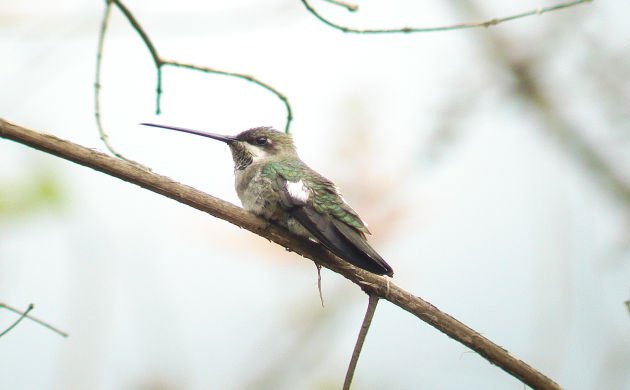 Another dry forest bird, some do live nearby but that didn't remove the sweet surprise from seeing a couple of those distinctive hummingbirds. A shame they didn't stay longer than a day.
Giant Cowbird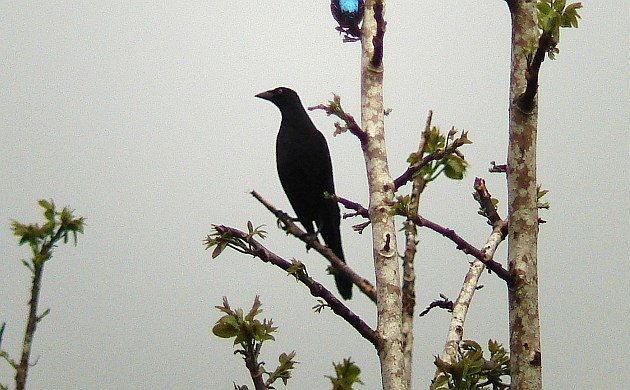 Familiar with the Brown-headed Cowbird? Imagine one hybridized with a Great-tailed Grackle and you sort of get the Giant Cowbird. Although uncommon in Costa Rica, they do get around and can show wherever one of their host species, the Montezuma Oropendola, occur. A few of those oropendolas are in the neighborhood and probably explains why we have seen a few undulating flybys of the Giant.
I wonder what will be next for the homestead list? Will we stay long enough for a Striped Owl to finally pay a visit? For migrant cuckoos to materialize? To hear the bubbling call of a migrating Upland Sandpiper? I hope so, the year list moves on, and it will be fun to keep on watching.