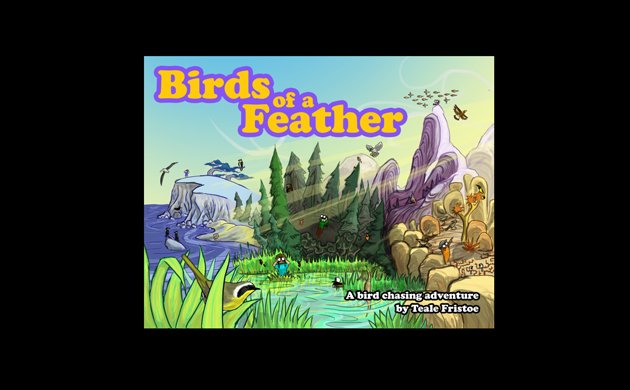 I'll admit, I wasn't expecting much from a card game about birding. I mean, birding is about being outside, enjoying nature, the thrill of the chase. Birding is most emphatically not about sitting around a table playing cards. But the idea still intrigued me and the thought of a card game that might further indoctrinate the five-year-old tyrant of our house, Desi, into birding seemed worth exploring. After all, Teale Fristoe, the designer of Birds of a Feather, had offered a free prototype to try out so it's not as if I was risking my own money on this seemingly odd experiment. I let Teale know with the following email that I would accept the offer in return for a review: "I'd love to check out a prototype! It sounds like a great way to spend some time with my five-year-old while secretly indoctrinating him into the world of birds."
Tuesday night after dinner Desi, Daisy, and I sat down to play the game. It's simple, with a deck of sixty cards divided into five habitat groupings, and each card depicting birds that are either common, uncommon, rare, raptor, or ace. Each player plays a card and can count any species from the same habitat group as the card played. Those cards stay on the table for the next round so you get one more chance to "see" them if you missed them on the original play. "Ace birds" are worth two points and if you see all seven species from a habitat group you get three bonus points. It's fun, fast, and easy to learn. It could also become surprisingly strategic, though we didn't get the opportunity to explore that aspect too much as neither Daisy nor I wanted to whoop on Desi too much. He is, after all, five. (And I think that this game will be more enjoyable for him at a strategic level when he is a couple of years older.)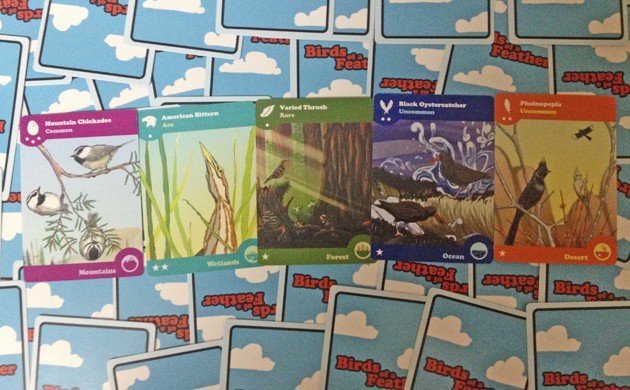 A bird from each habitat group – I particularly like the Varied Thrush card.
I haven't had the chance to play the game with a group of adults – you can play with as many as seven – but I think it would be pretty fun to try. Honestly, it was entertaining playing with Desi and Daisy anyway, and it was great to hear Desi say things like "Oh yeah! I got the American Bittern! Ace bird!"
Now you've probably noticed that I referenced that we were playing with a prototype. That's because the game isn't in full production right now but Teale is trying to get it there through a Kickstarter campaign which runs through 2 April. Backing the project with just $5 will get you access to a print-and-play version of the game while $19 will get you the game delivered. I put up $35 so I could get two sets: one to keep and one to give as a present to an undetermined person. (The prototype doesn't have all of the artwork yet.)
A couple of comments about the game as it relates to birds. You will notice a definite west coast bias: Mountain Chickadee, Varied Thrush, Black Oystercatcher, and Townsend's Warbler should give you the idea. I think it would be a great idea for region-specific versions of the game to be made so that kids from all over can have cards with birds that they have a chance to see in their yards and local parks. Also, while the habitat groupings are a good way for kids to learn what birds can be found where and about the very concept of habitats, there is no other information provided about the birds. It would be wonderful for a fact-sheet about the species in the game to be included  or a dedicated website set up with pages on each species.
But these are details that do not detract from the fun of the game. While bathing Desi on Tuesday night after we played I asked him if he wanted to play again on Wednesday. His answer? "Yes! And I'm going to see all the birds!"
That's right, Desi, you are. (And we played again on Wednesday and now it is pretty much what Desi wants to do every night after dinner.)
Head on over to the Kickstarter page and help back this fun and worthy project.