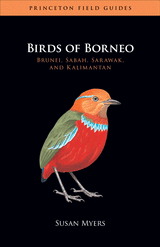 I am a firm believer that birders should invest in two categories of field guide: those they will need and those they want to need. New guides and references for the areas you reliably visit increase your knowledge, which is a worthy endeavor indeed. But guides to parts of the world you've never yet visited, places you don't even know if you'll ever visit, often have the effect of increasing your passion for birding! This explains why I'm so taken with Birds of Borneo by Susan Myers.
Birds of Borneo: Brunei, Sabah, Sarawak, and Kalimantan is authored by Susan Myers and published by Princeton Field Guides. A brilliantly colored Blue-banded Pitta, resplendent in plumage of scarlet, olive, orange, and azure, on this guide's cover extends the promise of an array of avian wonders far beyond the imaginings of most American bird watchers. The pages within amply fulfill this expectation through nearly 1,600 color illustrations of more than 620 bird species, including spiderhunters, flowerpeckers, drongos, hornbills, broadbills, barbets, frogmouths, and malkohas. Wow!
Author Susan Myers is a well-respected scholar of and guide to the birds and ecology of Asia. Many of us who have yet to explore Asia with Susan know her through her engaging blog, The Life of a Bird Tour Leader. Her vast wealth of experience shines through in her field guide entries, which are admirably informative in support of small, but well-rendered painted images of each species.
I'm hardly qualified to speak to how well this guide serves its designated territory. In fact, I've seen scarcely a handful of the included species in life. But as a birder with a predilection for poring over field guides for lands near and far, I can attest that Birds of Borneo captivates the imagination.  My now-imminent journey to Brunei, Sabah, Sarawak, and Kalimantan may still be decades away but rest assured, I'll be ready for the birds of Borneo once I get there!