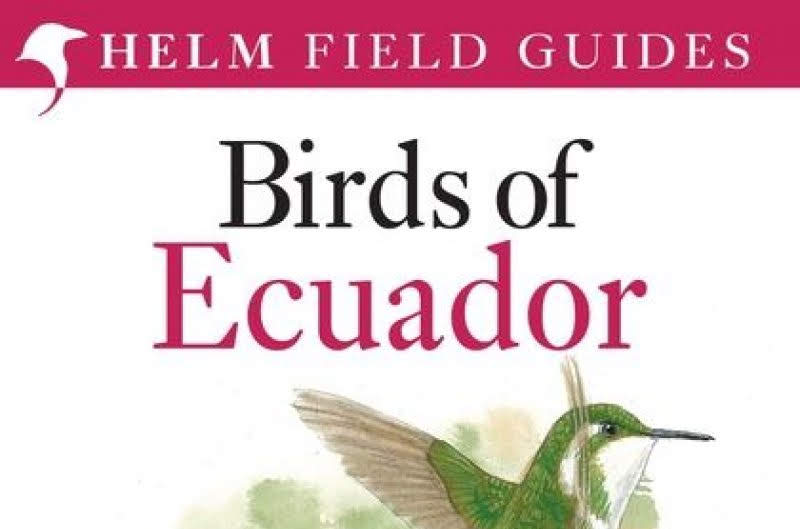 Helm Field Guides, Paperback – May 2018
As we birders like to see ourselves, we aren't tourists but travellers, even explorers. And hence we do not carry tourist guides with us. Our tourist attractions have feathers and unlike crumbling temples or colonial buildings, do not stay in one place. They wander around and are way harder to find. Still, this does not mean that we have no equivalent of those tourist guides. We chase birds, so we carry bird guides – in many ways, not too different from tourist guides.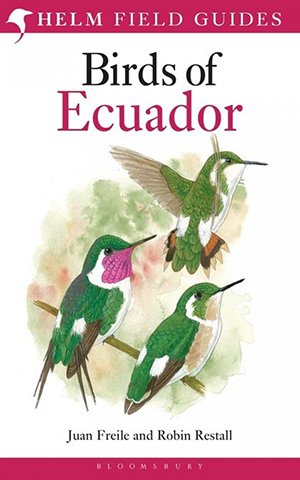 To paraphrase Keith Barnes, who wrote on world birding in 2008 ABA's Birding magazine, if you can afford only one big tropical bird tour, let it be Ecuador. From the Amazon basin through the towering Andes to the endemic-rich Choco, it is possible to observe 600 species in two weeks and even 800 in three weeks – they could all find themselves on your life list. The next question is which is the best bird guide for the country?
The new Helm field guide to the Birds of (mainland) Ecuador by Freile and Restall covers 1630 species in a single volume, has 656 pages and isn't exactly lightweight. Still, is it hefty? Both "yes" and "no" apply. The real answer is subjective. "Birds of Ecuador" is a heavy book, but only marginally more than e.g. Helm Birds of East Africa. It covers a wealth of bird diversity in 291 plates and it is not as heavy as one might expect. One way or another, with its 5.6 x 1.4 x 8.6 inches it still fits easily into the largest pocket of my reporter's vest (and many birders wear something similar). It comes in handy to be able to have it in your pocket in a minivan, or on an intercontinental flight, but it would still feel odd to walk with it in your pocket.
The reviewers at Amazon commented that its bulk isn't insignificant, but at the same time as being of reasonable size (and I agree with that view), also compact and easy to bring on any trip. You may find it bulky or not, whatever the case, compared with its predecessor, a two-volume Birds of Ecuador by Ridgely (2001), it is as compact as can be. The objective answer to the weight question is 2.6 pounds. (Yes, you can always opt for an eBook, but to me, the only book is the real book.)
Weight aside, the previous standard was taxonomically heavily outdated and it was just about time for the new one. And that is where Freile and Restall stepped in. Juan Freile is a well-known Ecuadorian ornithologist involved in local bird conservation over the last 20 years and has published more than 80 bird-related papers and books. Robin Restall is an acclaimed bird artist, whose works include the Helm's Birds of Northern South America (2006).
Out of 656 pages, the first 32 are devoted to the usual introductory chapters on how to use this book, weather and habitats, species richness, diversity and migrations, and an overview of the conservation in Ecuador, including a map of protected areas.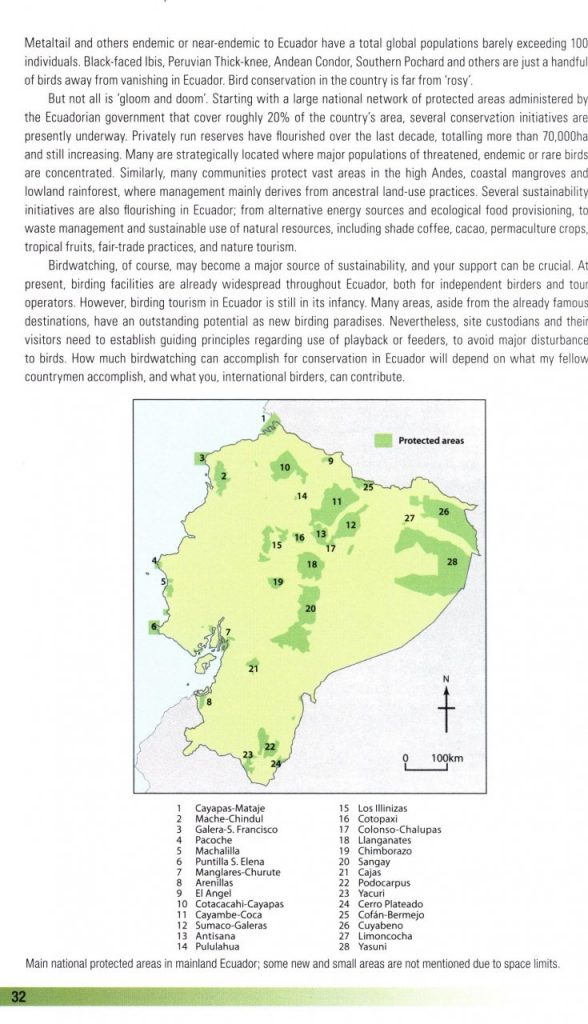 The middle section is occupied by the 291 plates (right hand side), including the raptors in flight comparison pages (something sadly dropped from contemporary guides for Europe), as well as 22 plates of hummingbirds alone, with distribution maps and textual descriptions on the left. The text describes the measurements, distribution (especially in relation to elevation) and habitat, plumages (with field marks in both bold and italics), subspecies, sometimes behaviour (only where necessary, due to space constraints), voice, similar species and the abundance status.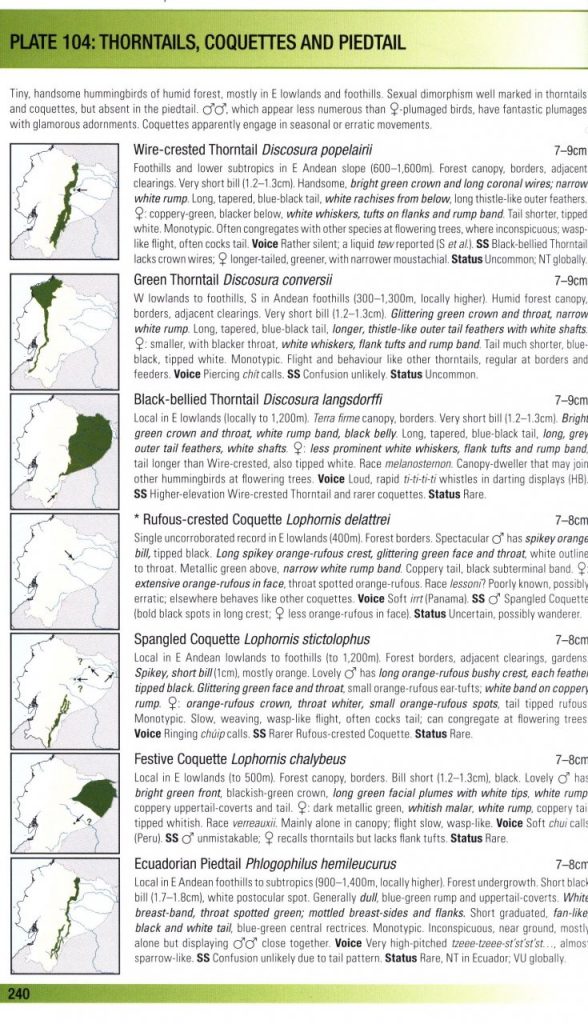 The last 41 pages are occupied by the list of potential additions to the country's list (species recorded nearby and expected to either cross the land borders or, perhaps half of them, appear in Ecuador's territorial waters), then the Ecuador checklist (just think of the last time you and your group were sitting around the table in the evening, ticking the daily tally off – now you'll be using this guide for that purpose), plus the literature references and the bird index.
As I said before, all paintings are by a single author, Robin Restall, something that was a norm not so long ago, but increasingly becoming rarer. The taxonomy is changing at such pace that nowadays few publishers are willing to wait for one or two painters to finish all the work.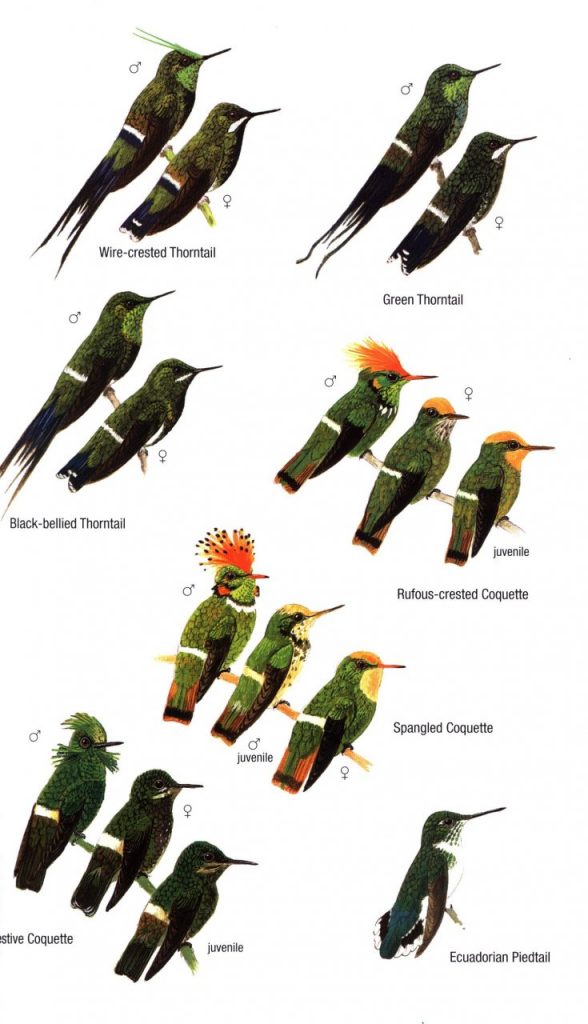 Restall painted all these birds diligently over many years from museum skins (mostly at the Phelps Collection in Venezuela), so all the details on his illustrations are actually present on a bird. The majority of these illustrations were originally painted for the Birds of Northern South America (2006). Some illustrations are beautiful, others are decent. Yet, the real question is, how convincing are they (as opposed to merely beautiful), how good are they in the field, when you frantically turn the pages in a humid rainforest trying to narrow the number of species to consider and then to eliminate one by one, until you are left with the solution of your riddle?
Painting predominantly from skins (as opposed from real life) has a drawback: many birds appear schematic and not overly lifelike, which may be confusing for a beginner in the region. Unfortunately there are no arrows to quickly indicate the key identifying markings.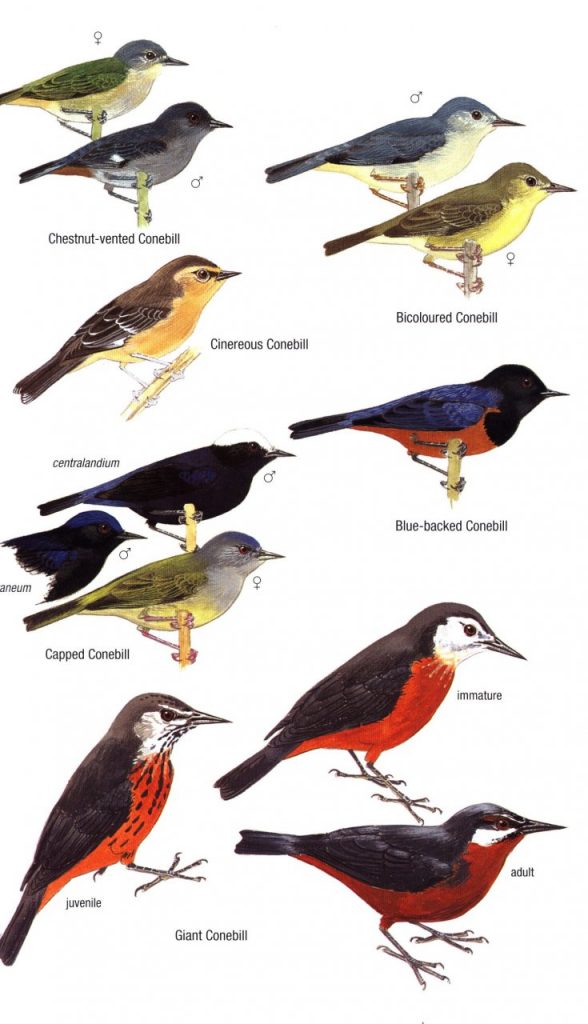 I haven't birded South America yet. The closest I got was Central America where I observed some of these birds. For the majority of species, I would call the illustrations adequate, but reserve my suspicions for pairs of similar LBJs, which you are watching in the deep shade of trees and yet should notice the amount of rufous vs. brown, to compare them with the paintings. To be honest, that is a hard work with any book, as the way a bird is moving through the foliage is often telling more that its shades of brown. And how to describe its moves, let alone paint them?
As a general conclusion, the pluses are:
Weight
Updated taxonomy
Authoritative text
The latest distribution maps
Accurate illustrations
The minuses are:
Weight  😉
Schematic illustrations lacking the Jizz that the birds exhibit in real life
I like and would recommend the Birds of Ecuador. This field guide is noticeably contemporary in its concept (personally, I hate the overused word 'modern', though one may say that, too) which makes it very user-friendly. Its manageable size, authoritative text, helpful maps and accurate, albeit somewhat 'wooden' illustrations make Freile and Restall's the number one choice in field guides for birders going to Ecuador.
Birds of Ecuador
By: Robin Restall, Juan Freile
Edition: 1st
Extent: 656
ISBN: 9781408105337
Imprint: Helm
Series: Helm Field Guides
Illustrations: 280 plates
Dimensions: 216 x 140 mm