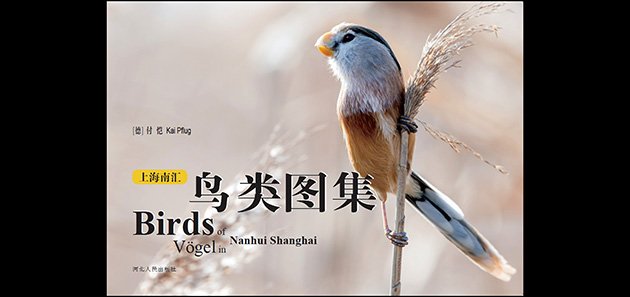 There's a place in southeast Shanghai at the junction of the Yangtze River estuary and Hangzhou Bay called Nanhui Wetland, where you can find thousands of migratory birds, making their stops along the East Asian–Australasian flyway, and some nifty residential ones. If you're a regular 10,000 Birds reader, you may be familiar with Nanhui, it's a favorite birding patch of Kai Pflug, our beat writer of German birth and Shanghai residency. Kai's photos present a unique perspective on a very specific, under-birded area of China; you can view them on this blog, and, even more satisfying, you can view them in his book, Birds of Nanhui Shanghai, published in China in 2018 and available through NHBS, the international book distributor.
These are photos of Mandarin Ducks (where they belong, not in Central Park), Great Crested and Little Grebes, endangered Black-faced Spoonbills feeding with Eurasian Spoonbills, a Japanese Sparrowhawk (which Kai notes he first thought was a Cuckoo); and, speaking of cuckoos, a Cuckoo in side portrait and face-forward screaming, red maw agape. There are many shorebirds: elegant Pied Avocets, their numbers doubled by reflections in the water; Stilts, Curlews, Snipes, Greater Painted-Snipe, male and female; Spotted and Common Redshanks, Marsh, Terek, Common, Sharp-tailed, Broad-billed Sandpipers; Knots, Stints, Dunlin, and a pert Oriental Pratincole. And Owls; Kingfishers; Hoopoe; a stunningly gorgeous Fairy Pitta (above), who deservedly gets three pages; Shrikes–Tiger, Bull-headed,  Chinese Gray, Brown, Long-tailed; incredibly long-tailed Paradise Flycatchers; thrushes and flycatchers of varying hues, colors, and poses; rare birds for the area, like the endangered Yellow Bunting; a Brambling in winter plumage, so close you can see every feather on its breast.
There are, all in all, 380 photos (I counted) of 181 species that Kai observed over three years. Kai notes in the brief Foreword that 329 species have been reported on eBird for Nanhui, 496 in Shanghai, 1314 in China. These species presented here can be seen as representative of the richness of this specific area, which hosts both wetlands and 'micro-forests,' but is fast losing the battle against development and misguided tree planting initiatives. Five of the species photographed are on the Critically Endangered or Endangered lists, some are rarities, most are migratory species that desperately need the wetlands and micro-forests.
Species are organized by type of species, Non-Passerines followed by Passerines. Species names are noted in English, German, and Chinese, and the text is in English and Chinese. (Scientific names are not given because, as Kai explained to me, the book is oriented towards the layperson, to encourage awareness of these birds in the Nanhui wetlands habitat.) The book itself is printed on thick, glossy paper, which enhances the excellent color reproduction. It's tempting to knife out some plates and frame them (I have my greedy eye on a full-page image of Eastern Buzzard in flight and the Daurian Redstart pictured above, with the pale yellow/green background that accentuates the bird's black/orange/reddish colors).
Kai understands that traditional bird portraits are beautiful (and offers many), but that understanding and truly appreciating birds comes from observing and documenting behavior and habitat. These are my favorite photos–nesting Mandarin Ducks; two Little Ringed Plovers quarreling; a stunning photo of a Black-capped Kingfisher poised small in the midst of almost bare trees, the green needles just sprouting; a series of photos showing a Reed Parrotbill, one of Nanhui's most popular species, feeding its young. Interestingly, Kai notes in a private communication that he is more interested in close-up images than groups of birds, but I think he excels in both.
The text is brief and sometimes non-existent. If you're a regular reader of Kai's posts on 10,000 Birds, then you know that he often prefers his photos to speak for themselves, but I think he undervalues his talent for words, which often express a subtle, whimsical sense of humor. Commenting on the varying age plumages of gulls, for example, he writes that it's "probably all a marketing ploy by the vendors of gull outfits" (p. 67). Other captions comment on the different meanings of the bird's name in the three languages used. For White-shouldered Starling, for example, he notes that, "While the English name highlights its white shoulder, the German name tell you its Chinese origin [Mandarinstar], and the Chinese call the bird a gray-back starling–which confuses everyone, including himself" (p. 139).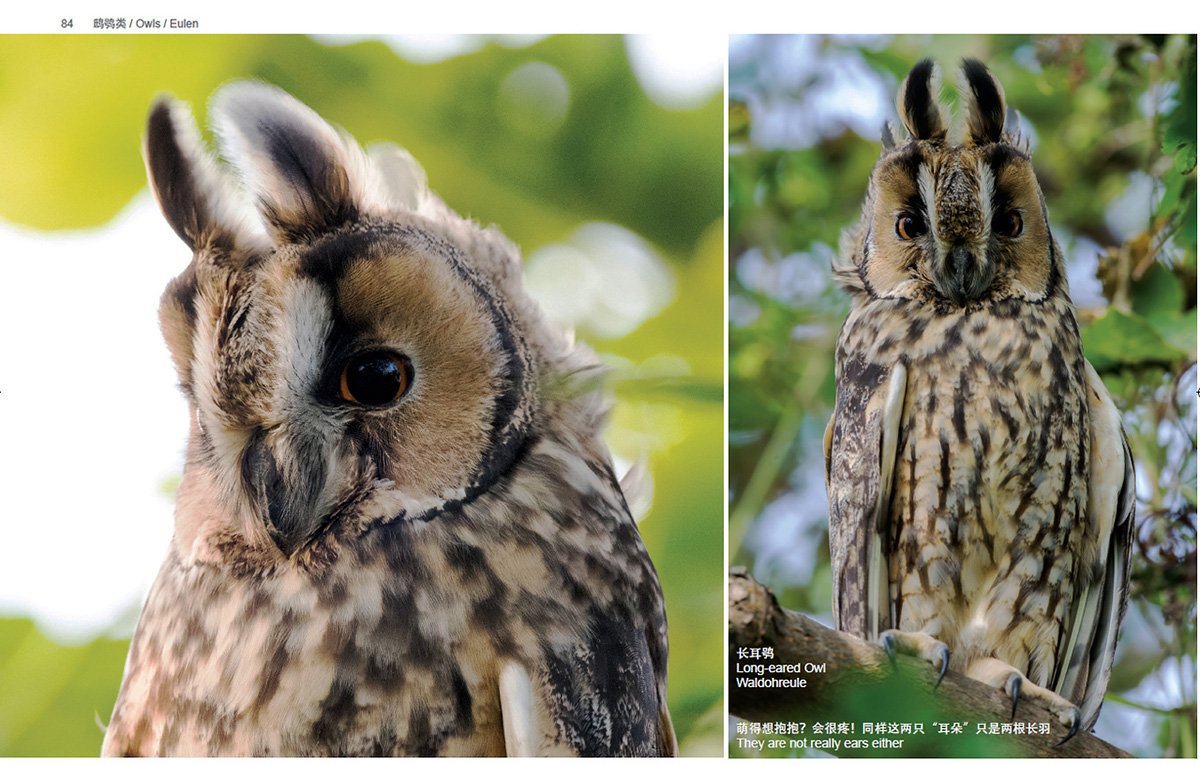 I hope that Kai will be a little more expansive in future books. This would place the precarious conservation position of the Nahui wetlands within a more informed context. It would also give those of us not familiar with nature photography practices in China, which Kai notes in the Parrotbill section are ethically problematic, additional background. (And, for those of you simply curious about Kai's equipment, he tells me that he uses "an 800 mm, f5.6 Nikon lens with the Nikon D5," sometimes adding a 1.25 teleconverter. He prefers using a tripod, but "at Nanhui, often it is necessary to walk around–handheld works better in these situations." That's a pretty heavy set-up to handhold!)
Birds of Nanhui Shanghai is an excellent example of how to self-publish a photography book.* Self-publishing is becoming more and more common these days thanks to available, inexpensive technology and the reluctance of the mainstream publishing world to publish books about birds and birding. The major pitfalls of self-published books are lack of an editing eye and, in the case of photographic books, mediocre production values. Kai Pflug and his team have avoided these negatives with both excellent production, as noted above, and well-thought out visual design. The photos sit nicely on the page, some filling the whole page, others organized within the white space. The long, horizontal book shape lends itself well to the long shots, such as the Short-eared Owl peering at us from a field, and to combinations of shots, like the Fairy Pittas below (I know, the second Fairy Pitta plate–can you blame me?).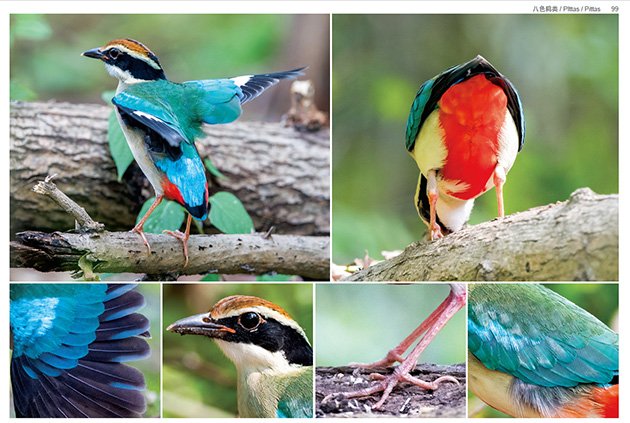 In addition to a Table of Contents, family captions in the upper left- and right-hand corners of each page aid in locating species. The English Index could be improved–it lists birds by full name rather than by family name. (I can't speak for the Chinese and German Indexes, though I am impressed that there is one for each language.)
Birds of Nanhui Shanghi is visually delicious and a wonderful introduction to the birds of Shanghai through all seasons. Even the 'little brown jobs' stand out here. It is a coffee table book with a mission, and if you're looking for a beautiful photography book to gift during the holiday season, this would be a special choice.
*Kai points out to me that technically, the book is published by a Chinese publishing house since self-publishing is not legal in China. However, he and his spouse did the book organization, editing, printing, and distribution.
—————————————————————–
Birds of Nanhui Shanghi
by Kai Pflug
Huayu Nature Book Trade Co.Ltd, 2018
184 pages, 380 color photo
ISBN: 9787202126158
Available through NHBS Books
£39.99