In the arena of North American avian field guides, illustrated guides have reigned supreme. However, if one could imagine an arms race between illustrated guides and photographed ones, it is safe to say that the latter have taken huge strides in recent years in closing the gap. Sure, everyone loves The Sibley Guide to Birds but then again, The Shorebird Guide is pretty sensational too. The Smithsonian Guide to the Birds of North America released in 2008 made a strong case for the utility and aesthetic potency of a photographic reference guide. The new Photographic Guides by Paul Sterry and Brian E. Small are equally persuasive regarding field guides!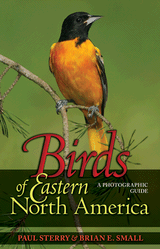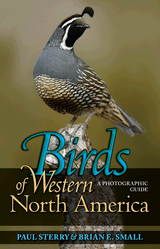 Princeton University Press has published a fine pair of guides for North America: Birds of Eastern North America: A Photographic Guide and Birds of Western North America: A Photographic Guide. Paul Sterry, widely-known and respected author, crafted the text while Brian Small, the primary photographic contributor for a number of other popular guides, delivers delightful digital photos. The range maps are the product of the Cornell Lab of Ornithology. With so august a pedigree, can these Photographic Guides live up to the standard of a top-notch illustrated field guide?
I think they do.
For me, the first consideration for a field guide is always how well the birds are depicted. Small's photos are big, bright, and tack-sharp. Many of them equal or exceed the best photos I've seen of their subjects. As a result, readers will feel comfortable making identifications based on these images, which isn't always the case with photo field guides. In fact, I'd probably feel better using this guide's stunning photo of a Warbling Vireo against a bird in the field than I would any of the illustrations I've seen.
On the other hand, many of the birds are allocated only one photo each, which seems insufficient for certain calls. For example, the photos of Veery and Swainson's Thrush don't adequately highlight the differences between these two superficially similar thrushes. However, instances like these are minor in the face of the evident artistry of these guides.
A picture may be worth a thousand words, but that didn't prevent the authors from providing abundant text to describe each species. Sterry's generous accounts supplement the accompanying photographs well, which changes the calculus of words and pictures considerably.
The Photographic Guides seem a bit larger than my old National Audubon photo field guides. Nonetheless, they're still portable enough for field use. Furthermore, those large, lovely full-color photographs make their use in the field a lot more likely!
Birds of Eastern North America: A Photographic Guide and Birds of Western North America: A Photographic Guide both seem like worthwhile acquisitions for field guide consumers and completists alike. I may not be ready to leave my favorite illustrated field guide behind next time I visit unfamiliar territory but I'll be packing the relevant Photographic Guide along with it!