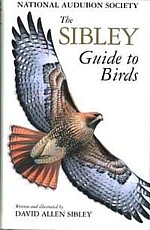 The 3 Bs of birding, those items without which this activity just cannot be enjoyed fully, are Bins, Books, and Birds. That last B probably goes without saying, while the first one can be considered the least essential of the three, though still mighty important. Books, on the other hand, are almost as essential to bird watching as birds. For these purposes, books mainly mean field guides, but all other media related to birding like magazines, videos, audio, and birding narratives fall into this category.
Field guides are the (non-avian) foundation of the birding experience, and a distinguishing mark of its adherents. Every bird watcher has at least one field guide, probably several, possibly a whole shelf-full. In fact, I warrant we'd get a lot more accurate a count of who is really watching birds out there if we asked people, instead of whether they considered themselves birders, whether they owned a field guide to birds.
Field guides are intrinsic to birding, and of all the countless volumes printed to facilitate the identification of North American avifauna, none is as widely owned or regarded as The Sibley Guide to Birds. David Allen Sibley's masterwork stands alone, the preeminent publication for US birders. Everyone should own a Sibley Guide, maybe even two.
How do I love The Sibley Guide to Birds? Let me count the ways… It starts with the crisp, clear, and colorful illustrations of over 6,600 pictures of 810 species and 350 regional populations spotted north of the U.S.-Mexico border, each one endowed with both verisimilitude and pulchritude. When I started birding, I preferred photographs for identification purposes, but it wasn't long until I realized that it was my field guide and not just abundant ignorance that was holding me back from making certain IDs. No single general reference book can provide all the portraits one might want of a particular bird, but The Sibley Guide indulges with big, beautiful pictures of every bird at rest and nearly every one in flight. Sibley even depicts difficult-to-distinguish groups of birds like first winter female warblers or female ducks together on a single page to ease differentiation. That every illustration highlights distinguishing field marks should go without saying.
I also love Sibley's thorough descriptions of voice and behavior. I love the color-coded range maps. I love the thoughtful touches sprinkled throughout. Heck, I even love the high quality paper stock and durable, water-resistant cover. But I'll be the first to admit that The Sibley Guide is not perfect. First of all, rare birds don't actually flock to the bearer of this book, even when it's held aloft. Must be that imposing Red-tailed Hawk on the cover! Also, the generous dimensions of this reference volume make it a bit too bulky to use as a portable field guide, though I've seen plenty of people pack it regardless. Anyway, that's what the sensational Sibley Field Guides to Birds of Eastern or Western North America are for.
The Sibley Guide to Birds, called the Birder's Bible with good reason, is quite simply the most indispensible book in any North American bird lover's arsenal. If a birder, sportsman, outdoor enthusiast, or nascent naturalist in your life doesn't yet own The Sibley Guide, I urge you to remedy the situation at once!