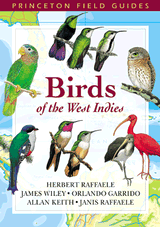 Anyone who has ever visited the Greater or Lesser Antilles can attest that the 564 fantastic bird species known to appear in the West Indies deserve a high-quality field guide. The current consensus is that the finest field guide to the exotic archipelagos of the Caribbean is Birds of the West Indies by Herbert Raffaele. Now that I've visited the region a few times, I can definitely agree!
A Field Guide to the Birds of the West Indies by the real James Bond may have a more fascinating history but Birds of the West Indies is by far the better bird guide. The abundant illustrations are crisp, colorful, and mostly accurate while the text is succinct yet informative. Range maps accompany entries for those species that are not readily sorted by island. Thanks to this economy of information, all relevant data for a given species can be found in a single place.
Birds of the West Indies does have a couple of problems, though neither detracts from its dominance. The first flaw may be considered by some to be a beneficial feature; in some places, Raffaele deviates from a strict taxonomical order to group species by island. For example, the hummingbird listings present the species of Puerto Rico, the Lesser Antilles, and the Virgin Islands on one page and those of the rest of the Greater Antilles on the next. This arrangement has the effect of separating Chlorostilbon emeralds and Anthracothorax mangos. On the other hand, seeing all the likely hummingbird species of a given island in one place is nice.
The guides other flaw is far from fatal but it is regrettable. In some instances, the color plates represent species as far more drab than they are in real life. The discrepancy between, for example, the subdued gray of the depicted Jamaican Euphonia and the vivid blue of the bird in life is almost enough to render the real one unrecognizable. In another instance, the Rufous-throated Solitaire appears ashen on the page instead of its actual attractive navy blue.
Despite some minor failings, Birds of the West Indies is a superior field guide, with a form factor that lends itself to use in the field while still suitable for untold hours of pleasurable study in anticipation of visits to blue-water beaches attended by Antillean avifauna! Rafaelle's hardcover reference, A Guide to the Birds of the West Indies is equally worthy, though not quite as portable. Pick up either (or both) of these definitive works even if you don't have a trip to the West Indies planned any time soon; once you get a glimpse of the amazing, yet apparently under-appreciated birds of the Antilles, you'll be making travel arrangements before you know it.