On 22 November, an Ash-throated Flycatcher Myiarchus cinerascens was seen in an unassuming and overgrown vacant lot in Queens next to the Aqueduct/North Conduit Ave subway stop.  Many birders subsequently tracked down the bird and enjoyed great looks.  Of course I have been a bit too busy to go chasing after vagrant flycatchers (Ash-throated Flycatchers breed in the southwestern United States and this time of year should be wintering in Central America), and, besides, I had seen one at Jamaica Bay during my 2007 Big Year in New York State.  So I resigned myself to missing the bird, a small price to pay for having an adorable and healthy son.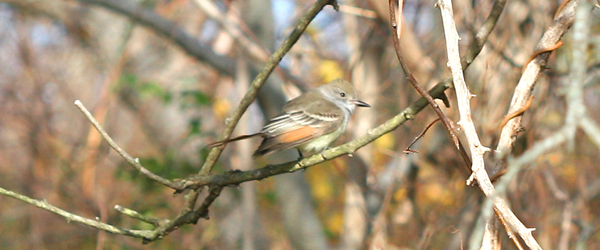 Ash-throated Flycatcher, Jamaica Bay, Queens, NY, December 2007
But, as vagrants in search of shelter and succor sometimes do, the bird has stuck around and stayed faithful to the vacant lot in which it was found.  Almost every day another birder would report sighting the bird (usually with words like "great looks" and "allowed close approach."  So, this past Monday, while Daisy and her mom kept an eye on a sleeping Desi, my Queens birding pal Jean picked me up and we made a quick run at Myiarchus cinerascens. But the rain started falling in buckets and we missed the bird despite standing around and getting soaked for an hour.
So when Danny, another Queens birding pal, offered me a second chance at the bird on Thursday morning, while New York City was in the midst of an unseasonably warm day, and Daisy, whose mother was once again at the house, offered no objection to my callously abandoning her and our son for the second time in a week, I jumped at it.  The sun was shining and it was a great day to be outside in December.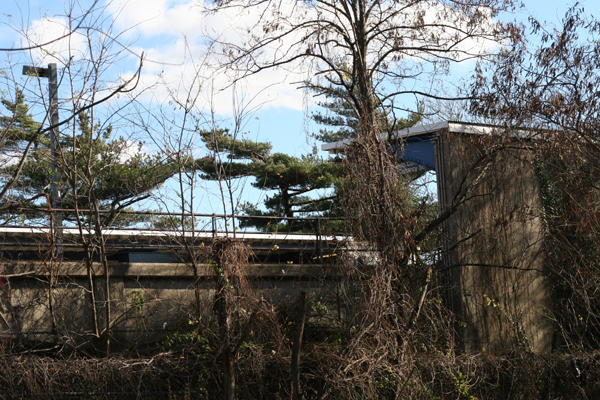 The vacant lot was as attractive a place to bird as the Western Reef Heron spot was.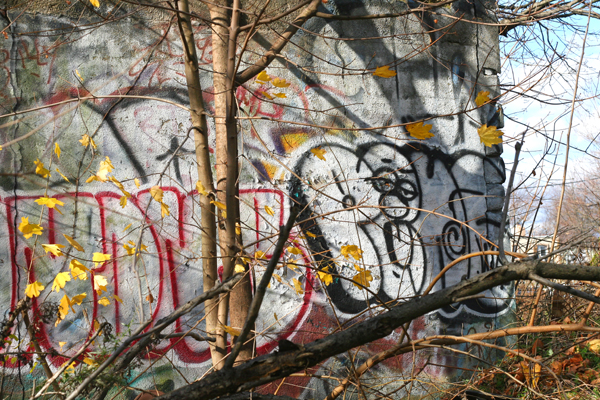 Despite over an hour at the vacant lot and the presence of two other birders who were as diligent as we in searching out the flycatcher we had no luck.  Rather than continue to enjoy the ambiance of the vacant lot Danny and I made the (foolish, in retrospect) decision to head over to Jamaica Bay and see some ducks.  We had a good time seeing some ducks and geese and also just enjoyed a sunny and warm December day.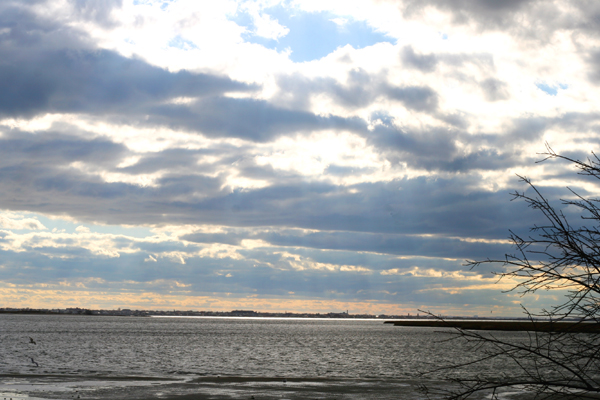 Jamaica Bay is gorgeous in any season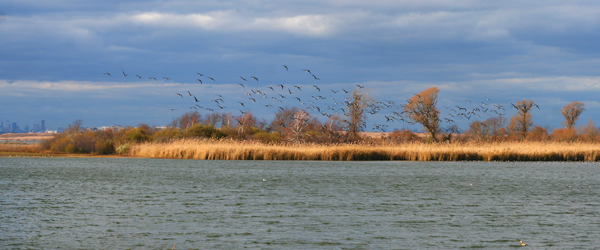 While enjoying the ducks, Danny and I ran into another birder named Robert, who had been searching for the flycatcher with us a short time earlier.  He was heading back to the vacant lot to try his luck one more time so we exchanged cell phone numbers in case he spotted the bird.  Danny and I continued with our birding and a short while later my cell phone chimed with a voice mail.  I listened to the message and heard Robert's voice saying he had the bird.  As Danny and I hustled out to the car I called Robert back to make sure that the bird was there and that he would stay on it until we got there, which he kindly agreed to do.
When Danny and I pulled up, both Robert and another birder, Peter, were staring into a small grove of trees across the street from the lot, to which they thought the bird had flown.  A relatively thorough search failed to turn up the bird however, and further questioning about why the bird flew got Peter to admit that the bird had flown when Robert got off the phone with me and said "Corey's on his way."
I am still not sure if Peter was kidding or not but I do know that if I ever do see this dastardly flycatcher I am definitely going to give it a stern taking to (which, as a parent, I am now licensed to give).
Upon my return home I regaled baby Desmond with this tale, at the end of which he spit up. Hopefully, you will have a better reaction!