I was in Jacksonville, Florida for a conference on Living Shorelines, a restoration technique for coastal areas throughout the Southeast. For day 2 of the conference, we headed out to the Guana Tolomato Matanzas National Estuarine Research Reserve to look at some in-progress projects. Luckily for me, there was time afterwards for a little birding.
After leaving the group, I pulled into a boat launch with a great view of a marshy, mud flat area near the beach. It was absolutely covered with birds.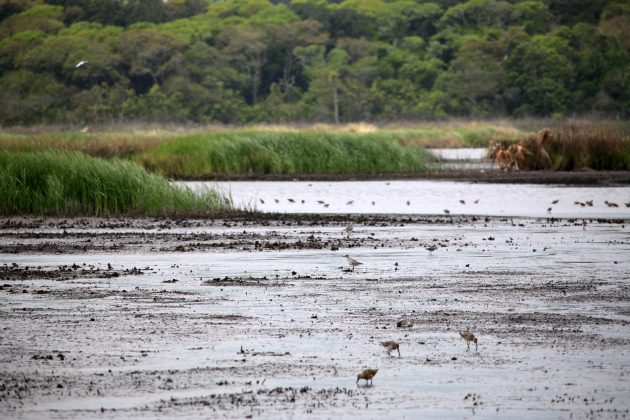 Shorebirds dotting the reserve.
Brown Pelicans and Double-crested Cormorants soared across the sky, while American White Pelicans rested in the shallow waters. Dowitchers, Black-bellied Plovers, and Common Gallinules searched for food amid the mud, occasionally scattering when a Northern Harrier circled before disappearing. As I scanned the landscape, I spotted one of my favorite birds of all time: the Black-necked Stilt.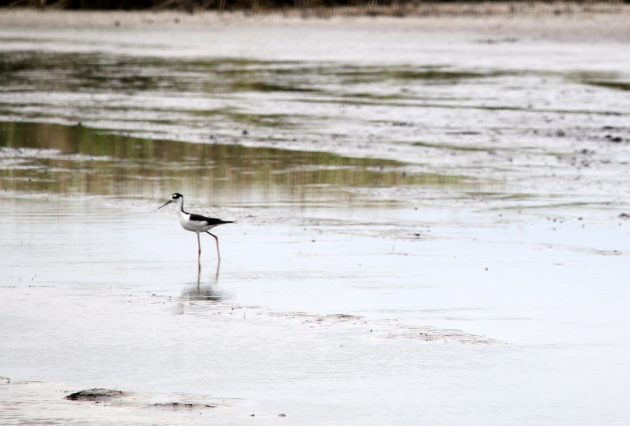 Black-necked Stilt
Black-necked Stilts are ridiculous looking birds, though I find a beauty in them. Their black and white bodies and black bills are normal enough, but then you've got their bright, bubble-gum pink legs that stretch long and thin below them, almost like flamingos (the Cornell Lab of Ornithology describes their legs as red, but they have always looked pink to me). In fact, I wish these birds had been named "Pink-legged Stilts."
Though I have seen stilts in Aruba and Belize, I had yet to add them to my American list, making me extra happy to see them. There were at least a dozen dotting the marsh, and two close enough that I easily watch them through both my camera lens and my binoculars.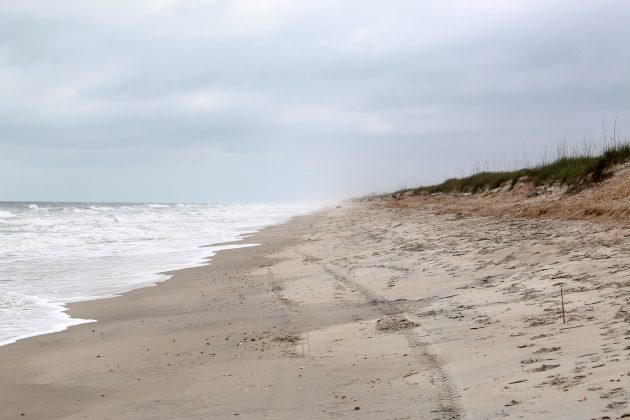 Beach facing the Atlantic Ocean.
Since I was so close to the beach, I couldn't resist crossing the road and taking a gander at the Atlantic Ocean before returning home to the Gulf of Mexico. The water was rough, but that didn't mean the waves were devoid of avian life! In addition to bobbing pelicans and cormorants, I spotted a mass of Northern Gannets. The group had clearly spotted prey, and they swooped high in the air only to come crashing down on the unsuspecting fish, pausing in the water to gulp down their meal before taking to the air again. They are such powerful birds, and always amazing to watch.
Though I could only explore the reserve for about an hour, I was blown away by the birds there. Definitely worth another visit next time I'm on the east coast of Florida!