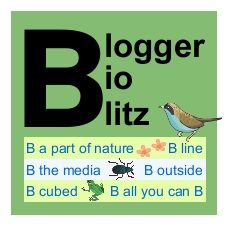 April 21 – 29 is National Wildlife Week. It's also the span of the First Annual Blogger Bioblitz. If you are a blogger but haven't yet made a commitment to partake in this communal census of flora and fauna, the time is now. Not only is citizen science essential to understanding ecological trends, but spring is here and you're being presented a reason to go outside AND blog about it. What more could a micropublisher ask for.
Step1. Select a wild space, even an urban one, to audit.
Step 2. Sign up at the Blogger Bioblitz Google Group. Also join the Flickr group if you plan on photoblogging the event.
Step 3. Swing by the Invasive Species Weblog to pick up one or two of the fancy bioblitz badges Jenn cooked up. This step is optional, but who can pass up her delightful Common Bluethroat artwork?
Step 4. Read the submission guidelines and download the spreadsheet.
Step 5. Get your BioBlitz on!
Personally, I don't need a reason to get out this weekend, but I'm very excited to be a part of this developing activity. Jeremy and the gang have cooked up a participant-powered project that shrewdly harnesses the incalculable force of unfettered spring fever. And if tramping around all day is not enough to assuage your vernal mania, April 21 also marks the Animal Planet debut of Spring Watch USA, a four-week, as-it-happens, multi-media, nationwide event. Filmed just prior to broadcast, this miniseries is meant to serve as a celebration of the arrival and beauty of spring across the United States. Hosted by Jeff Corwin (The Jeff Corwin Experience, Corwin's Quest) and Vanessa Garnick (Caught In The Moment), viewers learn about the amazing mammals, birds and insects that herald the arrival of spring. I've been assured the bird footage is truly spectacular, and the Discovery Channel has even put up a forum in conjunction with the National Wildlife Federation for bird watchers to share their sightings. Yes, spring is most certainly in the air!